Anthony Bourquard – following in Steve Guerdat's footsteps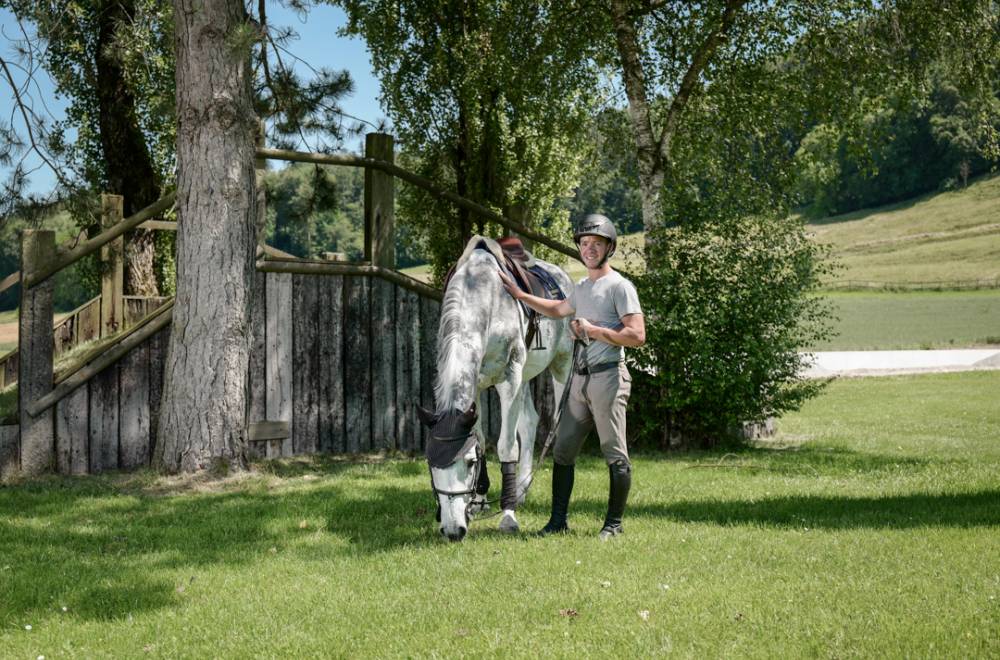 22 July 2020
This third part is about stable management in Elgg and Anthony Bourquard's top horses.
Tell us about how everything is managed here in Elgg...
There's the arena, that houses 30 horses also, and there's Steve's stable, across the road, with his 7 best horses. Their stalls are literally in Steve's house: he sleeps right on top of his star mounts. Right next door is Alain Jufer's stable. I also live there; My apartment is close to Steve's horses. For the past few months, I've been managing more and more of the thirty or so horses that are in the arena stable. It's a responsibility that I am happy to take on. It's good experience for the future. There are no boarders. There's one client, Paris Sellon, Martin Fuchs' spouse, who has 5 horses here, otherwise they're trade and owners' horses.
And how many riders are there?
Steve, Fanny Skalli, his girlfriend, Alain Jufer and me. With the grooms, there's a dozen in total.
Do your main horses remain the same?
Yes. There's a lot of movement over there, especially with the younger ones, but my main horses don't change. With each horse, I try to do my best. There are also different plans for each horse, some are more for trade, and others for sport. Managing a stable with valuable horses is also a big responsibility. It's something that's going to make me grow for the future.
What about the facilities?
There's an arena, paddocks for the horses, a sandbox up the hill and a new one under construction next to a large grassy area. There is a lot of different land for us to be able to vary the work for the horses. That's also something that Steve has taught me. But it's not all work. Of course, they have to be worked properly, be muscular and in good condition, but what's most important is the horses' mentality: they have to be in good shape mentally. You have to play with them a bit, alternating between work and rides in the forest. Even in the forest you can work them and enjoy the hills. The aim is to get to know each horse so that we know exactly what it needs: that's paramount for optimal competition preparation.
Who are your current top horses?
There's Janus, who is owned by Patrick Vernier and has been here for several years now. He is here for trading, but also for sport. He's a horse that we've been able to keep up til now and he has won up to 3* Grand Prix level. He has given me a lot and comes with me to the big events. I can also count on Cim Air, a horse that has a lot of experience, who has already placed in a 3* Grand Prix. All the horses I ride here are available to purchase. We work in a stable that needs to keep moving, so every horse is for sale.
And there's Cornet…
Yes, he's been at my stables since the beginning of the year. His is a nice story. I had to learn to understand him, but now it's going very well. I've been able to ride Cornet thanks to Paris Sellon, Martin Fuchs' girlfriend. Paris had enough horses for the Grand Prix level at that time, and I had didn't have enough and had already ridden a horse for her some time ago and everything went well. Cornet now belongs to Steve. So I get to enjoy the huge amount of experience I'm getting with this horse. The idea is that I can share the end of his sporting career with him. And unlike the others, Cornet is not for sale.
One can imagine that riding a horse with so much experience - 10th of the CSI 5* GP in Windsor in 2019 with Daniel Deusser, also winner of the World Cup stage in Helsinki in 2017, many 5* Grand Prix rankings with Lauren Hough, not to mention the individual gold medal in the European Young Riders with the Swedish Irma Karlsson in 2014 - can only be beneficial for your career...
Exactly. Obviously, when I enter a Grand Prix arena, I know he's going to do his job, it's up to me to ride him correctly and that gives me confidence.
Does riding a horse that's already performed at the top level put more pressure on you?
I've had that pressure all along. When I started riding for Steve, I was also asked if I felt the pressure. At first you do think about it, but then you get used to it. It was the same with Cornet; at first you pay attention to everyone watching you, but in the end, you have to ride him like another horse. Now, I try to be the best combination I can with him, and don't tell me "I have to ride him like Daniel Deusser". I ride him my way and I feel he's happy with that. I rode him a couple of times in Oliva before the Covid-19 break. Then I took him back to the national Grand Prix level where we had some clear rounds before going back to the international events.
Are there any other top horses in your string?
No. That's exactly what we'd like to develop with Steve. We'd like to find owners who will agree to entrust horses to us, first to Steve and then to me as well. Or find owners who are interested in helping a young rider. The goal in the future is to find horses to go one step further towards the top level. I've always been very lucky with the horses I've had, but now I have to take this next step so that I can join the Swiss team and be able to ride in Nations Cups.
Do people not necessarily think of you because they think that in Steve Gerdat's stables, there's no shortage of star mounts?
I'm not on people's minds, but maybe there's some of that also. However, with Steve, we are open to all proposals, especially as I think we're a good team. It's important to work towards the future and to write great new stories.
To be continued tomorrow...