Anthony Bourquard – following in Steve Guerdat's footsteps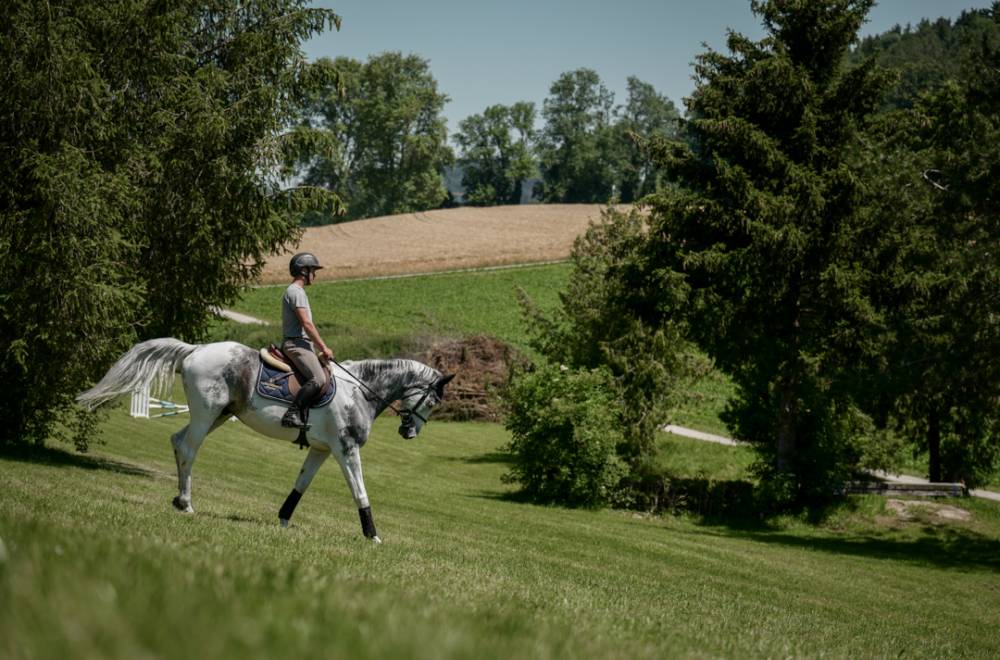 21 July 2020
In this second part, Anthony Bourquard talks about the horses that impacted his young career and his debut alongside Steve Guerdat.
Tell us about the horses that have impacted your life...
The first is my dad's mare, whose name was Lana. She was a speedy mare who taught me a lot. Then there was Willora, who allowed me to take part in my first European Championships. I also have to mention Horizon du Roc, with whom I won the title of Swiss Junior Champion. He had been ridden by Fabio Crotta before, so he was an experienced horse. Afterwards, there was Indiana des Abattes CH, who gave me so much, she's really my heart horse. She was a very special mare with whom I became the Swiss Young Riders Champion and with whom I also competed in Europe. I must admit that she was not the best sporthorse I've ever ridden and that she was unconventional, but she gave everything to her rider. She did everything for me. She's not the mare with whom I achieved my best results, but she is the mare who gave me the most, she was so generous. Hers is a nice story too, because we acquired her along with a friend from Jura, Patrick Vernier, who still supports me as he is also the owner of Janus, whom I'm currently riding. Nasa and Concetto Son have also had an impact on me, because they are the first two-star mounts that Steve has entrusted to me.
Anthony Bourquard and Nasa at the CHI Geneva 2015
Have you always been dependent on owners' support?
Yes, of course, because I don't come from a wealthy family. We're people of the land. I come from a hardworking family; my father works 7 days a week at the center. We have to make do with what we have. That's also how I learned a lot too though. I think that's how you learn.
Anthony Bourquard and his faithful Indiana des Abattes CH
And Indiana is now a broodmare...
She allowed me to make the jump between Jura and Elgg. She was the one who accompanied me at the beginning of this adventure at Steve's. And now she's at Élevage Monfirak in Jura. Their facilities are opposite Dehlia and Edwin Smits' riding center in Chevenez. It's a very good farm. They manage the choice of stallions; I only have to go and appreciate the results and see my mare happy. She just had her first foal, by Cachacco Blue, who's by Chacco-Blue and ridden by Hans-Dieter Dreher, and now she's in foal to Quel Homme de Hus.
Indiana des Abattes CH is now focussing on breeding
Is breeding something you're interested in?
Yes, but I think you have to be a connoisseur, a horseman, to be a good breeder. And know that it takes a lot of time! With Indiana, it's a matter of love, but at 24, I wouldn't pretend to have enough background to consider myself a breeder. In order to breed properly, you need skill. I think that will come later, because it's an aspect that interests me a lot.
Anthony Bourquard and Cornet in Elgg
Let's talk about your arrival in Elgg. How did you come to work for Steve Guerdat?
Back in 2011, when I was 15 years old, I went to Steve's for a month-long internship in Herrliberg. After that, I was supposed to finish my studies and go and work for a rider. It wasn't long after the subject of where I was going arose that I knew I was going to go to Steve's place. And he was happy to do that for my father, because he had taken care of him in the beginning. I went there for a month, which turned into a six-month internship and then a job. That was in 2015. I spent a year and a half there before I had to take six months off to do my military service and then I came straight back here to Elgg. So I've been with Steve for over five years now.
Tell us about this special bond you have with Steve...
Actually, it's a family story, since my father had worked for Philippe Guerdat before Steve came to train at my father's center, and then it was my turn to work at his place. So the story is a long and beautiful one between the Guerdats and the Bourquards. I think that we're two equestrian families who understand each other well. Steve is an exceptional horseman and to understand that, I think you have to be one yourself. We got along right away. On a personal note, I've made a lot of progress since I've been with him. You could even say that I've learned almost everything at his place. I had that will to win and the feel, but my technique and professionalism, I owe it all to Steve. Not to mention the mentality, his way of looking at things, and approaching competitions: he taught me everything. I'll be grateful to him for the rest of my life. I've learned management, professionalism, how to manage horses and how to get them in top form on D-day. Of course, we're not all named Steve Guerdat, but we try. The way he manages his horses, but also how he takes care of them on a daily basis, is not something that can be explained, but it is by being around him and observing him on a daily basis that we can learn. And by living with the whole team you also come to understand the sacrifices that top-level sport requires, even though, obviously, it's a passion first and foremost!
What's an example of what he has taught you?
Like I said, in the beginning, I used to ride by feel a lot. Here, I learned the discipline of the job. The discipline of working a horse correctly, while thinking, above all, about working with the horse. We never work against the horse, we try to understand them. I've learned to take more time with each horse. You have to learn to understand them before you want to get something from them. Before talking about technique, it's really about understanding the horse and what they need.
Anthony Bourquard and Steve Guerdat
You now benefit from his advice on a daily basis...
Yes. He doesn't really give me lessons as such, but when he's there, he always keeps an eye on what I'm doing and advises me if necessary. I've also learned a lot from watching him ride. That's another thing you can benefit from when you're in a champion's stable.
As you've often said, you have more than just an employee/boss relationship, you're friends. That said, being around a champion such as him on a daily basis mustn't always be so easy...
Okay, he's got a temper. That's also why he's successful... he's dedicated to his sport. He lives for it. If he doesn't have a good result on Sunday, sometimes Monday morning isn't the best atmosphere at the stables, but as soon as he's with his horses, he's happy!
And even if for him everything didn't go as planned, you can imagine that he's happy for you if you performed well?
Obviously. He's always done everything he could for me to succeed. I've always felt that I've had his support, and that was the best thing that could happen to me. If I have a day where it doesn't work out for me, he's there to support me and find a solution. That pushes me to give my best, to commit myself as much as possible to the running of his stable. I think he gives that commitment back to me a hundredfold and I'm very happy. When I arrived in Herrliberg, I was very young and he was already an exceptional rider. He very quickly trusted me and made me his competition rider even though I didn't have the best knowledge or the best results. He let me make mistakes and gave me a chance. Some bosses may have said "Ok, he's not good enough, we'll change." Steve, on the other hand, gave me time.
As he does with horses...
Exactly! It's a good comparison. Steve is a person with a really big heart and he'll do anything to help the people he cares about succeed.
What do you think makes Steve Guerdat the best in his field?
Before you even talk about sport, Steve lives for his horses every day. And on course, he's an exceptional rider. You can't explain what he does. And you can't try to understand it, because he's a genius! He gets his horses to outperform for him on D-day. You see the relationship he builds with each horse on a daily basis. It takes a lot of time, but it's never a waste of time.

To be continued tomorrow...