Anthony Bourquard – following in Steve Guerdat's footsteps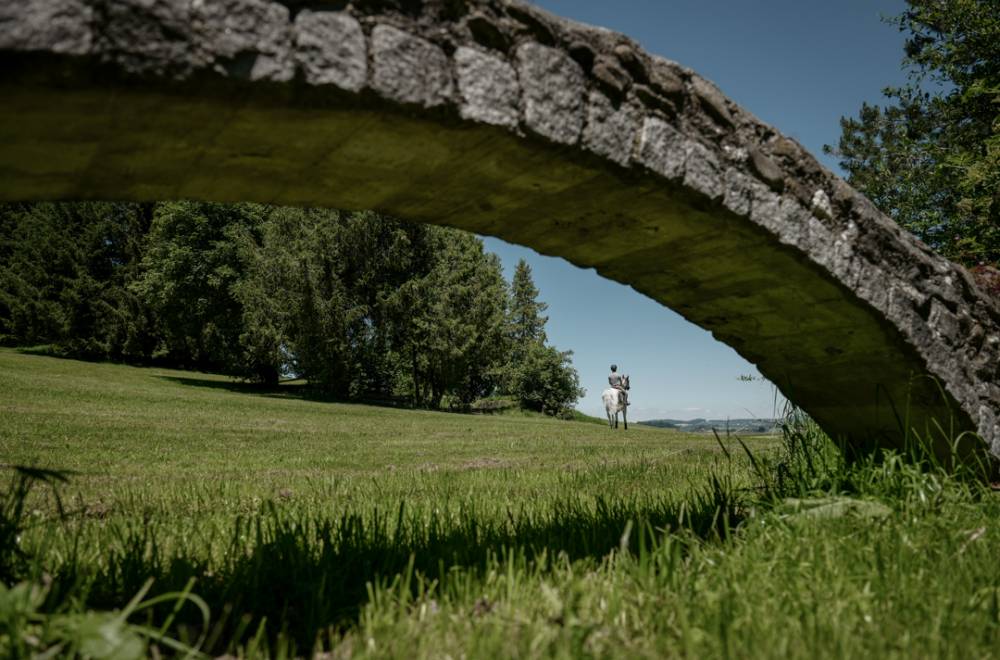 20 July 2020
At just 24 years old, Anthony Bourquard is a rising star in Swiss show jumping. The young man can boast that he's working in one of the most prestigious stables in the world: for more than five years, he has been a stable rider for World No. 1 Steve Guerdat. Family ties, friendship and hard work are just some of the ingredients that explain the young Swiss rider's path, who last year made his debut among the elite on the Morocco Royal Tour. This report is from Elgg, set between Zurich and St. Gallen, where Anthony Bourquard has settled down.
Tell us about your beginnings...
I come from a family that has always been surrounded by horses. My father manages an equestrian centre in Glovelier and my mother has always supported me. Both of them were riders. My father rode up to the national Grand Prix level in Switzerland and he even took part in the CHI Geneva. I have a lot of admiration for his career, because he started from nothing and built up everything himself. He had an especially good mare called Willora. He was very good. As soon as I started in the Children's division, he put an end to his career as a showjumper so that I could have all his best horses at my disposal, especially Willora. He saw it as the best way for me to be able to make my mark in this business. Starting with professional horses, horses that were already seasoned, that's what made me want to continue and gave me confidence for the future.
So you started at the family riding school?
Yes, my father has been managing the Glovelier center for about 30 years. I grew up there. There's a pony club there, and what was nice about it was that we were a great group of friends. We used to fight about who was going to ride which pony and who was going to win the pony puissance. All those friends are still riding in competitions. There's Sébastien Monin, Nicolas Müller and Nicolas Willemin. We're still friends, it's also a wonderful story of friendship. I think it has helped us a lot to be in a group, to have a certain friendliness in sport. In the beginning, we were thinking more about playing with the horses and having fun with them rather than really exercising them.
Anthony Bourquard and Cornet
You also have a sister that rides...
Yes, my sister still rides, but just for fun. She took part in the European Championships for Children. When she was young, she was also very motivated. Then she decided to focus on studying. I must also admit that being the eldest, the best horses were often given to me. But she still rides and likes to follow my results.
Does your father still manage the center?
Yes, because that's what he likes to do. I don't think it was an easy decision for him to let me go, even though he never let it show. He knew it was the best option for me, especially when he sees my current results. I can't thank him enough for letting me go out on my own by going to ride for Steve. It was the best thing that could have happened to me, although I'm not sure that every parent would have been able to do that.
Anthony Bourquard at the CHI Geneva in 2015 with Nasa and his father, Roger Bourquard.
But before you left for Steve's, your parents still wanted you to study...
Yes, especially my mother. And I think she was right. It all happened very quickly: at the age of 12, I was riding in the European Championships for Children and I was already winning at the 1.40m level, so that could have made me think that everything was going to be easy and that I could go into the professional world. However, not everything is quite so simple in the world of horses. My mother was able to bring me back down to earth and I'm grateful to her for that. I'm happy to have graduated from the Delémont Business School with a Business Maturity Diploma. I also think that that will be useful for me, because a good part of the course dealt with the various aspects of running a business and accounting. But of course, in my mind, I always knew that I was going to work with horses.
Anthony Bourquard in Steve Guerdat's stables in Elgg
Before you came to Steve Guerdat's, you always trained with your father. But some people don't know that he was the one who trained Steve in his younger years...
Exactly. I was only one or two years old when Steve rode at our center, but my dad remained very close with the Guerdat family. I've always had a connection with Steve. We followed his results with passion. He was always our idol in the arena. I think Steve made a great contribution to the Jura equestrian world. There are now a lot of riders at a good level coming from Jura. It's a small canton, but there are a lot of riders there and I don't think that's by chance. It's also a source of great pride, especially for my father, to know that Steve started in our riding school. It earned him recognition for his work.
Steve Guerdat's facilities are located in the pretty village of Elgg, between Zurich and St. Gallen.
What did your father teach you?
My father's a real horseman. He's a straight talker and doesn't mince words. He works by feeling a lot. He'll work with the horse. I learned a lot from him, especially this understanding of horses. He really taught me to feel the horse, and also gave me a hunger for victory. He always had this will to win and he passed it on to me. But the main thing he gave me was the passion for horses, quite simply.
As a young up-and-coming Swiss rider, you have also been able to benefit from training with Willi Melliger and Thomas Fuchs...
Yes, that's how I got a taste of the Swiss-German mentality, which led me to come here after my studies. It is stricter on this side of the country, which we don't always have in French-speaking Switzerland. With my father, I learned the passion, the desire to win events, but it was really afterwards, when I arrived at Steve's, that I learned the importance of work and discipline. That's when I started to understand that not everything comes quite so easily. You learn that. It's good to have feel, but if you're not a hard worker, if you don't like getting up at 6 a.m., and riding horses all night, it's no use. So you have to have passion, but also a desire to work, otherwise you can't do it.
Anthony Bourquard can take advantage of Steve Guerdat's spacious facilities, where the horses enjoy huge grassy areas to work in.
You participated in several European Championships with the junior team.
Yes - children, juniors and young riders, twice in each category. But I didn't win a single medal.
Is that still a source of frustration?
Yes, without doubt. Like I said, everything has always come quickly for me. I feel, retrospectively, that I didn't take the time to settle down and do things better. I still had one or two good horses, but no more than that, which may have stopped me doing better at the highest level. At the national level I was doing well, but internationally, even though I wasn't that far off, I was never at the top. It's not really a regret, because I hope the medals will come in the future. All the championships I've been to have allowed me to gain experience that I hope will be useful for the future.
Having said that, you won several medals at the Swiss Championships...
I was the Swiss Junior and Young Riders Champion. When I was younger, I had a rather nervous nature. And at the beginning it seemed almost normal to win. As a result, when things didn't go so well, I found it difficult to deal with disappointment. With time, that's something I've learned to master and it's part of being a rider. Of course, riding with the next generation of riders isn't the same pressure as riding with the elite, but riding as a team, riding courses as a team, is something I've always liked a lot. I hope I can do it again at the elite level.
You made your debut at the elite level last year in Rabat, Morocco, where you scored a double clear round with Tum Play du Jouas... That was a good start, wasn't it?
It was my first experience competing against elite riders and I really enjoyed it. When you're part of a team, even if you're not necessarily close to the other riders, everyone helps each other and everyone wants you to succeed, it's an incredible feeling. Not to mention the pride of riding for your country. In Morocco, I was really happy to wear the Swiss team's red jacket. I hope it was just the beginning.
Anthony Bourquard and Tum Play du Jouas at the Nations Cup in Rabat in 2019
When you ride for Switzerland, do you outdo yourself?
I think I do. But you must be careful you're not putting negative pressure on yourself. In Morocco, I managed to turn that into positive pressure. I also felt that my horse was in great shape and that he was really with me. That helped a lot.
If you had to cite just one memory from those years with the Juniors, what would it be?
The European Championships for Children in 2012. I was clear on the first day, and double clear in the Nations Cup, but we didn't get a team medal - I think we were 4th - and everyone saw me as a favorite for the final. I had a refusal at the wall in the final. I was devastated. For me, it was the end of the world. I think that was a lesson for me and I learned a lot. I realized that nothing can be taken for granted, even if you're that close to your goal. With horses, you can never be sure of anything.
To be continued tomorrow...