Zangersheide selection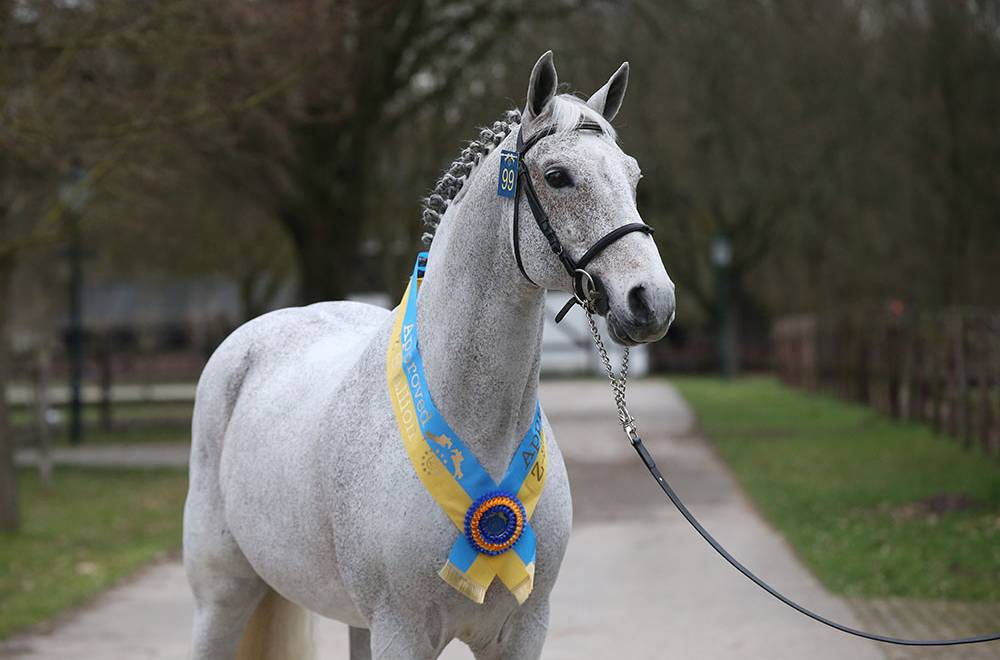 16 March 2019
The additional and now traditional selection during the Open Days was once again a success, with no less than 103 candidates.
The jury, which has been working together for several years now, composed of Luc Tilleman, Eric Levallois and Hans Meyer, remained faithful to their vision: to allow many entires to prove their worth and seduce breeders, with no less than 39 stallions admitted in total, i.e. nearly 38 % of the candidates.
Among these, we present for your perusal those that have particularly impressed us:
1. Qing Qong MXL
Matisse de Mariposa x Toulon x Carthago
A horse with huge abilities, who moves back well but may seem a little heavy.
This is the line of the internationals Gamko S, Dasko, Un Ami S and Breakneck S Z.
17. Querido VG Z
Dominator 2000 Z x Chellano Z x Darco
Already very prominent during the BWP selection, Querido confirmed expectations by completing a very good performance, showing great resources and hard work.
Maternal half-brother of the stallion Leandro VG, this is the line of City Banking, Gitania VG, Hidalgo VG and the latter's dam, Alaska VG, all of whom have performed at the highest level.
He will be sent to stand this season by Zangersheide at Keros for the breeding season.
25. Q Layen
Presley Boy x Thunder vd Zuuthoeve x Sir Lui
Very supple horse who uses his body very well, equipped with a very high bascule.
His dam and granddam have both performed internationally, while it is also the line of McLain Ward's star, Azur du Garden.
36. Untouched LB
His dam line is non-existent, but he was probably the best horse of this selection. Perfect reactivity, a big bascule and great abilities. The best jumper of the weekend.
40. Stockholm van't Roosakker Z
Stakkato x Rubens du Ri d'Asse x Chin Chin
Nice horse with good reflexes and big abilities.
His mother is none other than Quasibelle du Seigneur who is the only mare of this selection to have two offspring approved during this session, including the performer Vivald'Ick! This is her fourth son to be approved. Quasibelle is also the sister of London, Golden Hawk, A Pikachu de Muze, Wabelle de Muze, Casimir de la Pomme and Dabelle.
52. Quality VL
Canabis Z x Jackson de Regor x Burggraaf
Very nice horse with good technique and abilities.
This is the line of Fabiola S and Pommery D'09.
81. Panenka de Kalvarie
Comme Il Faut x Echo van't Spieveld x Carthago
Very chic horse with elegant origins who completed two good performances.
His dam is the daughter of Grand Prix mare Electra van't Roosakker who has also produced his full brothers and sisters: the stallion Kassander van't Roosakker, who rides with Grégory Wathelet, and Kaprice van't Roosakker, former Belgian six-year-old champion who now competes for the United States.
82. Pioner van Prinsenveld
Casalito x Quintero x Literat
Horse with big abilities but with a very long technique in front.
He's a maternal half-brother of the Nijhof team stallion, Chapeau, whose granddam is a maternal half-sister of Carsten Otto Nagel's star, L'éperon.
Approved on performance:
93. Duel de HSP
Diamant de Sémilly x Calido x Landadel
Duel is an international competitor under Alexander Housen and his dam is a maternal half-sister of the performer Averner.
97. Vivald'Ick
Vivaldi du Seigneur x Rubens du Ri d'Asse x Chin Chin
Under the saddle of Ivo Biessen with whom he was fourth at the Prague Grand Prix**, Vivald'Ick is competing on the international scene like his sisters Very Belle du Seigneur (aka Heartfelt), Arac du Seigneur, and Calgary du Seigneur...
Quasibelle du Seigneur, daughter of the international Ta Belle van Sombeke, and maternal half-sister of the star London and the internationals Golden Hawk, Pikap, Taran de la Pomme, Casimir de la Pomme and the promising Dabelle.
98. Chacco Blue II
Chacco Blue x Cincaba Rouge x Vert et Rouge
Chacco Blue II competed at the highest level, representing Hungary at the Tryon World Championships under Szabolcs KRUCSÓ. This year, Chacco Blue II will be available in France at Ken Rehill before resuming his sporting career and should now run under Luciana Diniz.
His mother, Naiti Rouge, competed on the international scene with Cassio Rivetti and also produced Stakkato Rouge, Balou Rouge and Caitari who all ran in Grand Prix.
99. Deister
Quidam de Revel x Carthago x Grannus
Ranked in Grand Prix** under Perry Geryl, Deister is a maternal half-brother of the stallion E-Pleasure. Their mother is a maternal half-sister of Premier Cru and Balibu.
100. Tsar Hero
Ogano Sitte x Libero H x Jalisco B
A high-performing stallion under Wim Aegten, he is a maternal half-brother of Top Hero, who was ranked in Grand Prix*** under Johny Pals. Their mother, Da Silva Hero, competed at the highest level under Laura Kraut and is herself a maternal half-sister of Quick Silver B Z, who competed in Grand Prix under Rolf Goran Bengtsson, as well as Royal Star who also competed at the highest level with Cameron Hanley.
101. Warrior
Tangelo vd Zuuthoeve x Heartbreaker x Graaf Grande
Under Jamal Rahimov, Warrior performed at the highest level of competition, representing Azerbaijan at the 2012 Olympic Games and 2014 World Championships as well as the World Cup Final the same year.
Warrior is a maternal half-brother of Tender-Rose, who also rode in Grand Prix.