Yves Vanderhasselt : the amateur's dream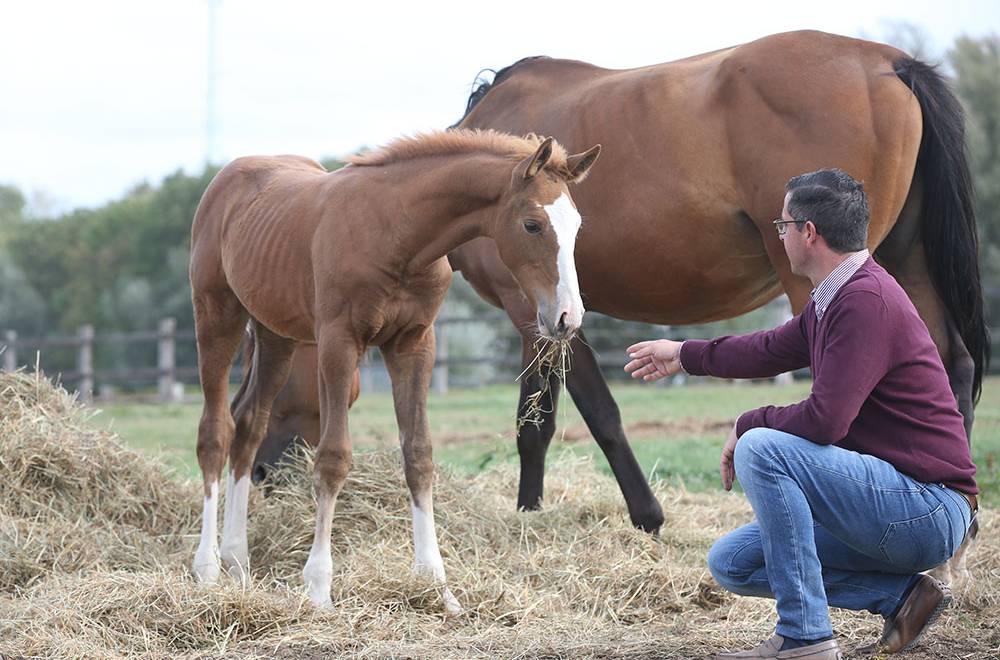 24 April 2019
Far from being a star, the businessman answers our questions clearly... and briefly.
At the moment, with the transport company and your work here, what does that bring you? Does that give you stability with the horses?
Y. V.: "Yes, it brings stability. I can put less pressure on my horses or on the sport thanks to the company. There are others who put more pressure on themselves because they need it, but for me, it is not the case."
Yves and the stallion Muscaris d'Ariel (Diamant de Sémilly) knew a lot of victories, including a third place at the World Championship for Young Horses at 6.
In Belgium, your talent and riding skills have never really been questioned and you've always found someone who had a horse, who allowed you to ride at two- or three-star level. How did that suit you? That was kind of what you were looking for at the time, in addition to the company itself?
Y. V.: "At Van Dijck's too, Muscaris d'Ariel, Prince van de Wolfsakker were all good horses; when they were sold, I got something out of it also. In the meantime, I have always progressed. I've gained a little experience. I've always had good horses. I've always trained and sold horses and then one day I had a good horse and I could start right away; I had the experience and I knew how it all worked. I never really did it, or not for a long time. I also did the World Cup in Mechelen and I also did one of the other Nations Cups with Prince vd Wolfsakker but it was always for a short period of time and then the horses were sold. But I've always ridden, I've always had the experience, I've always listened, I've always learned and now that I've had Jeunesse, I know a little bit about how it works and I think I have enough experience to manage it well, even if I haven't really done the high level before."
When you were at Marc Van Dijck's, all those horses you rode up to a certain level and then sold, was that Marc's decision? Did you know that this was the objective or were you involved in the business also?
Y. V.: "No, it was Marc. I once asked Marc to help me keep a horse a little longer, it was Prins van de Worsaken but he was a phenomenon and I said "wait, wait and you'll see that he's much better than..." but eventually he made the sale, he sold him well and that's it. "But no, because Van Dijck is a riding company, and we go out and we don't think about business. Then they get sold, and we say "oh, too bad" but there are other horses and so we continue on. But today I am more interested than before: breeding, business, contact with breeders. I'm obsessed with breeding. I like it."


Yves and the stallion Prince vd Wolfsakker (Nabab de Rêve) competed in Nations Cup for Belgium.
But it's always been like that, because there have always been breeders and friends who gave you horses to ride...
Y. V.: "Yes, I have always known all the origins and stuff. I have always talked with breeders. I'm interested in that."
Were you already training with Marc van Dijck before working for him?
Y. V.: "Yes, even when we were very young. He used to come to teach us at home."
At one point, we always heard that Yves was one of the most talented riders in Belgium, but not the bravest, who was just going to ride his horse, doing great competitions, that he was steady out on course. Did it hurt a little when you heard that, or did it correspond to what you were doing at the time?
Y. V.: "It corresponded to what I was doing at the time because I never rode the horses (day to day) but today, the situation is quite different because I always ride Jeunesse myself. I began when she was four and there was no one else who rode and trained her. Today, I do it myself, I love working a horse. I prefer a good four-year-old to a ten-year-old horse with an owner who's not good enough to keep riding it, I prefer to start with a good four year old, it's much more rewarding."


Fond of breeding and genetics, Yves presents the offspring of his mares in the foreground, Madness Vitseroel Z (Mylord Carthago & Jeunesse) and in the background, Fonzy Vitseroel Z (For Pleasure & Kiki Vitseroel by Accardi du Houssoit Z).
Was that the philosophy you had when you rode the young horses?
Y. V.: "I have always ridden young horses, at Van Dijck too, the four- and five-year-old's, I have always ridden young horses, in Lanaken, in Gesves... I have always been to the Championships."
And we see just that, after seeing a lot of horses that you've trained such as Cornet d'Amour or others, what is that like? Is it pride or is there some regret every time you see them again later?
Y. V.: "Oh no, it's more like pride, yes. And Cornet d'Amour, my father-in-law bought him when he was two-and-a-half years old and I was the one who rode him at four, Evelyne rode him at five. I often rode him at home and also in Gesves and all that, but he wasn't 100% right for Evelyne so her brother tried him for a while, but he didn't suit Evelyne's brother very well either, so my stepfather sold him. There were many offers so he sold him and no, there was no regret, on the contrary, today, we are still just as proud to have had Cornet, to have trained him. No, no regrets."
We see your young horses sometimes, and we talk to you about a four- or five-year-old - when you think you have a good horse, is it rare that it's not confirmed later?
Y. V.: "Yes, indeed".


The filly Souplesse Vitseroel (Hallifax vh Kluizebos & Jeunesse).
That's an ability many don't always have…?
Y. V.: "That, I don't know."
Do you think it has helped you? Because you don't buy many horses?
Y. V.: "No".
But you see, you still have a lot of horses at a good level. Obviously, Jeunesse is at an incredible level. Are you picky when you buy a horse? What do you look for when buying a horse?
Y. V.: "They must feel good when you are on them. Jeunesse was barely broken in, I could get on her myself and jump an obstacle, but what she was doing at the time was incredible. I've never felt like this before. She was pounding the ground. She was doing something that other horses weren't doing. Also, she came from a good line. Her granddam was also the granddam of Ultra-Top Paradijs among others, at that time, I didn't know of Venezia d'Ecaussinnes yet. She also came from a good line, I've always looked for horses that came from a good line of jumpers but when I tried her, I was crazy about her immediately. Even at five years old, the feel on her was unusual and when you saw her jumping on video, it was quite normal to see but on her, it was... Every time I finished a course, I said "She's wonderful" and people were looking at me and thinking "but what is he talking about? "but the feeling on her was phenomenal."
And how did you find the mare just after breaking-in?
Y. V.: "Oh, she was at someone's house to be broken in and I was talking with a good friend of mine who goes there for a drink quite often. One day, he told me, "I think there's a good four-year-old there" and so we went to see her."