Yves Vanderhasselt : the amateur's dream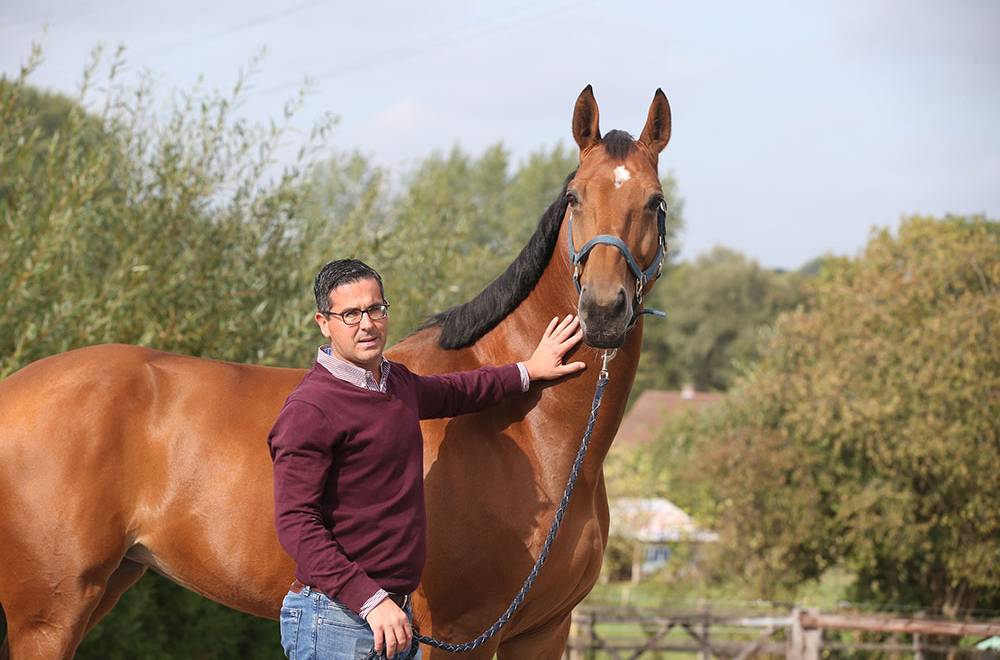 23 April 2019
What is it to be an amateur? You really wonder when you see a pilot like Yves Vanderhasselt repeat that he's an amateur rider. But it's true, first of all, he and his brother Philippe run a transport company. Nevertheless, he is one of the most talented riders of his generation and last year with Jeunesse, he proved that he was perfectly capable of riding at the highest level.
This year will certainly be a pivotal year, a year of confirmation... or not. Jeunesse is 10 years old and they have proven what they are capable of... but Belgium has many well-ranked riders... some of them having already shown that they don't have the nerve for the championships. The key to the enigma is held by Peter Weinberg... but in the meantime, we suggest you discover a discreet man who doesn't like saying too much.
Yves and his crack Jeunesse (Eldorado vh Zeshoek x Quasimodo vd Molendreef x Major dl Cour) whose mother is a sister of Prima Donna van't Paradijs, mother of Subliem and Ultra Top van't Paradijs, and more recently Agatha and Venezia from Ecaussinnes.
How did you first discover horses?
Yves Vanderhasselt: "My father. He was riding a bit; he did a little bit of breeding but on a very small scale. We had a Shetland or two at home when we were very young. When I was six, we used to go to the LRV competitions with ponies and then it began. Then, we got better ponies, then one day we got Identity and then everything changed for everyone."
Was it just pony club at first?
Y. V. : "Yes, we were already making a lot of money with ponies, but then we bought Identity. My brother started riding her, he went to the European Championships with her and I went with her the following year. I was European Individual Reserve Champion and Team European Champion. Then, once you get to that level, you don't want to go backwards and so my parents bought older, experienced horses for us to continue on as Juniors and then, in the meantime, we had young horses that we trained ourselves and we've since remained in the sport in some way."
Is Identity a pony that changed the fate of a family?
Y. V.: "Yes, probably. I don't know. We probably would've still done well, but on a different level. I think so, because before Identity, we also rode ponies and we earned a lot, but it was on another level. Once you get comfortable at a certain level, you want to stay there."
And these medals at the European Pony Championships, what did that change for you?
Y. V.: "We made a name for ourselves; we made ourselves known and if you're well-known, you can get a horse more easily. Yes, it did rather, otherwise horses don't pay much. Everyone knows you, that's it."
Is it a nice feeling that everyone knows you? Is it easier for dating? (laughs)
Y. V.: "No, but obviously it's easier when you're well-known."
Yves in 2007 with the stallion Jah's Diamant (Galoubet A x Garitchou x)
After the ponies, you also did Juniors and Young Riders, or did you have to train young horses?
Y. V.: "I was at the European Championship in my final year; I had never been to the European Championship the previous years at Junior level."
Was it difficult to train before those two Pony Championship medals?
Y. V.: "Yes, it was different. I'm quite realistic. I knew how to get through this. If we didn't have the right horses at the right time, I could always ride in Junior and Young Riders but it was just that I had never been to the European championship, simple."
But is it what taught you to be realistic or were you already realistic before?
Y. V.: "No, I think I was born that way. Then, in 2003, I started riding for Marc Van Dijck when I was 24 and stayed there for almost 10 years."
The Young Rider years were already over by then...
Y. V.: "First I rode for Stephex for a year because I was still going to school, I was in High School. Then Gilbert De Roock called me and said, "Nina Fagertsrom broke her collarbone and cannot ride for six weeks." It was during the holidays. "Can you come and ride her horses for six weeks because they're here, they have to go out, they have to compete. "So I went and rode at Stephex... and stayed there for a year. Then one day, my father had heart problems and needed urgent surgery. He had stents put in, it was critical I'd say, and I told Stephex that I was sorry, but I had to go home because my father was at the clinic and I had to come back here to take care of the transport company. I started working here. Then one day, Marc Van Dijck made me an offer to come and ride his horses. It was one afternoon a week, going to his house to ride, and just riding them at competitions. That was interesting and I did it for almost ten years."
So, you were studying simultaneously when you went to Stephex?
Y. V.: "No, I had stopped, I dropped out my studies."
Yves in 2006 during Lummen's CSIO**** Grand Prix with Vici van het Plutoniahof (Nabab de Rêve)
So, what did you study then?
Y. V.: "Business management, at a business school with shipping, distribution and transport options. I quit in second year."
So, did you always have it in mind to work at the family company?
Y. V.: "Yes, that was the goal. And then by chance, I started to ride at Stéphane's until my father had the heart attack and there I was, so I thought it was time to get into the business. And then, after a year, Marc made an interesting proposal, I could ride while continuing to manage the company."
But compared to your brother, you never thought about only doing horses?
Y. V.: "No, never."
Why not?
Y. V.: "I didn't like it. I don't know. I'm not that interested, I don't know."
Yves & Christophe are today the most famous riders in the family, but Philippe and Olivier also ride on the international circuit occasionally for fun.
Have you always been interested in the family company?
Y. V.: "That's what was expected of me, that's all. (laughs) No, that's the way it is, this is what we expected."
Would you have liked to do something else at some point?
Y. V.: "At that moment, I didn't think of anything else, no. Maybe now that I'm a little older, I'm starting to think about it and maybe I'll do something different, yes."
Would you do what you did differently, or would you plan the future differently?
Y. V.: "Good question. (laughs) I don't know. The future, maybe yes. I don't know how or what, but I may also do something with horses in addition to what I'm doing now. Maybe a company with my wife, like a "farm/stable".
To be continued tomorrow on Studforlife.