Yuri Mansur is ready to bounce back!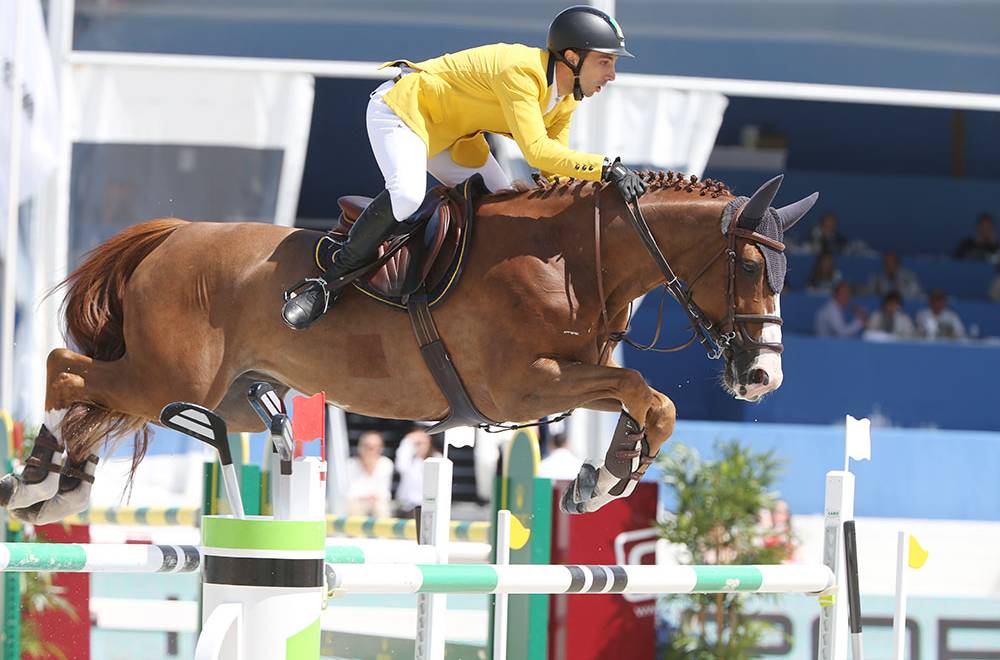 30 July 2020
"It's been three years of complications for me. I've been chasing the time with very good horses but often find myself having to make up for the absence or sale of another horse. There are deadlines, like the Olympics and the Global Champions Tour...
There was Vitiki's big injury that hit us very hard. We feared that he wouldn't be able to walk any more, and then finally his recovery progressed incredibly well, to the point where we were hoping to ride him again and jump him, and today I'm hoping that he can get back to his former level. His progression is a linear curve that just keeps going up and now I can almost ignore that injury when I ride him. You've got to realize that his return to competition is a real fairytale... but it put a lot of pressure on me! If the story goes well, as it is now, it's wonderful... but nobody wants to see anything bad happen in the arena. Nobody wants to see that and if it had happened, it would have looked like I had taken too many risks, so I really took my time, one step at a time. It's easy to forget that Vitiki only did six months of competition at the highest level before his accident. What he did was just incredible. We had only done a few competitions together at that point; he was making his debut at that level and he had already made it to Aachen. It was unbelievable. Today, we're getting stronger. I took him to Wellington at the beginning of the year but I only did four weeks out of the six of competitions. I want to be really gradual with our approach but he's very healthy; he's able to land on both his left and right leads. I'm optimistic about the future.
Babylotte's story is very different. She has a very good career behind her. Of course, I would have liked to prolong it, but her story was different. Since her return to work, she felt different when we jumped. I couldn't find the power that she had when we competed at the highest level... but I knew that I had built up this strength in her, so I hoped that she would come back with a lot of work. We did several tests and everything was ok... but eventually, this new injury became apparent. I think it's a sign and I don't want to risk having an accident. She has given me so much that I think it's time for her to focus on breeding, especially as she has had three foals who are already doing so well today. This is an area in which I don't have much experience and I don't pretend to be a breeder, maybe I will even partner with someone in the future because I think that at some point, we will probably offer frozen embryos from her for sale, but first, I'd like to breed three embryos; one each by Cornet Obolensky, Verdi and Emerald. I think each of those three stallions can add something to her, although they're all very different. For me, Cornet is the best stallion in the world and I've always been very lucky with the Cornet's that I've ridden. I think Verdi can add his strength and physique to Babylotte, and I like Emerald a lot; many of his offspring can be seen competing on the circuit today.
Nowadays, I really rely on Qh Alfons Santo Antonio (Aromats) who made his debut at the top level last year, and confirmed he belonged there at the beginning of this year in Wellington. I consider him my best chance for the Tokyo Olympics next year and their postponement is, for us, the best thing we could have imagined. Of course, I would have preferred not to have had to face this Coronavirus, but in sporting terms, this quieter year has finally allowed me to take the time to step back and build up my string. I've been chasing time for three years now, and I've had three years of bad luck with my horses. Each time, I've had an injured horse and another one had to take over without being totally ready to do so. I was following that same path again with Alfons. It was inevitable, there are goals to reach. Today, the lighter schedule with lower level competitions allows me to take a small step backwards to be better prepared for next year. I will also prepare a special program for Vitiki and for Ibelle Ask (formerly: van de Groote Haart) who is also recovering from injury but who is also getting stronger for the Games, however, Alfons is clearly my first choice. He has the potential to do great things," explained Yuri Mansur.