Young riders were more motivated than ever in Opglabbeek!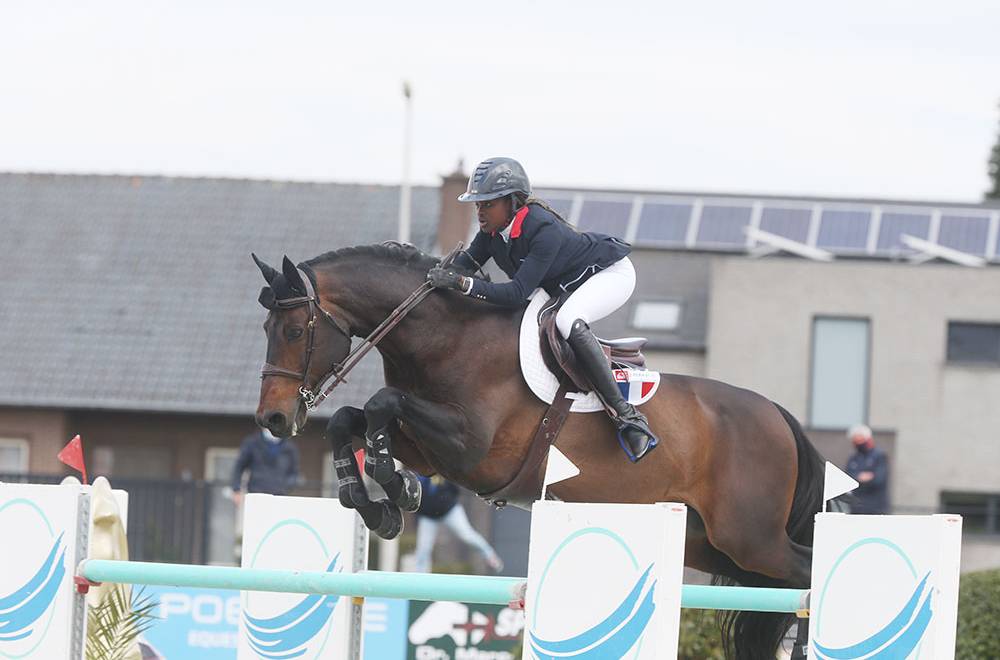 19 April 2021
Let's savor the delightful, beautiful sport that took place last weekend! Back on the main international events, as every Monday.
La Silla CSI4*
The only CSI4* scheduled as part of the competitions held this weekend was a Mexican competition that welcomed 33 riders and horses to a 1.55m Grand Prix. The home victory went to Manuel Gonzalez Dufrane riding Hortensia van de Leeuwerk (Corland). Second place went to Brazilian Rodrigo Lambre and Chacciama (Chacco-Blue), followed by another Mexican rider, Patricio Pasquel Quintana on Babel (Billy du Lys).
Wellington CSI3*
Competition continued in Wellington despite the end of the Winter Equestrian Festival. A CSI3* took place last weekend as part of the spring tour. In the $137,000 Grand Prix, American rider Laura Kraut won with Baloutinue, a daughter of Balou du Rouet. Her compatriot Beezie Madden placed second with her faithful mount Breitling LS (they're on the American long list for the Tokyo Olympics). Paris Sellon completed this 100% female and 100% American podium, riding Anna Jo (Acodetto 2).
Gorla Minore CSI3*
In Italy, Piergiorgio Bucci, riding Naiade d'Eslsendam Z (Nabab de Rêve), won the 1.50m Grand Prix in great form. Three Swiss riders followed, including World No. 3 Martin Fuchs, who rode The Sinner (Sanvaro) and placed second, and Elian Baumann and Campari Z (Contact vd Heffinck), secured third. A noteworthy mention goes to Spain's Sergio Alvarez Moya who competed in his first international competition here with star mount Alamo, securing fifth place (Ukato).
Linz CSI3*
In Austria, a CSI3* was also held with the Sunday Grand Prix as the main event. Czech rider Ales Opatrny won on Forewer (Caruso 279), and German rider Wolfgang Puschak on Number One 32 (Call Me Number One) took second place, while Austria's Dieter Köfler and Farah Dibah (Cornet Obolensky) completed the international podium.
Opglabbeek CSIO Youth
This weekend, the young up-and-coming riders had one of their biggest events of this particular year. The Opglabbeek CSIO welcomed ponies, children, juniors and young riders from many countries. Let's start with the ponies' category results, with their Grand Prix which took place on Friday. German rider Lara Tönnissen won this 1.30m class on Clarissa New (Coronas), followed by Swedish rider Mathilda Hansson on Unsphinx d'Hurl'Vent (Leopard de Mahoud). Belgian rider Vic de Plecker completed the podium with Orchid's Anucia (Kanshebber).
In their Nations Cup, the Netherlands (12 points) won, ahead of Belgium (16 points) and Germany (19 points). In total, four teams competed in this event and the Netherlands also lined up a second team here, who are at the bottom of the rankings.
Germany also took out the Children's Grand Prix, with Paula Pahl securing the victory. She rode Easy Kolibra MO (Espatako) and came in just ahead of Swedish rider Linn Arvidsson on Glenmorangie (Cyklon 1083). Another German pair completed the podium: Fabio Thielen and Dede V (Tlaloc M).
Germany was again in the spotlight, this time in the Nations Cup for children. At the end of a jump-off to decide between the first four teams with double clear scores at the end of the first two rounds, it was the German team that won ahead of Belgium and the Netherlands.
Nations Cup for children Results
In the junior class, the 1.40m Grand Prix went to the Belgians, at their home event! Luiz Felipe Neto de Azevedo, rode Chacito (Chacco-Blue), coming in ahead of Tristan Guisson on Naturelle vh Legitahof Z (Nabab de Rêve) and Bart Jay Junior Vandecasteele accompanied by Kadee van het Heikanthof.
In their Nations Cup, Belgium also won with a total score of four points, ahead of France (8 points) and Germany (12 points). In a future article we will focus on the highlights of this event, where one of our journalists was present!
Finally, in the young riders' category, the Grand Prix went to the Belgian rider Alexander Housen, riding Casillas van de Helle (Casall), ahead of Dutch rider Niels Bulthuis and Chicharito LS (Chapultepec). France occupied the next two places with Mathilde Pinault on Sea Coast Kira (Emerald) and Ramatou Ouedrago on GFE Up to You (Calvaro FC).
Young Riders' Grand Prix Results
In the Nations Cup which was reserved specifically for them, the strongest young riders of the day were the French, with a total of 14 points and the best performance of the team was achieved by Ramatou Ouedrago, who reflects on the performance for us: "Up to You jumped magnificently well throughout the weekend and didn't touch a single rail, he was extraordinary! The Nations Cup was quite technical; you couldn't lose focus at all and had to stay present from start to finish." Belgium (16 points) and Germany (36 points) completed the podium.
Young Riders' Nations Cup Results
Lier CSI2*
Also in Belgium, the Lier CSI2* Grand Prix saw a 100% Belgian podium. Jeroen Appelen, Thibeau Spits and Karel Cox occupied this podium, riding Lunatique de Kwakenbeek (Cicero Z), Classic Touch DH (Casall) and Evert (Amadeus) respectively.
Bonheiden CSI2*
A Grand Prix set at 1.45m was offered in Bonheiden and victory went to Ireland's Alexander Butler, riding Chilli B (Berlin). Belgian riders Pieter Devos with Jade Vd Bisschop (Ogano Sitte) and José Thiry on Jalisco W van de Wolvenhoek (Vivaldi du Seigneur) completed the podium at the end of a 12-rider jump-off.
Arezzo CSI2*
In Italy, the 2* Grand Prix in Arezzo crowned Swiss rider Jane Richard Philips and Clipper du Haut du Roy (Flipper d'Elle) the winners. On home turf, Marco Pellegrino took second place with Vick du Croisy (Lord Carthago), ahead of the Slovenian Urh Bauman on Larisal.
Westergellersen CSI2*
In Germany, in the 1.45m 2* Grand Prix that the Westergellersen competition offered, Champion rider Rolf-Göran Bengtsson won with Ermindo W (Singapore). He came in ahead of Dutch rider Gerben Morsink on Navarone Z (Nabab de Rêve) and Germany's Mylen Kruse on Chaccmo (Chaccomo) after a nine-rider jump-off.
Featured photo: Sportfot.com