"You must always look positively to the future by controlling your thoughts." - Michel Robert.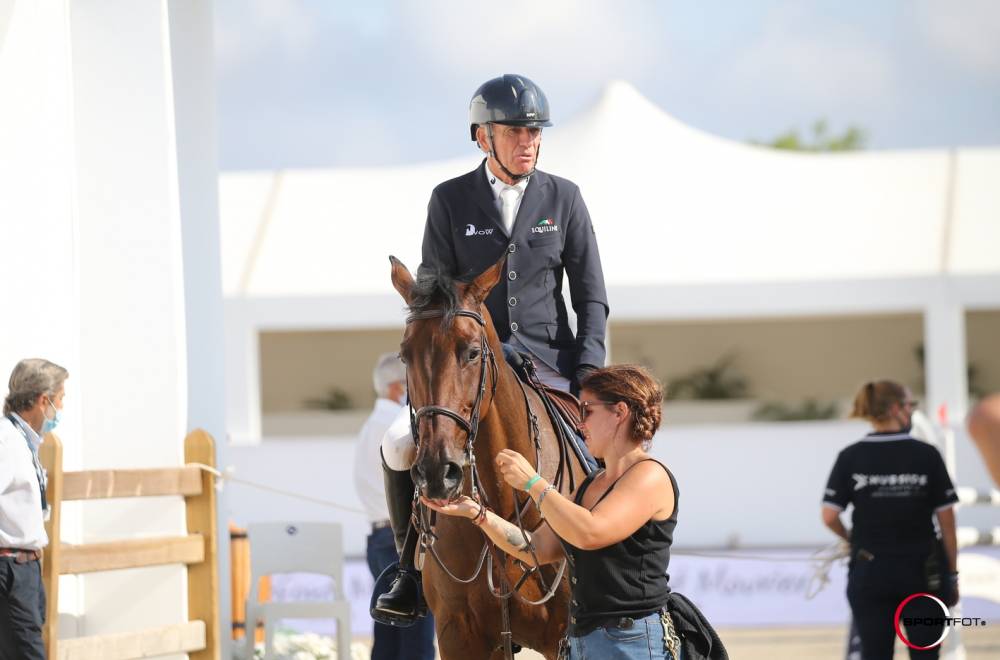 31 May 2020
In a career spanning more than half a century, Michel Robert has become one of the masters of modern equitation in France. From his estate in the Nord Dauphiné where he spent containment, the horseman gave us a fascinating interview in which he shares his philosophy and his desire to pass it on.
HOW ARE YOU DOING AT THIS PARTICULAR TIME, ESPECIALLY AS YOU ARE SOMEONE THAT IS POSITIVE IN ALL CIRCUMSTANCES?
"I'm very well. I'm fit and very happy. This period has given me a lot. It's as if time has stopped. We find ourselves standing in front of a great void, practically without a future. We have time to reflect and take care of ourselves. As far as I'm concerned, I have a yoga session in the morning followed by a light breakfast. I go riding in the morning and afternoon and then take a nap. I devote a lot of time to my personal development. I've been asking myself how I can pass on all the experiences I have had and how to bring positivity to as many people as possible."
YOU PASS ON YOUR KNOWLEDGE THROUGH BOOKS AND NOW THROUGH VIDEOS THANKS TO HORSE ACADEMY. IS THIS WHERE YOU'RE HEADING RIGHT NOW?
"Yes, because I receive a lot of requests from people who would like to come and do internships with me, or for me to come and do internships with them. It's something I do, gathering a lot of people together, as I have done with the FFE in nine places in France, with about two to three hundred equestrian professionals each time. It was a great success. Passing that on through Horse Academy and my books is very important to me: it's one of the things that gives me reason to live. I particularly want to continue developing Horse Academy. I'm lucky enough to have many partners and sponsors who still support me and I thank them for that. They allow me to continue to maintain the stable."
KEVIN STAUT TOLD US THAT THE APPROACH HE DETAILS IN HIS BOOK MIGHT BE DIFFERENT TEN YEARS FROM NOW. IN YOUR OPINION, CAN A BOOK ON A METHOD CHANGE FROM YEAR TO YEAR, AS OUR EXPERIENCE EVOLVES?
"As for my book 'Secrets et méthode d'un grand champion', which I wrote about ten years ago, I think it is still relevant and always will be because it deals with some great principles of life that are very simple. Above all, it is our state of mind that we're in that allows us to progress. The beliefs we have at the beginning are false, they need to be changed. We have been educated in a certain way that today we realize was questionable. In order to succeed in evolving, in maturing, we need to be open-minded. I have tried many things in order to learn on my own. Before I stopped eating meat, I tested it out to see how I felt, and I felt good. That's my experience, but everyone does what they want. Some people want to overdo it, I may be overdoing it, but I test things out and I see very quickly if I'm going in the right direction or not. We need to know what makes us happy and what makes us unhappy. If we remove everything that makes us unhappy, then we become happy."
IS YOUR METHOD UNIVERSAL AND INTENDED FOR ALL LEVELS?
"I wrote my book with a seven-year-old child as well as a great international rider in mind, and I think that in between, there is room for everyone. Everyone can read and use my method without any problems. It is designed for comfort, understanding of the horse and of course its physique. Working on the horse's physique means first of all understanding almost scientifically how it works and why we need, for example, to simply lower its head so that it stretches its neck, its back goes up, and it can carry the rider. Like when I say that to be happy, we need to remove everything that makes us unhappy, and well, on horseback, there are a lot of gestures and actions that are useless. The horse doesn't need anything to turn left and right or to go jumping, except understanding. My method is based on very simple and logical things. I would like to have someone come and contradict me one day. That has never happened before. Maybe people are just being polite or nice to me (laughs), but what I mean is that I can prove what I do. You can see it, the horse changes from one minute to the next. That's why my method is clear and very effective. I have a lot of solutions that I can pass on that can help a lot of people. That is my mandate today. The objective is to always please oneself, to please the horse, to finish a session with a big smile on your face, that the horse is happy, with its ears forward and that it goes back to the stable ready to start again tomorrow."
WE SAW JULIEN ÉPAILLARD HIGHLIGHTING THE FACT THAT HIS HORSES ARE ALL UNSHOD. WHAT IS YOUR OPINION ON THE SUBJECT?
"Julien is in the process of trying out this experiment. It's very good. As I said, you have to have an open mind. I think it's interesting to see how it's going to be with his horses, how they're going to be after a while. I'm neither for nor against it. I've been on unshod horses before and when I went to competitions it didn't work at all. It was a disaster, my horses only jumped one meter twenty and they stopped. Maybe I didn't do it right. But again, it's good to experiment, to be ready to change your method."
DO YOU THINK WE NEED TO MOVE TOWARDS LESS TOLERANCE OF ANIMAL WELFARE ISSUES IN SPORT?
"I think people's consciousness is changing. All the more so in this period that offers a time for reflection. We're no longer in a process of absolute profit, chasing money and equipment, or at least we're doing it less and less. We are searching more and more for happiness and spirituality. I think that the judges in competitions sometimes don't have a lot of freedom. That is to say that they notice things but they cannot enforce the rules. That's for sure. There are judges who let things go or point things out, and that's the end of it. So regarding enforcing the rules, I think there's a lot to be done and improved so that horse's welfare is respected. Cameras in competition stables for example, I think it would be really useful. After that though, it's impossible to prevent people from doing what they want at home..."
YOU ENDED YOUR TOP-LEVEL SPORTS CAREER AT EQUITA'LYON IN 2013, BUT YOU ARE STILL SEEN PERFORMING WELL IN 3* EVENTS. IS YOUR COMPETITIVE SPIRIT STILL INTACT?
"At every stage of my life, competition riding has served to show me how far I could go with my riding. I went all the way to the Olympics; it wasn't bad. Later, the goal was to beat others, in the "mean" spirit of being the best. That's not the case anymore. Then, I began searching for beautiful riding: what can I improve, beyond the results? Understanding the horse and the rider is what I am after. My passion is to analyze each movement of the horse, each movement of the rider, each of their states of mind at each moment, to anticipate what they will do, to study all this and to look for the root cause of the problems or successes, if any. It's exciting and it's an endless process. Being the best at home is easy. But it's by confronting yourself in a jump-off with very competent, very strong and very fast-moving riders that you realize that you're either in or out of it, and it's about doing what you have to do to be the best.
Last year, I had a great time when I was invited to the CSIO5* in St. Gallen. There were twenty-one of us in the jump-off, with all the great riders. Winning an event like that makes me feel better. I say to myself: "If you can still beat them, it's because you're still on the right track." What interests me above all, regarding the animal, is to prove that it's possible to win without artifice, without drugs, with "natural" horses, and that victory is much more beautiful that way. Horses are very smart animals that understand many things, and we humans don't always understand how they work, nor their language. Speaking and understanding the horse's language is essential for both the horse and the rider to enjoy what they're doing."
DESPITE MANY MEDALS, ONE TITLE DOES NOT APPEAR IN YOUR LIST OF ACHIEVEMENTS: THAT OF INDIVIDUAL OLYMPIC CHAMPION. IS THAT A REGRET?
"As far as I'm concerned, not at all. Pierre Durand wanted to be the gold medalist at the Olympic Games – and he succeeded - hats off to him! - but for me, medals are a thing of the past. They are an encouragement to continue. However, I'm convinced that the 1982 World Championships which we won with Gilles Bertran de Balanda, Patrick Caron and Frédéric Cottier strengthened my case."
DOES THE AMERICAN SYSTEM IN WHICH A RIDER USUALLY SUPPORTS ONE OR MORE PUPILS ALMOST 24 HOURS A DAY APPEAL TO YOU?
"I don't think that that type of system would go very well with the French temperament. To have so much control over the riders, to say: "Today you're riding that horse, you're going to do this event, etc., I think it's not a good fit with the French temperament." It would be badly perceived. In the United States, coaches are very bossy, and it works! But you have to have pupils who accept that. Personally, I'm not at all of that vein. I train several riders who come to work for me. They come to spend three days with me, we work together, we see what's wrong. Then they leave, they compete, I don't see them for a month or two. We meet up again at a competition and we talk about it. I think a good teacher is one that his pupils can do without. Whereas in the American system, if they don't have their coach next to them, they're lost. I bring my students a solution, I say, "Do it, try it, test it, and then it has to become your own belief."
YOU GAVE US YOUR DEFINITION OF WHAT A GOOD COACH IS, BUT WHAT DO YOU THINK A GOOD RIDER IS?
"A good rider is one that loves and respects horses. For me, that's the first thing. After that, they are the ones who succeed in enhancing their horse and making it beautiful. There are riders who, when they ride horses, make them ugly, while when others ride those same horses, they become beautiful. This is a really important message. A good rider is a rider who seeks harmony, pleasure and understanding with the horse. It is this symbiosis that is interesting. It's not who's going to win the most, it's how you do it."
GIVEN THAT YOU COMBINE EFFICACY AND AESTHETICS, DO YOU THINK THE HUNTER JUMPING IS A MUST?
"I don't think you can force anyone to practice this discipline. You can encourage people to do hunter jumping, that's for sure, because it forces you to work on your position and allows you to jump with horses that are not necessarily exceptional horses. A lot of riders manage to enjoy it and to work on a beautiful riding. But if the rider wants to progress, they can do hunter jumping over courses set at 1.10m or 1m, in competition, without getting noticed. I remember a time in my life when I said to myself that I didn't necessarily have to get any results for a month, but that I had to rework my position a little. So I worked on it by riding courses and applying myself. You can do that as long as you have the correct basic position of the rider."
YOU POINT OUT THE IMPORTANCE OF MENTAL PREPARATION IN SPORT...
"Years ago, I read a book called 'Tennis and Concentration' (written by American writer Timothy Gallwey) that was a trigger for me and opened my eyes. In tennis, skiing, and other sports, it seems indispensable. In our sport, we are trailing behind. I think that I'm still here today and still competitive because I'm ahead of the other riders in terms of sports psychology. If I had kept riding in the same state of mind as when I was thirty-five years old, I would have become completely obsolete and would have ended my career at that point. You have to be able to be positive in the way you do things and work on your thoughts: "What am I thinking about? What good does it do me? Is it really useful?"
IF THERE WAS ONE THING TO REMEMBER?
"I think you have to work on the mind and thinking through the eyes of the rider. With the gaze, it is possible for a lot of riders and horses to progress. A rider can ride properly if they keep their eyes up. If they don't, they can't keep their posture correct. This is important for the horse. You must always want to progress, to have an open mind and look positively to the future by controlling your thoughts."
Interview by Théo CAVIEZEL. Featured photo: © Sportfot.com