"You can't hold on, if you don't have the passion" - Benjamin Plantade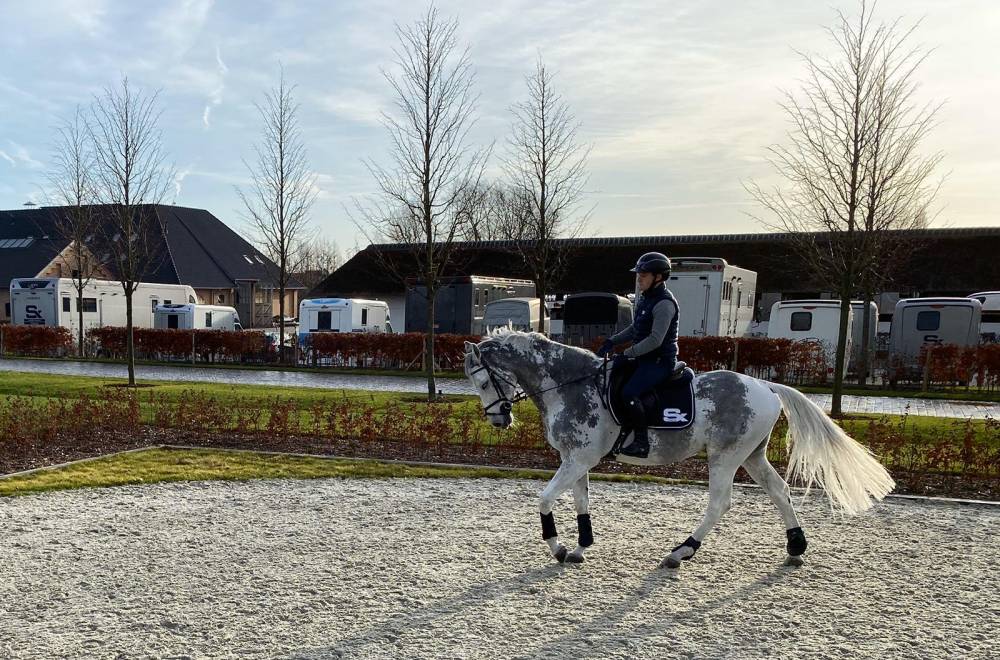 19 December 2019
As you now know, at Studforlife.com we like to give the floor to everyone involved in our sport. Today we would like to offer you an exciting interview with Benjamin Plantade, the in-house rider of the German Daniel Deusser. This Frenchman, an expatriate in Belgium where Stephex stables are located, told us about his daily life with the champions and his vision of the sport, as someone who watches the competitions from the stables. Enjoy reading!
WHERE DID YOUR PASSION FOR HORSE RIDING COME FROM?
"Thanks to my uncle who has a stable near Lyon, I have always been lucky to be close to horses and to ride. Although I have always had a passion for high level riding, I didn't really think at first that I would make a career in the equestrian world. So I studied first but my passion for horses eventually caught up with me and I started riding."
HOW DID YOU GET INTO ELITE SPORT?
"I quickly wanted to join a top-level team whatever the position. Before coming to Stephex, I spent a year with Shane Breen in Hickstead as a competition rider. I went there to learn English and to see how things worked with foreign riders. Shane's stable is based on an English and Irish model. There were a lot of young horses that came in every Winter and had to be finished breaking in or start competing.
It was by word of mouth, thanks to Fabien Lavaut, who was a groom for Patrice Delaveau at the time, that I learned that Daniel Deusser was looking for an in-house rider. I didn't mind the prospect of becoming an in-house rider again after having been a competition rider. What mattered to me was to continue riding and accumulate experience. I had already done this for Kévin Staut, I knew how interesting this role is. So, I applied and did a two-day trial and they kept me."
TELL US ABOUT YOUR BEGINNINGS IN THE STEPHEX EMPIRE.
"At Stephex, I joined a team that had been built up over the last few years. From the beginning, I had the same role as I have today, but I obviously had to integrate and adapt to a new way of working. I made a few mistakes, but these allowed me to progress and find my place, and then to take on greater responsibilities.
I had an excellent first contact with Daniel. As soon as I arrived at his stables for my trial, he became interested in me and who I was. I immediately felt that it would work out. You can't ignore the fact that Daniel is a bit of a clown! But at work he is a very serious person, very rigorous. Everything must always be adjusted down to the last millimeter. When he rides his horses, he doesn't do anything else. If he has something to tell us or to show us, he comes to see us afterwards, never during. He has his own way of doing things, it's up to us to follow him."
DURING YOUR DAILY WORK WITH THE HORSES, DO YOU ORGANIZE YOURSELF FREELY?
"I have a lot of freedom when it comes to working with the horses. Daniel is only at the stables two or three days a week. Sometimes he can even be absent for several weeks. There are about ten horses to ride. When he's present, I follow his program but when he goes to competitions I can organize the horses' program as I wish, obviously taking into account the upcoming competitions and the horses that will participate, even if they're always more or less ready. With Tobago Z, for example, we make sure that he is always fresh and available so that Daniel only has to maintain his energy and let him ride.
For major events such as the European Championships in Rotterdam, we prepare six months to a year ahead. Deadlines like these never leave our minds. We work every day to meet them in the best possible way and every day the program and the adjustments we need to make become clearer. However, we don't really change our work routine, we just do things as usual, by simply being more concentrated. That way, we avoid a lot of pressure."
HOW DO YOU LIVE THROUGH THE COMPETITIONS FROM THE STABLES?
"When a horse leaves the stable to compete, as an in-house rider, I know that my work is done, and that I have done my best. The rest is in the hands of Daniel and Sean Lynch, the groom who accompanies them. It's quite difficult because I have no more power and I'm a spectator again. For events such as the European Championships, everyone at the stables who wanted to would gather in a room to watch the events. I have to say that it was quite unpleasant, I would almost have experienced things better if I had been on the horse myself (laughs)! I don't really communicate with Daniel when he's in competition, but I often call Sean for news, his feelings about the horses and videos of the courses when I can't see them live."
DO YOU SEE YOUR FUTURE WITH DANIEL DEUSSER?
"I would like to keep my place at Stephex and still compete with young horses from the trading stable. Ideally, I would like to keep one foot in the top level by continuing to work for Daniel at home and compete at my own level."
HOW HAVE YOU SEEN HIGH LEVEL SPORT EVOLVING SINCE YOU'VE BEEN IN IT?
"There are no breaks since there is an indoor and an outdoor circuit, the season lasts all year round and there is almost a competition every weekend. It's very intense. Therefore, you need to have an exceptional string of horses to stay in the World Top 5. That raises a lot of logistical questions concerning the grooms, the equipment, the travelling, the horses themselves. Riders and horses are spending less and less time at home.
I have even noticed differences between 2019 and the year I started working with Daniel. The competitions are further away, they start earlier and earlier in the week and have more big events than before. That has a real impact on all of our work. We need to prepare the horses better while saving money. We've set up a rotation system. The same groups of horses go to competitions together. Callisto Blue and Killer Queen VDM form a duo that complement each other well. Callisto is a Grand Prix horse while Killer Queen has similar abilities but is less experienced. They can therefore take turns throughout a weekend. If you want to stay competitive as an individual on the Global Champions Tour and at the same time as a team on the League, you almost have to have two Grand Prix horses, because there are always events at 1.45m / 1.55m, the Global Grand Prix and then the Grand Prix of the host city."
AREN'T WE ENTERING A VICIOUS CIRCLE WITH MORE AND MORE COMPETITION?
"I think it's great that there's great sport every weekend. That's what makes it interesting and exciting. But I'm well aware that it also makes things more difficult. The horses are putting in a lot of effort. You have to deal with their mental and physical fitness on a daily basis, and you have to be able to hold on over time without them suffering. So, we need to offer short, focused work sessions.
However, the stable staff also suffer from the hectic pace of the competition schedule. The demands are constant. You have to be robust, have a lot of willpower and be passionate. You can't hold on, if you don't have the passion. As an in-house rider, you also have to be ready to accept that your work may not necessarily be highlighted, even though you know it is essential. For my part, working behind the scenes doesn't bother me at all."
DO YOU HAVE TIME FOR YOURSELF OUTSIDE THIS JOB?
"We obviously have days off, which are not really days off because we always want things to be perfect when Daniel comes back on Monday, so we have to go to the stables. For me, it's sometimes difficult to have a private life, but at Stephex I'm lucky to see a lot of young people of my age, and we go out together. It's true that we stay in a bubble that only talks about horses. So I really like to go to Paris or elsewhere when I have the opportunity, to see other things and meet other people.
I don't have the time for other sports even though I follow several. I still manage to watch a few episodes of TV series, here and there. Recently I was very touched by the Netflix documentary, "Formula 1: Drive to Survive". In F1, there's a very closed circle of twenty drivers, no more. Even if they are the headliners, they're not alone: they have teams of one or two hundred people working three hundred percent every day to contribute to their success. And when things go wrong, an entire system is affected, not just the athlete, as in horseback riding. It's for these values, I love this sport very much."
DO YOU SENSE A DELICATE ATMOSPHERE WHEN THE PERFORMANCES ARE POORER THAN EXPECTED?
"Being at home, I experience things a little differently. After a poor performance, there's a bit of bitterness at the stable when Daniel returns. Even if you're one of the best riders in the world, you can't win every weekend. It's annoying but you have to put things into perspective and not get caught up in a vicious circle. There are a lot of competitions, you have to focus on the next, sort out what needs to be sorted out and keep moving forward".
WHAT WOULD YOU SAY TO A YOUNG PERSON WHO WANTS TO ENTER THE HIGH LEVEL?
"When you're young and you dream of entering the world of top-level equestrianism, like me, you shouldn't hesitate to take the plunge. Riding is not as closed a circle as it seems. You have to go to people, talk to them and try to seize the smallest opportunity that presents itself. If we give ourselves the means of succeeding, there's no reason why our efforts shouldn't pay off one day. Reaching Daniel's or Kevin's level is bound to be very difficult. It takes a lot of hard work and dedication. Anyway, I am passionate about what I do for Daniel. I hope to stay in this team for a long time because I still feel really motivated."
Interview by Pauline Arnal and Théo Caviezel. Featured photo: © Collection privée