A world record and a good top price for the Stud Hero farewell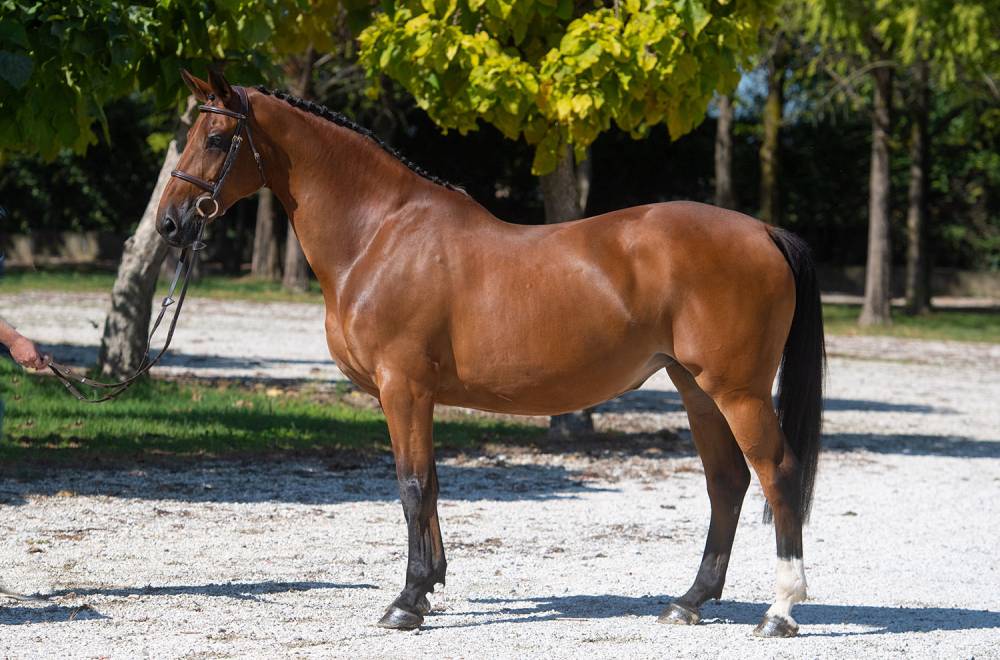 24 December 2020
On the first day, the first lot reached 9,400 Euros for the Clerheid school NPO in Erezée with the sale of the breeding name "Hero". A sale that continued with a world record for a broodmare auction: 570,000 Euros for Gatoucha van't Roosakker (Diamant de Sémilly x Darco). This sister of Electra van't Roosakker has competed at Grand Prix level and is also the dam of several Grand Prix horses including Tinkoucha Hero Z (Tinka's Boy). She is also the dam of the two great promising horses: Attoucha and Alana Hero Z (Aganix du Seigneur). Acquired by a Czech consortium, the story could have been quite different. Indeed, a week before the sale, we learned that the mare had been injured in her stall in Italy and that she had just undergone surgery in a clinic near Verona. Over the whole week, we discovered the fighting character of this mare who has never stopped progressing... finally to become the star of these sales!
The two full sisters: Capriola van't Roosakker (Comme Il Faut x Echo van Spieveld) above, and Top Lady van't Roosakker below.
It must be said that the ladies were clearly the stars of these sales! On Tuesday evening, Capriola van 't Roosakker (Comme Il Faut x Echo van 't Spieveld), out of Kent Farrington's star sister Kaprice van 't Roosakker and Zangersheide's stallion Kassander van 't Roosakker, was acquired for 55,000 Euros by a Belgian breeder. His own brother, Tip Top van't Roosakker, is also attracting attention and will be heading for Switzerland after having been acquired for 40,000 Euros... However, their full sister, Top Lady van't Roosakker eventually did even better by reaching 65,000 Euros. Ireland who had been unlucky the day before in their fight for Gatoucha won this time against Germany and France.
Datcha Queen Hero Z (Dominator 2000 Z x Aganix du Seigneur), second day top price at 90,000 Euros.
Indeed, the second day wasn't much quieter, but it was once again the fillies who proved popular with an incredible fight between Holland and Belgium for the offspring of the two great Zangersheide sires: Datcha Queen Hero Z (Dominator x Aganix du Seigneur). This granddaughter of the previous day's star Gatoucha van't Roosakker is a daughter of Paris Sellon's new star Attoucha van't Roosakker. In the end, Holland had the last word for the hefty price of 90,000 Euros.
The Netherlands were all the rage on that day as another Dutch investor bought Kassama Hero Z for 65,000 Euros after a well won fight against several French investors. This filly by Kassander van't Roosakker is out of the international Panama du Seigneur who is none other than dam of Olympique Tic-Tac and the performer Boyfriend du Seigneur.
Kassama Hero Z (Kassander van't Roosakker x Darco) will head to the Netherlands for 65,000 Euros.
"This sale is above all an adventure both from an organizational and a personal point of view. Indeed, I have received many messages since announcing my retirement as a breeder and I am very touched by this. The first two days of sales have been a great experience and it is clear that halfway through many customers are interested in female genetics. I am also very happy that some buyers have decided to trust my choice of young stallions and I think that many of them have made some very good deals and they will have some real sport horses in a few years. In my opinion, this is most important of all since this has always been my real motivation as a breeder!" said Luc Henry. The sale of his breeds will definitely close on the last two evenings of December 29th and 30th.
Featured photo: Julien Counet