World Cup Rider Jamie Barge is Ready for Paris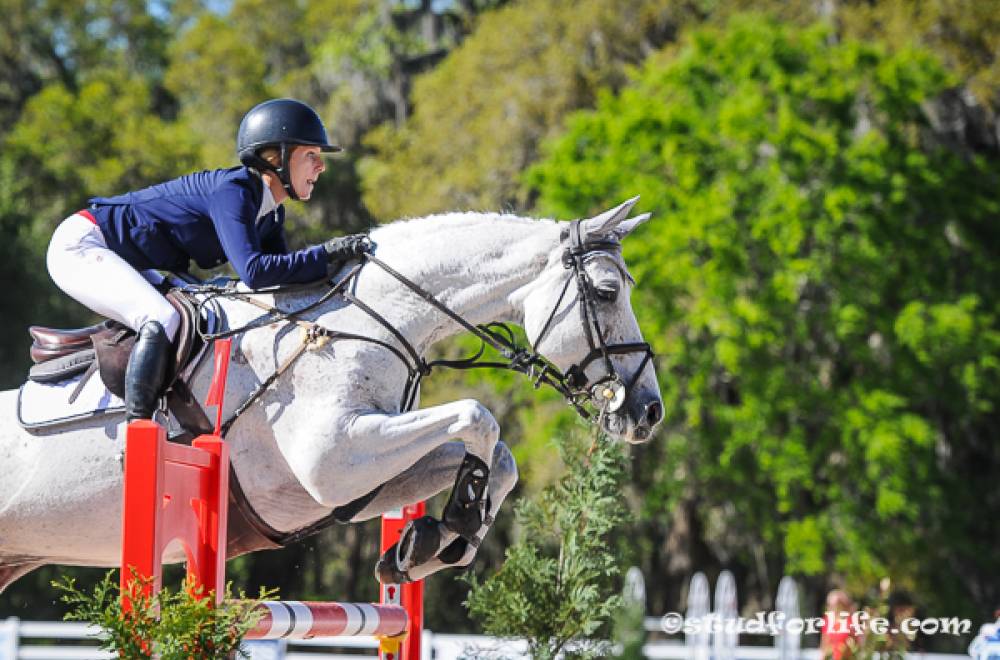 09 April 2018
Jamie Barge is proof that the horse is a great equalizer. To watch her ride capably over the sport's most advanced tracks, one would never know that she overcomes a unique challenge every time she enters the ring.

The 32-year-old rider from the United States and her horse Luebbo are among the roster of qualified athletes, which include 11 Americans, competing in this week's Longines FEI World Cup Jumping Final at AccorHotels Arena in Paris, France.

"Luebbo is unique in many ways!" Barge says about the 13-year-old Oldenburg gelding (Lord Pezi x Stakkato) with a big personality that she found through Germany's Eva Bitter in 2014. "He's top careful and he loves to jump. He always tries hard and has the biggest heart for this sport."

Last year, he proved it when he and Barge made their World Cup Final debut on home turf in Omaha, Nebraska. They finished inside the top 30. On this year's path to Paris, Barge added a few extra stops into her winter season schedule that have helped pave the way with their successes.

Normally based out of Southern California, Barge began her season where most West Coasters do, at the HITS Coachella Desert Circuit in Thermal, California. HITS Coachelle hosts the last FEI World Cup Qualifying class of the North American Western Sub-League during its one week of CSI competition. Barge and Luebbo jumped there, and then went on to Florida, where they also picked up points in the World Cup Qualifier at Live Oak International in Florida (pictured above). Then it was on to the nationally rated $1 Million Grand Prix at HITS Ocala, with a super double clear performance that earned her the 4th placed-prize check of $100,000.

"I was very happy that he jumped clean and had a positive class ," Barge said. "The prize money is a huge help in helping us get to Europe to prepare for World Cup Finals."

While Barge and Luebbo have experience under their belt jumping the big tracks of a World Cup Final, this year they headed to Europe early, to get in some more practice jumping indoors. They spent several weeks in Germany doing just that.

"We don't have many indoor arenas in California, and it's a much different feeling than riding outdoors in a big ring," Barge says. "My plan has been to get Luebbo adjusted to the time change and the cold weather!"

Barge counts Eva Bitter among her support team, as well as Marco Kutcher, whom she spent six months training with in Europe a few years ago. Gaby Salick and Alison Robitaille have helped her while stateside.

As for that unique challenge: Barge has dealt with extreme hearing loss since her childhood. She is legally deaf. What does that mean in the ring? She cannot hear the starting bell, and instead has to watch the countdown clock to know when to start. But unless you already knew about it, Barge's hearing loss is unnoticeable, and it certainly hasn't held her back.
Her support team is always at the rail to relay information, if needed, but once she is going, Barge has said that the hearing loss doesn't really affect her ride. There are advantages and disadvantages to being able to hear a rail fall behind you. And as noted, the horse doesn't care much whether you can hear or not. If anything, Barge relies on her horse's body language reactions even more than the average rider. She rides with above average focus, and it has gotten her all the way to the World Cup Final. While the highlight of her winter season was qualifying for Paris, this week, she will be hoping to make the highlight of her spring an even stronger finish to go home with.