The winners of the weekend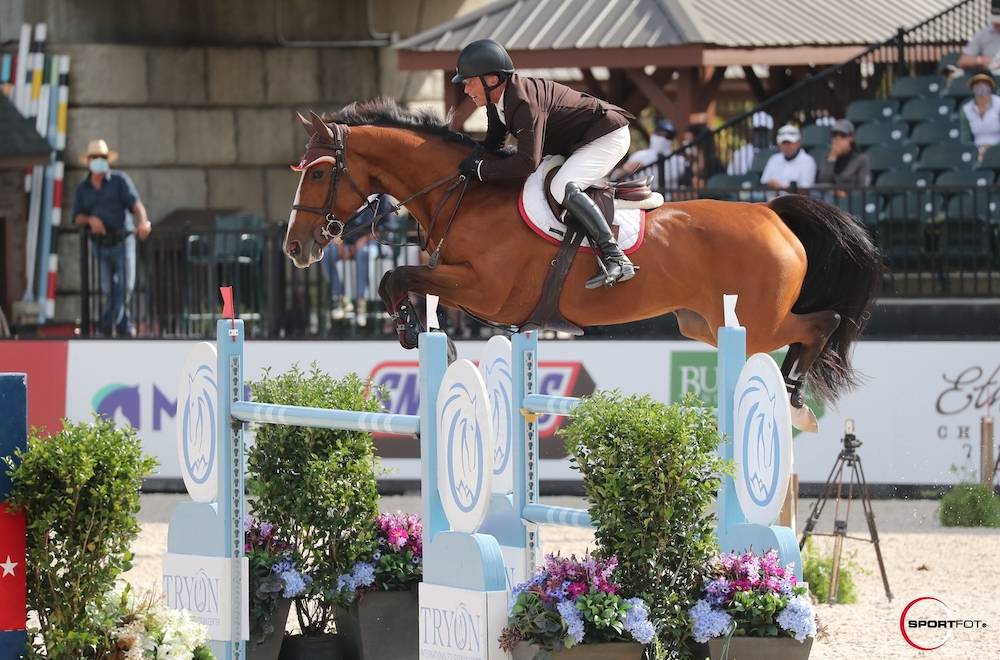 26 October 2020
No CSI5* events were scheduled this weekend but we could still count on some four CSI4* events! Here's the overview of the international competitions...
Saint-Lô CSI4*
This year, the Pôle Hippique de Saint-Lô has been awarded a fourth star for its CSI. On this occasion, many internationals responded to the call, but the Normans left little room at the top of the final rankings. Edward Levy won on Friday, Penelope Leprevost on Saturday, and Sunday's 1.55m Grand Prix was won by Julien Epaillard and his top-performing mare Queeletta (Quality). Second place went to Juliette Faligot and Riverland Arqana (Cornet Obolensky), and they were followed by young French rider Nina Mallevaey, in the saddle of Virtuose Champeix (Rubins des Bruyères), who was only taking part in his second CSI4*. "I'm really happy; there was a competition! I'm very lucky to ride such a horse and I infinitely thank all the Chev'el team which makes all of this possible; all those who work in the background so that we can make it to this level, and my parents who are always behind me!" Says the rider. "I'm delighted to share the podium with my coach, Julien (Editor's note: Virtuose Champeix's former rider). He helps me enormously, whether it be in the arena or outside of it, he's a true horseman," she concludes.
Studforlife also sends its thoughts to the entourage of Chacco Bella, Swiss rider Elian Baumann's horse. The Chacco-Blue daughter was put down on Saturday afternoon after she was finishing up her preparation for the 1.45m speed event. The 13-year-old mare deviated from her trajectory while jumping an oxer. The impact with the jump stand resulted in serious injuries to the 13-year-old mare, which prompted her team to make the decision to euthanize her.
Saint-Lô CSI4* Grand Prix Results
Vilamoura CSI4*
Vilamoura's fall tour continues on. This week, a CSI4* was offered to riders. The 1.55m Grand Prix went to Titouan Schumacher and his fast mount Atom Z (Amadeus Z); his first victory at this level! Foudre F (Namelus R), ridden by Irishman David Simpson, placed second in this event ahead of the Brazilian Francisco José Mesquita Musa on Alea Imperio Egipcio (Mylord Carthago).
Vilamoura CSI4* Grand Prix Results
Tryon CSI4*
Two other CSI4* events were held on the other side of the Atlantic. The first was held in Tryon, USA, where the Grand Prix took place yesterday afternoon. The President's Cup was originally scheduled to be held in Washington: but Covid-19 prompted the organizers to change venue. 15 combinations had perfect courses and secured their spots to start in the jump-off. The victory went to American rider Todd Minikus and Amex Z (Andiamo Z). Having won this same event in 1990 for the first time, he became one of the few riders to win his third Grand Prix of such scale. "I have to be honest, while I was waiting for my turn, I saw Karl's horse, which was just amazing last week, and Beat Mändli, who the week before had one of the most fantastic rounds I've ever seen in my life, Lillie (Keenan), and then Kent Farrington. I thought, "wow, that's a crazy jump-off". My horse warmed up well, I made the right choices, and somehow it worked out," the American admitted.
Karl Cook and his faithful Caillou 24 (Casall) confirmed their current form as the pair placed second in the event. Last week they won the CSI3* Grand Prix in the same arena. Third place went to Beat Mändli in the saddle of Galan S (Indoctro).
Tryon CSI4* Grand Prix Results
Todd Minikus' interview after his victory
Coapexpan CSI4*
The last CSI4* of the weekend was held in Mexico, where the host nation gave no chance to anyone else by securing the top eight places. At the end of two rounds, Enrique Gonzalez and his son of Chacco Blue, Chacna, won on 1.55m high bars. Paola Amilibia and Gaudi (Ogano Sitte) followed on the podium, followed by Juan Carlos Martin Del Campo on Dimitri (Up to Date).
Coapexpan CSI4* Grand Prix Results
Chevenez CSI2*
It was a Grand Prix behind closed doors and full of Swiss riders, but the victory went to Germany! Hans-Dieter Dreher and Berlinda (Berlin) managed to move up to first place ahead of World No. 2 Martin Fuchs on The Sinner (Sanvaro). Karine Christen Gerber scored a nice third place with Vahine de Guerena (Manhattan de Semilly).
Chevenez CSI2* Grand Prix Results
Opglabbeek CSI2*
The indoor competitions have started at Sentower Park! There were 63 starters in this CSI2* Grand Prix and only 7 in the jump-off... Dutchman Frank Schuttert was leading the final placings with his son of Nabab de Reve, Kinky Boy van het Gildenhof. Qatari rider Bassem Mohammed secured second place with Caletto Cabana (San Patrignano Cassini). Sweden's Wilma Hellström completed the podium in the saddle of Cicci Bjn (Ci Ci Senjor Ask).
Opglabbeek CSI2* Grand Prix Results
Valencia CSI2*
Now, let's head to Spain where the Valencia Autumn Tour 2020 started this weekend. The first CSI2* Grand Prix was won by Irishman Richard Howley on El Wee Widge (Wheaweij de Landetta). The rider could not have finished his weekend off any better as he also placed second with his second mount Arlo de Blondel (Tlaloc M), ahead of Canadian Kara Chad and Firefly W (Nabab de Reve).
Valencia CSI2* Grand Prix Results
Royan CSI2*
There was little foreign competition present in the Royan Grand Prix. French rider Tony Cadet and Uppsala Del Cabalero (Kannan) won this event hands down, ahead of Ireland's Susan Fitzpatick on Verdict de Kezeg (Diamant de Semilly). Third place went to Come Couturier and A La Miss de Busseol (Nowway de La Lande).
Royan CSI2* Grand Prix Results
San Giovanni In Marignano CSI2*
Switzerland came in ahead of Italy! In the saddle on Rock de Vains (Robin II Z), Martina Meroni took the victory ahead of Italian riders Giulia Martinengo Marquet and Giovanni Consorti, at the reins of Quick And Easy 3 (Quick Orion D) and Garezzo (Arezzo VDL) respectively.
San Giovanni In Marignano CSI2* Grand Prix Results
Michalowice CSI2*
It was a home victory for Polish rider Jarosław Skrzyczyńki and Jerico (Wieland) in the 1.45m CSI2* Grand Prix. He was followed by his compatriot Gabriela Bado on Balisto AC (Kashmir van Shuttershof), while Austrian rider Katharina Rhomberg closed out the podium in the saddle of Danadja (Unaniem).
Michalowice CSI2* Grand Prix Results
Featured photo: © Sportfot.com