The winners of the weekend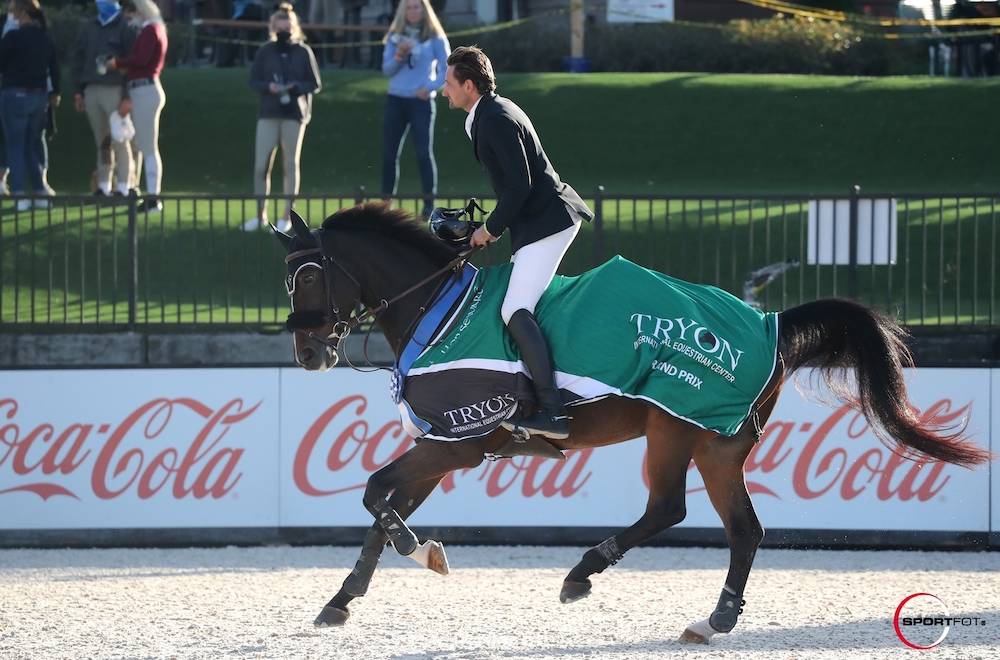 04 October 2020
This week, Fontainebleau's Grand Parquet hosted the French Championship for Young Horses organized by the French Equestrian Society. The young generations of 2-, 3-, 4-, 5-, 6- and 7-year-olds were crowned. During the week, other international competitions also took place. Let's have a look at the results!
The most star-studded Grand Prix of the weekend took place in Vejer de la Frontera. This CSI3* event was won by Brazilian Pedro Veniss on Boechmanns Lord Pezi Junior (Lord Pezi), while second place went to Taylor Alexander riding Lord Lucio (Legolas), and rounding out the podium was Canadian Kara Chad on Quidamo F (Quality 9).
Vejer de la Frontera CSI3* results
Last weekend, the Sentower Park sports complex hosted the final of the Youth Nations Cup circuit. In the last few days, the CSI1*, 2* and YH riders were the ones who distinguished themselves in Opglabbeek's arenas. The major event, the CSI2* Grand Prix, was won by Irish rider Jessica Burke at the reins of her bay gelding Express Trend (Future Trend), ahead of Harry Charles and Valkiry de Zance (Diamant de Semilly). Moroccan rider Abdelkebir Ouaddar confirmed his great form as he took third place with Istanbull V.H Ooievaarshof (Casall).
Sentower Park CSI2* Grand Prix results
53 riders took to the start of the Bonheiden CSI2* this afternoon. Victory went to Brazilian rider Thiago Ribas Da Costa, who for this occasion rode Kassandra Van't Heike (Epleaser Van 'T Heike). Second place went to Tom Martens on Baucis d'Ouilly (Modesto), ahead of Belgium's Ann Carton-Grootjans in the saddle of Kai Licha de Carmel (Prince van de Wolfsakker).
Bonheiden CSI2* Grand Prix results
Many riders made the trip to Gorla Minore, Italy. Switzerland, and especially its younger generation, dominated the leader board as Bryan Balsiger and Clouzot de Lassus (Ugano Sitte) took first place. His teammate Anthony Bourquard followed him at the reins of Janus VB (Namelus R). "I'm very happy with this victory, Clouzot jumped magnificently all weekend long. There was some tough competition in this jump-off, especially as there's always a little rivalry between Anthony and myself, but it pushes us to give 100%. That's also what was wonderful about today! We've been in Gorla Minore two weeks in a row and it makes me very happy to be able to return to competition abroad. My horses are all in great shape for the start of the indoor season," said Bryan. Only German rider Sven Fehnl managed to get between the Swiss riders by placing third with his mount, Chacco's Boy (Chacco Blue). Speaking of the young generation, the Swiss hope, Edouard Schmitz, finished fourth in this event with Balanciana K (Balou du Rouet), against 78 competitors.
Gorla Minore CSI2* Grand Prix results
At home, Marcus Ehning rode Stargold (Stakkato Gold) and achieved the fastest double clear in the CSI2* in Riesenbeck! He was followed by Ireland's Eoin Mcmahon on Chacon 2 (Chacco Blue), while his teammate Jonathan Gordon placed third in the final standings with Dorotheental's Classica (Classe).
Riesenbeck CSI2* Grand Prix results
This week, some of the riders and their horses also took up residence at the Mediterranean Equestrian Tour for the Autumn tour. Richard Vogel took victory in the first CSI2* Grand Prix on Diego (Colman). Darragh Kenny took second place on the podium with Belo Horizonte (Baloubet du Rouet), and Dutchman Remco Been took the last step with Holland VD Bisschop (Heartbreaker).
Oliva CSI2* Grand Prix results
On the other side of the Atlantic, three international competitions were held on the American continent. Colombia's John Perez Bohm stood out in the CSI2* Grand Prix in San Miguel de Allende, Mexico. He took first place with Gerdinieke (Bacardi VDL) and second place with his 10-year-old gelding, Voodoo 10 (Hanno). The podium was completed by Mexican rider Antonio Maurer Rios with Chapella (Chacco Blue).
San Miguel de Allende CSI2* Grand Prix results
It was an American victory in the Tryon CSI2* Grand Prix! Adam Prudent took the highest step of the podium with Baloutinue (Balou du Rouet), ahead of Swiss rider Beat Mändli in the saddle of Vic des Cerisiers (Olympic d'Anguerny), while American rider Abigail McArdle took third place with Victoria 5 (Uccello).
Tryon CSI2* Grand Prix results
The Columbus CSI2* Grand Prix was won by a European; German rider Christian Heineking on NKH Cento Blue (Centadel). Harrie Smolders placed second with Hocus Pocus de Muze (Tinka's Boy), ahead of American Hunter Holloway and Pepita Con Spita (Con Spirit).
Columbus CSI2* Grand Prix results
Featured photo: ©Sportfot.com