The winners of the weekend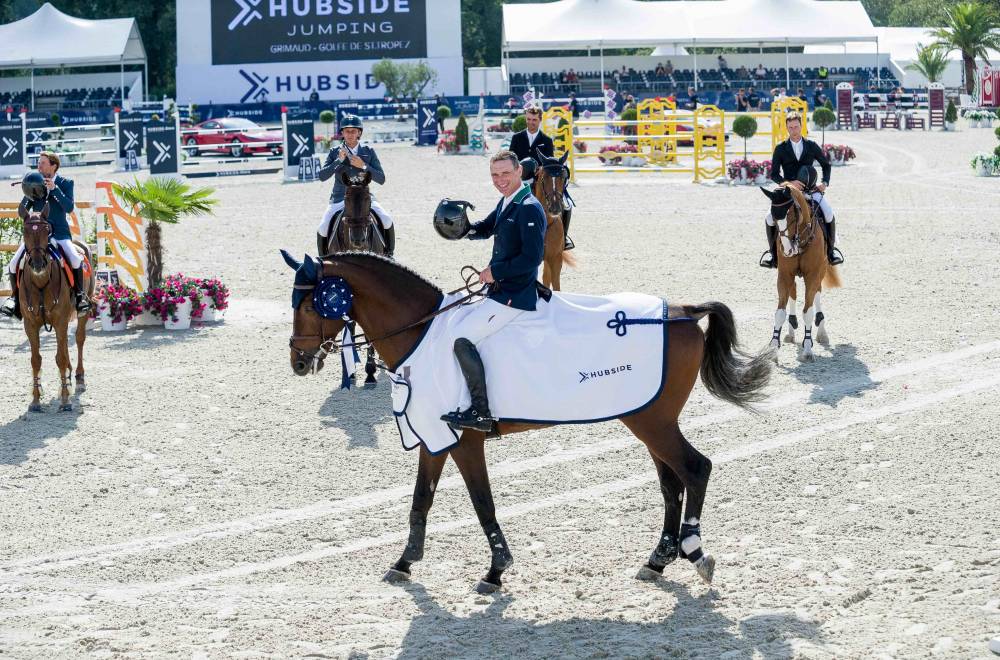 21 September 2020
After Nicolas Delmotte's victory last weekend in the CSI4* and with four French riders out of nine qualified for the Grand Prix 5* jump-off today, all hopes were pinned on the tricolor clan. And even though Les Bleus were able to count on some of the fastest riders in the world, such as Simon Delestre and Julien Epaillard, victory went to Irishman Denis Lynch riding Cristello (Numero Uno). Here we take a look back at a breathtaking Grand Prix and jump-off.
"Tricky!" Such was the 5* Grand Prix announced Belgian rider Jérôme Guéry during the course walk. Tricky indeed, as after half of the forty-six combinations at the start of the first round had gone, only three had managed to complete the course fault-free in the time allowed. In the second part, however, the riders seemed to have found the key to thwarting the subtleties of the 1.60m course composed of thirteen obstacles, proposed by Italian course designer Uliano Vezzani. Six of them joined the trio already qualified for the jump-off. A nine-man jump-off, which in the end included no less than five French riders and looked exciting as the combinations turned in quick round after quick round. American rider Paris Sellon, who was the first to start in this final with Cassandra (Caressini L), knocked a rail at the entry to the combination, and Nicolas Delmotte, winner of the 4* Grand Prix last Sunday in the same arena, achieved a new double clear round with Urvoso du Roch (Nervoso).
Stopping the clock at 40.73 seconds, he took the lead in the provisional standings. However, the Frenchman was quickly relegated to second place by Ireland's Denis Lynch, who was partnered for the occasion with his thirteen-year-old stallion Cristello. Lynch, who was slower than the Frenchman mid-jump-off, finished in 39.14 seconds thanks to two very tight turns. Simon Delestre and Hermès Ryan (Hugo Gesmeray) chased him hard and had a 1.49-second lead in the first part of the course, but finished the round in 39.32 seconds, eighteen hundredths of a second too late to dethrone the Irishman. It was the same for Penelope Leprévost and GFE Excalibur de la Tour Vidal (Ugano Sitte) who, despite a lead of 30 hundredths of a second over the first part of the course, finished in 42.34 seconds.
Kevin Staut then set off with Toledo de Mescam*Harcour (Mylord Carthago*HN). They notched up four faults at the entry to the double, then over the last two elements of the jump-off, dashing the hopes of the Olympic Champion. But not those of the French clan, who still had a chance of victory with Julien Epaillard and Queeleta (Quality), who were the last to start. Before them, the reigning European Team Champion, Belgian rider Peter Devos, achieved a perfect course in 40.90 seconds, to squeeze in between Delmotte and Leprévost, for the provisional fifth place. The second to last competitor to take part in this final, World No. 1 Steve Guerdat, got into trouble at the second obstacle, then over the second element of the double. Victory would therefore either be Irish or French. All the hopes of the tricolor clan were then focused on the super-fast Julien Epaillard. With Queeleta, he managed to complete the jump-off without any problems... But in 39.70 seconds, so the pair secured a nice third place in the end. At the end of this breathtaking jump-off, Denis Lynch won his first 5* Grand Prix today in the Var region.
Denis Lynch: "Despite the victory, I would say it was a far from easy Grand Prix. I haven't ridden Cristello for long enough to call Grand Prix 'easy'. In fact, we bought him in December and then we were all stopped by lockdown, while building our relationship, although our debut did go well. So, we started again from the beginning when we were able to return to competition. And I must say that our recent competitions have gone very well. Last week we were unlucky in the Valkenswaard Grand Prix where we had four faults. Today, I had a great feeling; I said to myself "It's our turn!". I'm really happy with what Cristello achieved in terms of the course!
Obviously, we're still getting to know each other: I know he's a very brave horse, very tall too (smile). Thanks to his big stride and fighting spirit, I now have confirmation that we have a chance. It's a pleasure to ride in such events with him: he systematically looks for the next obstacle, and is very respectful and willing. It's a real opportunity for me to have him in my stables."
Pedro Veniss won the 2* Grand Prix with Lord Pezi Junior (Lord Pezi) ahead of Marcus Ehning on Priam du Roset CH (Plot Blue) and young rider Zoe Conter on La Una (Chacco Blue).
Anthony Bourquard won the Gorla Minore 3* Grand Prix with Janus VB (Narmelus R) ahead of Austrian Christoph Nothe on Twilight (Cassini II), and Italian Francesco Turturiello on Quite Balou (Quite Capitol).
Gorla Minore 3* Grand Prix Results
It was a French victory in Peelbergen with Guillaume Foutrier on Fairness Hero Z (Flipper d'Elle) who is none other than a granddaughter to Piet Raymackers' former star, Rinnetou Z. He came in ahead of Rowen van de Mheen on Q Verdi (Verdi) and Sophie Hinners on Vittorio 8 (Valentino DDH).
Peelbergen 2* Grand Prix Results
Six Selle Français horses took out the first six places of the Canteleu 2* Grand Prix. The victory went to Olivier Guillon on Vitot du Chateau (Toulon) ahead of Irishman Richard Howley on the indispensable Arlo de Blondel (Dollar de la Pierre), while Max Thirouin completed the podium with Utopie Villelongue (Mylord Carthago).
Canteleu 2* Grand Prix Results
Harrie Smolders won the Lier 2* Grand Prix with Monaco (Cassini II) ahead of the impressive Luxemburger Charlotte Bettendorf on Nababette Z (Nabab de Rêve), while Jeroen Appelen completed the podium in the Benelux colors with Lunatique De Kwakenbeek (Cicero Z).