The winners of the weekend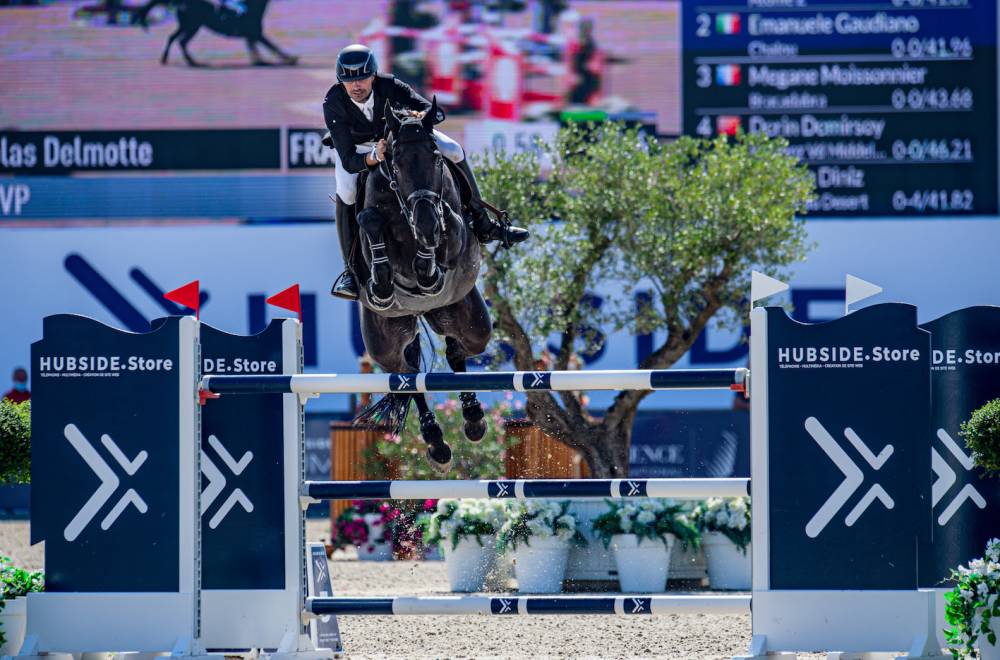 14 September 2020
Valkenswaard CSI 5*
After Grégory Wathelet's victory in Saturday's Grand Prix (see news), it was Marlon Modolo Zanotelli who won Sunday's 1.55m class with Icarus (Douglas). The Brazilian notched up a new victory with his 12-year-old stallion, coming in ahead of Edwina Tops-Alexander on Identity Vitseroel (Air Jordan). In the team event, the Hamburg Giants (Simon Delestre and Bart Bles) won ahead of Valkenswaard United (Marcus Ehning and Peder Fredricson) and the New York Empire team (Shane Breen and Scott Brash).
In the 2* Grand Prix, Michael G Duffy won with Chappo Chey (Carell) ahead of Jack Whitaker (Parkmore Rowan) and Olivier Philippaerts on Le Blue Diamond v't Ruytershof (Plot Blue).
Lamprechtshausen - CSIO-CH-J-Y-P
The next generation met in Austria for a CSIO and after his victory in Fontainebleau in the Young Riders Grand Prix at the end of August, Swiss rider Edouard Schmitz won again brilliantly in the Lamprechtshausen Grand Prix. Thomas and Martin Fuchs' pupil won with Balenciana K (Balou Du Rouet), ahead of Katerina Kucerova and Elin Ott, the Swiss Young Riders Champion.
In the junior category, the victory went to Austrian Sally Carina Zwiener who came in ahead of Swiss rider Linus Hanselmann and Dutch rider Amber Van Marle.
Siebe Leemans won the Pony Grand Prix and Anouk Tolboom won the Children's Grand Prix.
Grimaud CSI 4*
The Marseillaise anthem sounded at the end of the Grimaud CSI 4* Grand Prix, thanks to Nicolas Delmotte and Ilex VP (Diamant de Semilly), who came in ahead of Titouan Schumacher on Atom Z (Amadeus Z*Brimbelles) and Emanuele Gaudiano on Chalou (Chacco-Blue). The leading trio all stopped the clock in the same second.
"It was a very nice Grand Prix. The first round's layout was really interesting. In the jump-off, I started in last position, which is said to be the best position to start in. But I could see that the riders with no faults were going faster and faster as the jump-off progressed, and the time to beat was getting harder and harder. Quite frankly, I didn't think I could beat Titouan, so I had to try everything I could think of. There were already five double clear rounds on the board, so we had to take every risk possible. So from the first obstacle, I was already taking risks! At the long distance at the beginning of the course, I decided to immediately go with eight forward strides, and from then on everything went well. I felt that my horse was in good form, which gave me confidence. Up to the last line, I took every risk because Titouan had really had a magnificent jump-off. Just as Mégane Moissonnier and Emanuele Gaudiano had also, by the way. Ilex proved his reliability once again. He's coming back very strong after an eight-month break last year. This Summer, he took part in national events, including Grand National events, a circuit that I appreciate enormously for preparing the next generation for the top level. He finished second in Saint-Lô and third in Le Touquet. Next week, Urvoso du Roch is expected to be competing in the Grimaud CSI5* Grand Prix. HUBSIDE JUMPING is an extraordinary opportunity for us riders. We can never thank Sadri Fegaier enough for giving us the opportunity to practice our sport at the highest level."
In the 2* Grand Prix, it was the World No. 1, Steve Guerdat, who took the victory with his faithful mount Ulysse des Forêts (Col Canto), ahead of François Xavier Boudant and Nicolas Delmotte.
"I'm obviously very happy," said Steve Guerdat. It's always nice to win a Grand Prix! Ulysse des Forêts is a very competitive mare at this level of competition, having already won the Grand Prix 2* two weeks ago. She has a lot of experience and entering her in a CSI2* class allows me to train other horses at the CSI 4/5* level, such as Tum Play du Jouas and Uranie de Belcour, who have also accompanied me this weekend. And then there is the economic reality of the sport: Ulysses' victories also make it possible to reimburse expenses incurred in competition and during travel. You've got to be able to keep the machine running, and it's important to be able to count on this kind of horse for these specific situations. Ulysses' program for the week was the one I applied: a small event in the CSI2* to get her going, and the CSI2* Grand Prix, so that she didn't have to put in too much effort. This is the third Grand Prix that I have won in Grimaud this year: I currently have very good, competitive horses, and obviously, I ride to win, you have to admit. So I try to live up to the horses, to do as well as they do, as a rider. When it works, it's obviously a great pleasure."
American Gold Cup CSI 4*
Kent Farrington also struck again. The American won the Traverse City American Gold Cup 4* Grand Prix with Gazelle (Kashmir Van Schuttershof). The 2016 team Olympic medalist stopped the clock ahead of his two compatriots Lillie Keenan on Fasther (Vigo D Arsouilles Stx) and Bliss Heers on Antidote de Mars (Diamant de Semilly).
Vejer de la Frontera CSI 3*
Laura Kraut, who fell a few weeks ago, was back out competing again. The American won with Casco Bay (Quaprice Bois Margot) in the Vejer de la Frontera CSI3* Grand Prix and came in ahead of Eduardo Alvarez Aznar.
Padenborn CSI 2*
German rider Philipp Schulze Topphoff and Concordess NRW (Congress) won the Padenborn CSI2* Grand Prix. Philip Rüping and Casallco (Casall) took second place, and third place went to Thibault Philippaerts on Aqaba de Leau (Arko).
Bonheiden CSI 2*
Jérôme Guéry won brilliantly in the 2* Grand Prix with the promising Cambridge de Hus (Conrad de Hus). The Belgian rider came in ahead of Toshiki Masui on Jericho S (Lord Z) and Juliette Faligot on Arqana de Riverland (Cornet Obolensky).
Mâcon-Chaintré CSI 2*
Harold Boisset won the Mâcon-Chaintré CSI2* Grand Prix with Verone de la Roque (Kannan). Pius Schwizer took second place with Cortney Cox (Carlo), and the podium was completed by Timothée Anciaume on Isabeau (Winningmood). Pius Schwizer placed third in Friday's big event, behind Alexandre Fontanelle and Marie Pellegrin.
Jardy CSI 2*
Only two combinations went double clear in the Jardy 2* Grand Prix and Swan Bourven was the fastest with Vakiry des Saules (Lando). Second place went to Joel Charton on Volupté de la Jarthe (Air Jordan), while third place went to Rik Hemeryck on Ulyss Morinda (Utah van Erpekom).
Peelbergen CSI 2*
Laura Renwick won the Peelbergen CSI2* Grand Prix with Arkuga (Arko), ahead of Annelies Vorsselmans and her faithful Wilandro 3 (Unistar), while third place went to German rider Maximilian Lill on D-Cassina (San Patrignano Cassini).
Photo: Marco Villanti for HUBSIDE JUMPING