The winners of the weekend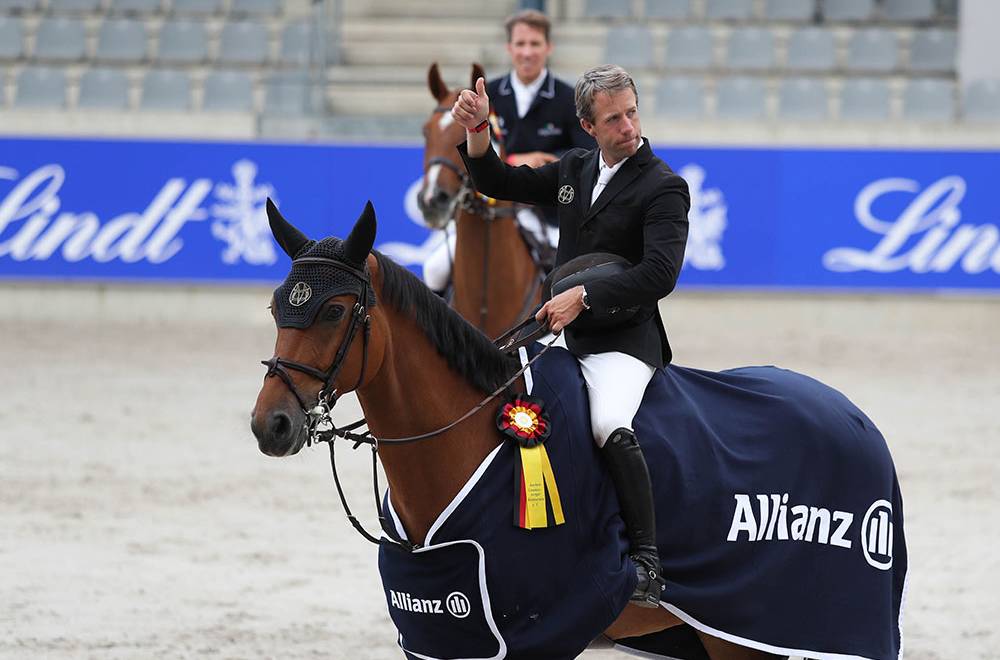 07 September 2020
Maikel van der Vleuten again and again! He has been unstoppable since competitions resumed. He won his 4th Grand Prix in Aachen and the second one with Beauville Z (Bustique), who has already won the Lier 3* Grand Prix.
A huge jump-off with 21 pairs in the 3* Grand Prix which made it difficult to assess the right tactics. To make things even more difficult: "I almost couldn't watch the jump-off," said Maikel van der Vleuten. In situations like this it's great when you have good friends, because "my friend Marlon Zanotelli gave me valuable advice," commented van der Vleuten. Maikel van der Vleuten knows Aachen very well, since he has participated many times in the CHIO Aachen in the adjacent main stadium and on grass, of course. "But the Deutsche Bank Stadium is superb as well and although there were few spectators in attendance, the atmosphere was great. All the riders enjoyed being back here," said the Dutch rider. Van der Vleuten was riding 10-year-old Beauville Z, with whom he first competed in Aachen - "He was so far too inexperienced for the CHIO, but I'll have a lot of fun with him in the future".
Second place went to Henrik von Eckermann with Peter Pan. "Of course, I would have liked to win," said the Swede with a smile. But luck was on his side twice, "we came very close to a rail and it's a great result to come in second when there are 21 competitors in the jump-off". Julien Epaillard was overjoyed and was especially impressed by the atmosphere: "It was really great, a huge joy to come up here", added the French rider who had brought Safari d'Auge with him to Aachen.
The best German rider was the oldest, Ludger Beerbaum, who took sixth place with the eight-year-old mare Mila". I never imagined that I would leave the ring as the best German rider," commented Beerbaum. Even after all the years since Ludger has been riding professionally, it was still very clear how passionate he is about the sport: "To be able to take a horse like this to the highest level is something very special".
There were also happy faces among the organizers as well. "Three fantastic days. We were delighted to be able to organize a show again. To be able to experience top-level sport here was good for equestrian sport, but also for the heart and soul. We're now looking forward to the future with optimism: CHIO Aachen starts in 292 days. Hopefully in the main stadium and under normal conditions."
The winner also had a special surprise: at the award ceremony, the Dutch national anthem was played live by the Aachen Symphony Orchestra directed by Aachen Music Director Christopher Ward. It was a finale worthy of a completely different show in many ways, and "we are very pleased that the Aachen team organized this show here," added Beerbaum.
There was a double "Guillaume" victory in Fontainebleau where Guillaume Foutrier won on Fairnes Hero Z (Flipper d'Elle) ahead of Guillaume Batillat on Babylove (Lupicor), while the Belgian Karel Cox came in 3rd with Curiano van Maarle Z (Canabis Z).
Fontainebleau 2* Grand Prix results
In Valkenswaard for the 2* Grand Prix which brough together 90 starters. Skye Morssinkhof won on G Vigino Blue ahead of Wilm Vermeir on Avifauna's King Kong, while Ellen Whitaker took 3rd place with Jack van't Kattenheye.
Valkenswaard 2* Grand Prix results
Jur Vrieling won the Exloo 2* Grand Prix with El Rocco (Quamikase des Forêts) ahead of Chantal Regter on Quilando (Quintender), leaving 3rd place to James Billington on Harwich VDL (Arezzo VDL).
Bryan Balsiger was crowned Swiss Champion for the second time, this time with AK's Courage, ahead of Niklaus Schurtenberger on Quincassi, while the World No. 2, Martin Fuchs, took bronze with Stalando.