The winners of the weekend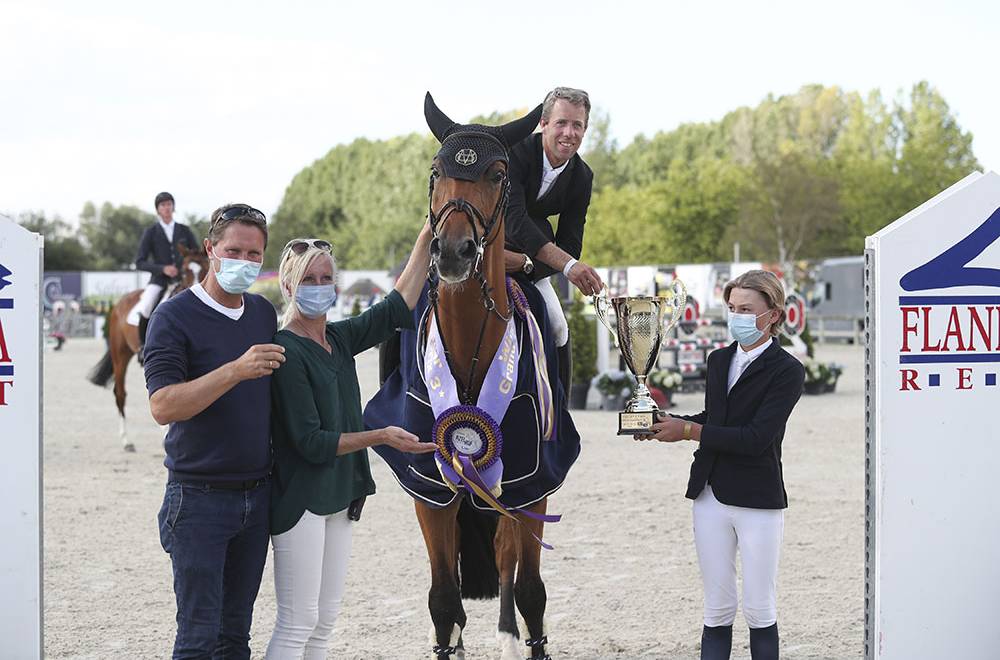 27 July 2020
This week, Lier hosted the most star-studded competition of the weekend on the occasion of the industrial Geerkins Hippico CSI3*, which was criticized via an open letter from Eric Lamaze.
In the end, Maikel van der Vleuten, who hasn't missed much this year since competition resumed, locked in another victory. This time he was riding Beauville Z (Bustique x Jumpy des Fontaines). He came in ahead of Frenchman Titouan Schumacher on Atome Z (Amadeus Z), and Pieter Clemens on Icarus (Querlybet Hero), while Marcus Ehning placed fourth with Prêt à Tout (Hiram Chambertin). The 60 candidates for this Grand Prix were very impressive.
The Peelbergen event also ended with a good podium of riders which relaunched the Netherlands international season with a new Dutch victory for Leopold van Asten on VDL Groep Miss Untouchable (Chacco Blue), ahead of Laura Kraut on Jakarta (Cicero Z) and Thiago Ribas Da Costa on his well-performed Kassandra van 't Heike (Epleasure van 't Heike) who once again placed this weekend.
Peelbergen 2* Grand Prix results
Often won by French riders, the Fontainebleau 2* Grand Prix international resumed with Swiss rider Bryan Balsiger claiming victory on his good mount Clouzot du Lassus (Ugano Sitte) ahead of Olivier Perreau on GL Events Dolce Deceuninck (Toulon) and British rider Matthew Sampson on the DSP stallion, Colfosco (Check In 2), while Arnaud Doem can celebrate Edgar de Prefontaine's return to form (Contact vd Heffinck) with a good 4th place.
Fontainebleau 2* Grand Prix results
It was a French quadruple victory in Le Mans' CSI2* with Axelle Labougie taking the victory on Urane (Miami De Semilly), ahead of Nicolas Deseuzes on Stella du Preuilly (Baloubet Du Rouet) and Margaux Rocuet on Trafalgar Kervec (Quaprice Bois Margot).
The World No. 1 continues his Grand Prix haul by winning the Gorla Minore CSI2*, while continuing to prepare for the future, winning with Uranie de Belcour (Flipper d'Elle x Diamant de Sémilly) this time, ahead of Hans-Dieter Dreher on Prinz (Perigueux), and Italian rider Emanuele Bianchi on Zycalin W (Berlin), while Frenchman Morgan Bordat took 4th place with Uma (Calvaro F.C.).
Gorla Minore 2* Grand Prix results
Martin Fuchs won the Maienfeld National Grand Prix with Cha Mu.
photo of Maikel van der Vleuten in Lier, Tiffany van Halle