The winners of the weekend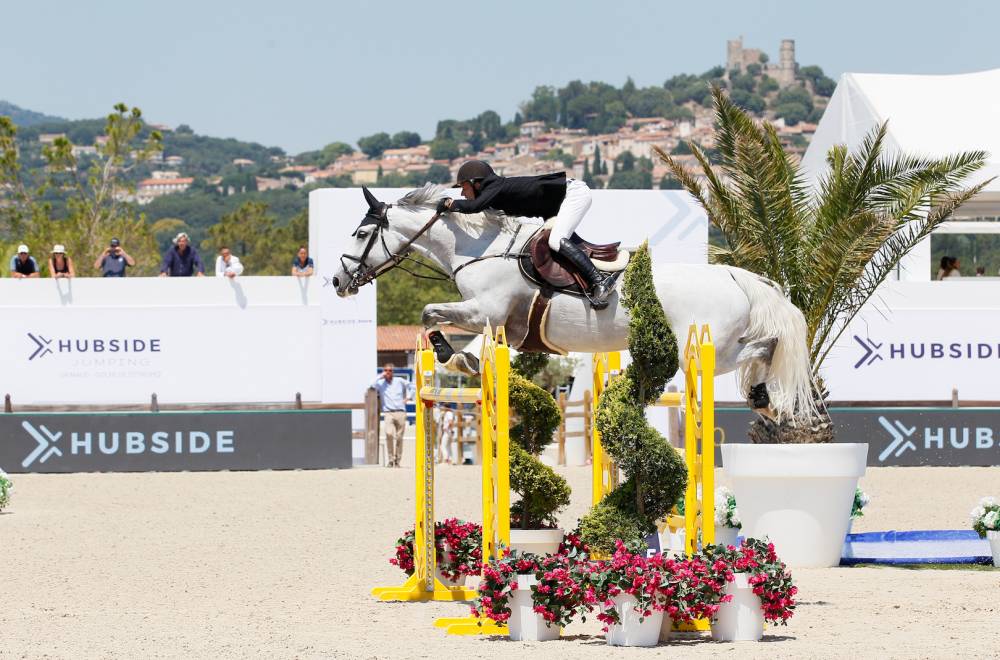 29 June 2020
St-Tropez-Grimaud CSI 4*
It was a double win for Maïkel van der Vleuten and his mount, Dana Blue (Mr. Blue). They were victorious in the 4* Grand Prix last Sunday, and the pair did it again this Sunday in St-Tropez, beating Daniel Deusser and Killer Queen (Eldorado Vd Zeshoek), and Emanuele Gaudiano on his generous mount, Chalou (Chacco-Blue).
Maïkel van der Vleuten will of course be there next weekend, but he hasn't yet decided which horse he'll be riding: "For next week, I have to talk to my father Eric: the schedules for each competition are always discussed within the family. This week, my horses only competed in two events each, an easy one, and a bigger one. Anyway, I think that Beauville Z will jump the CSI5* Grand Prix"
Bertram Allen, who finished in the same second as the leading trio, placed 4th with Dancing Queen Z (Dulf van de Bisschop). The young Irishman won the big event on Saturday with Lafayette van Overis (Kashmir Van Schuttershof).
Also, in the Grand Prix jump-off, Emilio Bicocchi won on Friday in the event which counts toward the rankings with his faithful mount Evita Sg Z (Verdi Tn). "Evita has been in great shape over the last two weeks at HUBSIDE JUMPING. You could even say that she has been in great shape for a year. She has been performing well and I'm very happy because we weren't used to going without any competitions for so long. Her last competition dates back to the Longines FEI World Cup in Bordeaux where she placed in the Grand Prix and obtained her qualification for the Las Vegas Final. Then there was nothing until last week... You never know how the horses will react after such a long break. But she's doing very well."
Hubside jumping continues its momentum next weekend with a CSI5* which promises to bring together all the best riders!
Photo: ©LjubaBuzzola
Vejer de la Frontera CSI 2*
In the Vejer de la Frontera CSI2* Grand Prix, victory went to Henk van de Pol on Looyman Z (Numero Uno). The Dutchman came in ahead of Pedro Veniss and his new star mount Lord Pezi Junior (Lord Pezi). Mariano Bastida Martinez took 3rd place with Belano VD Wijnhoeve Z (Berlin), stopping the clock just 1 hundredth of a second slower than Pedro Veniss.
Ciecocinko CSI 2*
In the Baltica Tour 2* Grand Prix, the young Belgian Simon Morssinkhof won with Vivolta de Gree (Diamant De Semilly). Second place went to Cameron Hanley on Loukas de la Noue (Malito De Reve), and 3rd place went to Loewie Joppen on Hantano (Quasimodo Z).
Traverse City CSI 2*
In the United States, Michigan held the Traverse City CSI2*. In the Grand Prix, Daisy Farish and Great White (Cavalor Cumano) won ahead of her compatriot Megan McDermott on Hh Callas (Albatros). Third place went to Daniel Bluman on Gemma W (Luidam).
Tryon CSI 2*
In Tryon, British rider Amanda Derbyshire won the 2* Grand Prix with her good mount Luibanta BH (Luidam). She also took 3rd place with Cornwall (Con Air). Only David O'Brien deprived her of the double by taking 2nd place with La belle (Diktator Van De Boslandhoeve).
National events in Switzerland
Even though Steve Guerdat didn't go to Hubside Jumping, he was a strong contender for the Corcelles Grand Prix, held at the Balsiger family's home, near Lake Neuchâtel. His fiancée, Fanny Skalli, would have won if she hadn't knocked the rail down at the final obstacle of the jump-off, which relegated her to 5th place with Jonka A (Cardento 933), a fate that also befell Niklaus Rutschi, who took 4th place, having posted the fastest 4-fault round of the jump-off with Baloubelle CH (Baloubet De Rouet).
Victory went to Werner Muff and Jolie van Het Molenhof (Nabab De Reve), ahead of the Master of the property, Bryan Balsiger, who placed 2nd with Jenkins ter Doorn (Numero Uno), having been beaten by 13 hundredths of a second. Audrey Geiser took 3rd place with Holiday X (Liandero). Bryan Balsiger and Audrey Geiser are thus at the top of the wild card rankings for the CHI Geneva after two stages.