The winners of the weekend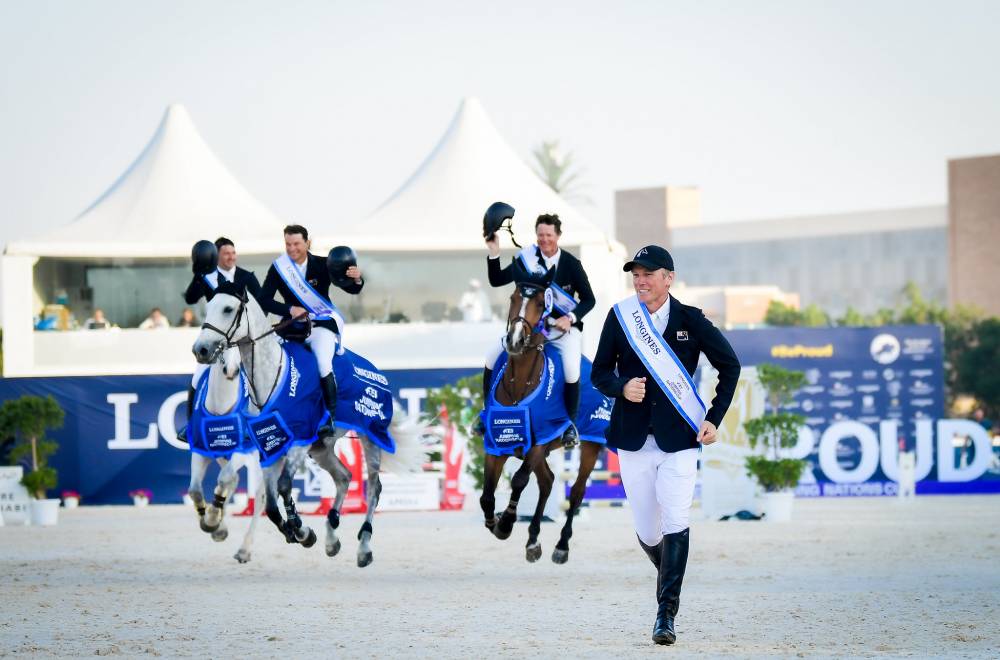 02 March 2020
Al Shaqab CHI 5*
A fine victory by Daniel Deusser in the Al Shaqab CHI Grand Prix. The German rider was associated with the promising Killer Queen VDM, with whom he won the Mechelen World Cup Grand Prix.
2nd place went to the Austrian rider, Max Kühner and his 9 year old Elektric Blue P. It is interesting to note that the first two horses are both sons of Eldorado Vd Zeshoek. Roger-Yves Bost took 3rd place on Sangria du Coty. 4th place went to Christian Ahlmann with Diamant de Semilly's son, Dominator Z. The first 4 all finished within one second of each other.
Julien Epaillard, who won the two big events of the weekend, took 7th place in this Grand Prix. He would have won had it not been for his fault with Alibi de la Roque (Mylord Carthago).
Next weekend's Global Champions Tour first stage will take place in Al Shaqab.
United Arab Emirates Nations Cup
In Abu Dhabi, the Nations Cup went to the New Zealanders, thanks to Daniel Meech's double clear round on Cinca (Casall). Tom Tarver-Priebe with Popeye and Bruce Goodin with Backatorps Danny V (pictured below), who kept up a string of performances, knocked off a rail in the second round. Richard Gardner was eliminated after a fall and didn't start in the second round.
© FEI/Helen Cruden
"This is only the second time a New Zealand team has won a Nations Cup and the first time was here in 2018, so it's a really special place for us," said winner Daniel Meech (pictured below).
© FEI/Helen Cruden
2nd place went to Egypt and 3rd place to the United Arab Emirates. They were separated only by the time, each country having a total of 17 points.
This Nations Cup was also an important qualifier for the Barcelona final and it was the United Arab Emirates and Syria who earned their tickets.
The Grand Prix was awarded to Mouda Zeyada on Morocco, ahead of Kristaps Neretnieks on Moon Ray and Maysam Bisharat on Un Dollar de Blondel.
Vejer de la Frontera CSI 4*
The Czech rider, Ales Opatrny won the Vejer de la Frontera CSI 4* Grand Prix in the Sunshine Tour. Riding Forewer, he was ahead of Sweden's Angelie von Essen on Cochella. Vincent Voorn completed the leading trio with Emma Augier de Moussac's Diva.
Wellington CSIO 4*
During the 8th week of the Winter Equestrian Festival in Florida, victory in the CSIO 4* Grand Prix went to Brazilian Rodrigo Lambre on Catover (pictured below), ahead of Shane Sweetnam on Chaqui Z, who was riding his star horse for the first time of the season, and Alexandra Thornton on Charielle, which the British rider had acquired from... Rodrigo Lambre.
The winner explained that even though Catover had been in his stables since he was 8 years old (he is now 11), he has been riding him seriously only since October last year with a view to Tokyo: "We all have Tokyo in mind this year, it's our dream."
© Sportfot
The Nations Cup held on Saturday was won by the young American guard (pictured below). Andrew Kocher, Lucas Porter (22), Brian Moggre (18) and Adrienne Sternlicht (26) successfully won the Nations Cup, Adrienne Sternlicht, reigning team world champion, did not even need to start the second round. With 4 points, the United States went ahead of the Irish, 2nd with 13 points and the Australians, 3rd with 22 points.
© Sportfot
Oliva CSI 3*
In the 3rd week of the MET in Oliva, the CSI 3* Grand Prix went to Constant van Paesschen on Isidoor van de Helle. What a series for the Belgian and his promising stallion! 2nd place went to Nicolas Delmotte on Urvoso du Roch and Kathrin Müller on Conan 44 took 3rd place.
Steve Guerdat won the event which counts towards the rankings on Friday with Ulysse des Forêts, ahead of Mégane Moissonnier, on Ussar des Bruyères, often ranked. The World No. 1 also took advantage of these three weeks to train Bianca from 125 to 140 cm, now back in competition since the Geneva CHI, like Venard de Cerisy, his reserve for the next World Cup final in Las Vegas.
Vilamoura CSI 3*
There was a French victory in the Vilamoura CSI 3* Grand Prix, thanks to Mathieu Bourdon on Bigouden du Terte. He was a few hundredths of a second ahead of John Whitaker on Unick du Francport. 3rd place went to Cedric Le Goff with Thyphon de la Cense. Without his fault, Guy Williams would have won with his faithful Rouge de Ravel, but had to settle for 5th.
Royan CSI 2*
Bernard Briand Chevalier won the Royan CSI 3* Grand Prix with Uneven Sunheup. 2nd place for Jeremy Le Roy on Razzia des Sables and 3rd place for Grégory Cottard with Bibici.
Peelbergen CSI 2*
There was a Dutch double in the Peelbergen CSI 2* Grand Prix. Wilem Greve won with Grandorado TN ahead of Aniek Poels on Barry White. Annelies Vorsselmans took 3rd place on Chichester 3.
The prize in Friday's big event was awarded to Martin Fuchs on Avenir d'Aiguilly. The World No. 2 came back from Florida for the Dutch Masters and Clooney made his competition comeback this weekend in anticipation of the Rolex Grand Slam.
Valencia CSI 2*
Robinson Maupiler climbed up onto the highest step of the podium in the Valencia CSI 2* Grand Prix. The French rider, on Curiano Van Maarle Z (Canabis Z), was ahead of his compatriot Philippe Rozier on Prestigio Ls La Silla and the British rider, Karl Robins on G Camille Hbf.