The winners of the weekend.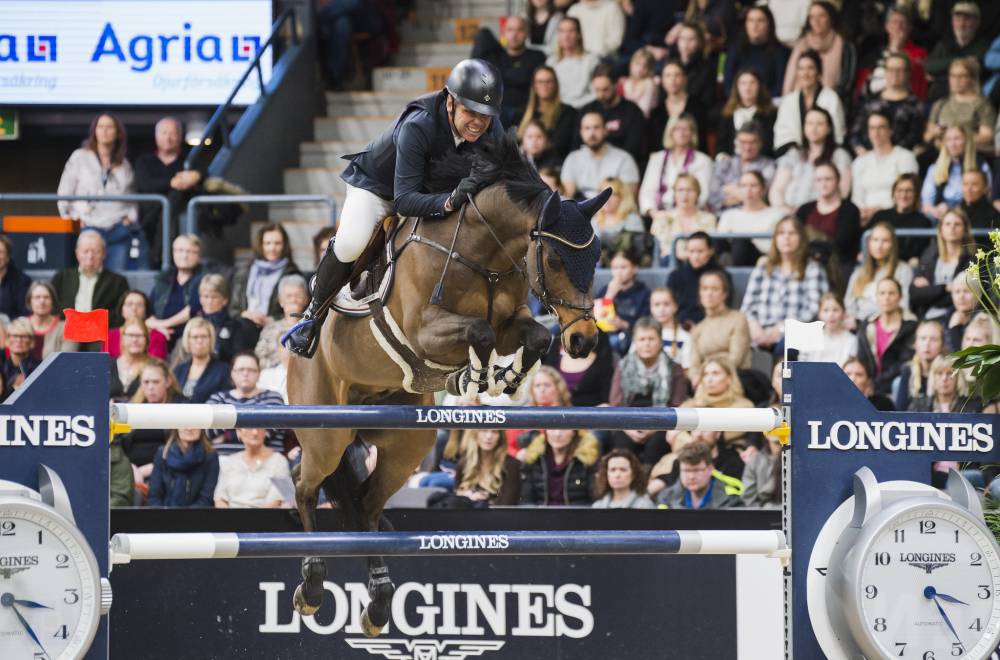 24 February 2020
Gothenburg World Cup
The 14th and final leg of the World Cup circuit for the European league in Gothenburg lived up to all its promise. In front of an enthusiastic audience, Geir Gulliksen won with VDL Groep Quatro (Quaprice Bois Margot). A great first victory in a World Cup stage for the Norwegian rider who had to perform well to qualify for Las Vegas. And he did it… the young Swiss talent Bryan Balsiger who succeeded in taking 2nd place with Twentytwo des Biches (Mylord Carthago). Such beautiful complicity for this young tandem! At only 22 years of age and in his first World Cup season, Bryan Balsiger now joins his compatriots Steve Guerdat, Martin Fuchs and Pius Schwizer for the final in Las Vegas.
In the 5 rider jump-off, 3rd place went to Kevin Staut on For Joy van 't Zorgvliet HDC (For Pleasure), 4th place to Olivier Philippaerts on H&M Legend of Love (Landzauber) and 5th place to Rolf-Göran Bengtsson on Cassilano Jmen (Calisco Jmen). The only Swedish rider in the jump-off had no chance of qualifying for the final in Las Vegas anyway and his compatriots Peder Fredricson and Henrik von Eckermann, both on the last podiums of these finals, were unable to achieve their ticket to Vegas after making a mistake on the initial last obstacle. There will therefore be no Swedes in the final!
"I've been coming to Gothenburg for 27 or 28 years and I've always dreamed of a day like this," said the day's winner. The Norwegian was fortunately, more shaken than hurt after falling at the award ceremony. When handing his microphone back, Quatro was spooked and Geir Gulliksen fell to the ground.
Western European League Final Rankings
Wellington CSI 5*
Third Grand Prix win in three weeks for McLain Ward. This time, it was with his faithful HH Azur (Thunder van de Zuuthoeve) with whom the American won the Grand Prix of the WEF 7th week. What a series for the man who became a father for the second time just a few days ago! A jump into the next world ranking?
He was more than four seconds ahead of Captain Brian Cournane on Penelope Cruz. Alex Granato took third place with Carlchen W. Darragh Kenny was fourth with his accomplice in the Top 10 final, Romeo 88.
In the other big events, there was a victory for Martin Fuchs on Stalando, still 2nd in a 1.50m behind Catherine Tyree on BEC Lorenzo.
In the CSI 2*, there was a victory for Spencer Smith on the 9-year-old stallion Princeton Z (President), ahead of Madison Goetzmann with Prestigious and David Blake on Don't Touch du Bois (Kashmir van Schuttershof).
© Sportfot
Vejer de la Frontera CSI 3*
Another victory went to Gudrun Patteet, from Belgium, on the Sunshine Tour. The rider won the 3* Grand Prix with Sea Coast Kashmira Z (Kashmir van 't Schuttershof) ahead of the British Kayleigh Watts on Ninkie de VY Z (Nonstop) and Joseph Clayton on Like a Diamond van het Schaeck (Diamant de Semilly).
Thermal CSI 3*
In Thermal, United States, the Canadian rider, Ali Ramsay won the Grand Prix with Casino. She was ahead of Erin Davis-Heineking on Leonie (Leo von Faelz) and Nicholas Dello Joio who placed his two horses in third and fourth place: Blueberry (Conrad) and Columbcille de Reve.
Vilamoura CSI 3*
There was a British double in the Vilamoura CSI 3* Grand Prix. Guy Williams won with Cicero II (Cicero Z van Paemel) just one hundredth of a second ahead of Laura Renwick on Arkuga (Arko III). 3rd place went to the Hungarian rider, Laszlo Toth on Radihaza-Echo.
Oliva CSI 2*
There was another victory for Julien Epaillard. Associated with Edesa's Kzoom van de Wittemoere (Caraba V/D Wateringhoeve), the French rider was the fastest of 25 in Oliva 2* Grand Prix. 2nd place went to his compatriot Harold Boisset on Verone de la Roque (Kannan) and 3rd for Jérôme Guéry on Mco Milton Z (Mylord Carthago), already 2nd in Friday's big event, won by Julien Epaillard.
Royan CSI 2*
Victory went to Axelle Lagoubie on Rubelia (Burggraaf) in the Royan CSI 2* Grand Prix. Rank 2 for Tony Hanquinquant on Caligano Jorthonne (Safari d'Auge) and rank 3 for Alexis Deroubais on Secret du Pays d'Auge (Quick Star), who would have won if he hadn't made a fault.
Ghent CSI 2*
The Dutch rider, Daan van Geel won the Ghent CSI 2* Grand Prix with Djam (Canturano) ahead of the German rider, Niklas Krieg on his faithful Carella 5 (Clearway) and ahead of the Belgian rider, Vikto Daem on Ic Magic van de Bien (Cicero Z Van Paemel).
Peelbergen CSI 2*
Three German riders finished in the top 4 at the Peelbergen CSI 2* Grand Prix. It was Richard Vogel who won everyone's approval with Lesson Peak (Lord Z) ahead of the Brazilian rider, Thiago Ribas Da Costa on Kassandra Van't Heike (Epleaser Van't Heike) and his compatriots Mario Stevens on Baloubet 4 (Balou du Rouet) and Caroline Müller on Diarindo Z (Diarado).
Valencia CSI 2*
There was a fine victory for Belgium in the Valencia CSI 2* Grand Prix thanks to the young Thibeau Spits on Classic Touch DH (Casall). In 2nd place, the Italian Christian Fioravanti on Birdy de la Lande (Norway de la Lande) and in 3rd place, the Spaniard Mariano Martinez Bastida on Belano Vd Wijnhoeve Z (Berlin).
Krakow CSI 2*
In Poland, the Krakow CSI 2* Grand Prix, also a World Cup stage, saw Krzysztof Ludwiczak win on Cros Blue (Chacco Blue). He was ahead of Wojciech Wojcianiec riding the revelation of the last World Cup final, Chintablue (Chintan-Chacco Blue), who was already 2nd of the 4* Grand Prix in Poznan last December, ahead of Luxembourger Marcel Ewen on Chimaira PJ (Chacco Blue). 4th place went to Chacco Amico, was also a Chacco Blue with Jaroslaw Skrzyczynski.
© FEI