The winners of the weekend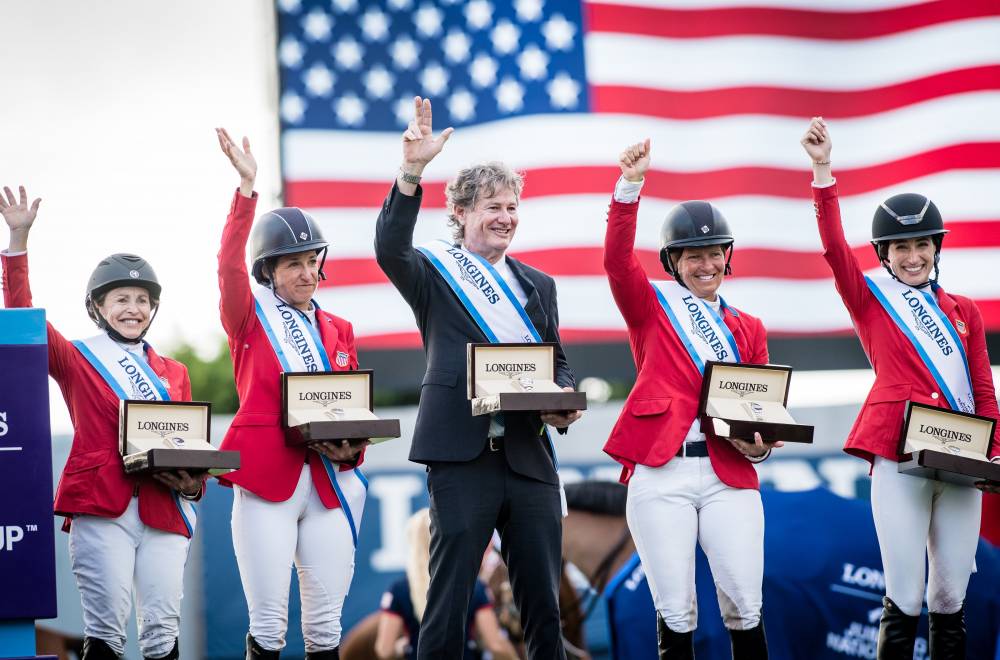 17 February 2020
Nations Cup at Deeridge Farm, Wellington.
Thanks to Beezie Madden's historic jump-off, the American Ladies won the Nations Cup in Wellington. Neck and neck with the three British riders, the Americans sent Beezie Madden to the jump-off. Darry Lou was still fresh since she didn't have to do a 2nd round. Young Alexandra Thornton couldn't beat Beezie Madden's time and the British had to settle for a good 2nd place. Laura Kraut, for the United States, achieved a magnificent double clear round with Confu. For the British, it was Emily Moffitt who also rode two clear rounds with the powerful Winning Good. Third place went to Mexico, with Nicolas Pizarro's double clear round against Fabrice DN. Fourth place went to Canada, thanks to a double clear by Tiffany Foster and Figor. A good reaction from Olympic champion Eric Lamaze who, after a 10-point lap, got back on track in the second set by achieving a clear round with Coco Bongo. Fifth place went to Israel, who had to make do with the elimination of Ashlee Bond at the water with his young Donatello, who was placed in the Grand Prix on Friday. Ireland was sixth, Australia tied for seventh with Brazil.
Neumunster CSI3*
The Germans took everything in the Neumünster CSI3* Grand Prix and they now occupy the first 10 places. Victory went to Mario Stevens on Landano OLD, ahead of Marco Kutscher on Charco 2 and Patrick Stühlmeyer with Varihoka du Temple.
Vilamoura CSI3*
Mathieu Billot won the Vilamoura CSI3* Grand Prix with his faithful Quel Filou 13 ahead of Anouk de Ruijter on Quantas 15 and Charlene Bastone on Sanlou.
Wellington CSI3*
At the Wellington WEF, Jessica Springsteen was victorious on Volage du Val Henry in the CSI3* Grand Prix. 2nd place went to Rachel Cornacchia with Valkyrie de Telma and Ali Wolf on Casall.
Lillestrom CSI3*
Jens Fredricson won a beautiful victory with his son of Diamant de Semilly, Karmel van de Watering, in the Lillestrom CSI3* Grand Prix in Norway. Jur Vrieling was 2nd with Fiumicino van de Kalevallei (Plot Blue), Nick Benterman 3rd with Don Diablo HX. It was good all round participation since we find Kevin Staut in 4th place with For Joy Van'T Zorgvliet HDC ahead of Pius Schwizer with Vient Tu du Rouet, Geir Gulliksen on VDL Groep Quatro and Harry Allen on Dancing Queen Z.
Vejer de la Frontera CSI2*
In the Sunshine Tour, victory went to Belgium thanks to Gudrun Patteet in the CSI2* Grand Prix. With Sea Cost Kashmira Z, she was ahead of Michael G. Duffy on Flint T.s and Pedro Veniss on Boekmanns Lord Pezi Junior. We should also mention the 8th place of Yannick Jorand, who celebrated the return of his star ride Cipetto 2.
Oliva CSI2*
Marlon Zanotelli won Oliva 2* Grand Prix with Sweet Tricia (Berlin) ahead of no less than four French riders: Marie Demonte, 2nd with Dindoctro (Indoctro), Fanny Skally who has been accruing performances at the beginning of the year, this time 3rd went to Jonka A (Cardento) and Mégane Moissonnier, 4th with the stallion Cordial (Casall), leaving 5th place to Nicolas Delmotte on Urvoso du Roch (Nervoso). He could have contended for second place if it hadn't been for the fault at the jump-off, but who will also remember the great comeback in competition of Ilex VP.
Lier CSI2*
Maikel Ven der Vleuten won the Lier 2* Grand Prix with the stallion Edinburgh who is a son of his former mount, Vleut. The Dutch rider went ahead of the Austrian Katharina Rhomberg on Dinadja (Unaniem) and the Belgian Yves Vanderhasselt on Hetman of Colors (Calvaro).
Valencia CSI2*
A Selle Français double in Spain. Romain Duguet won the Grand Prix with Bel Canto de Boguin (Grenat de Grez) ahead of Lisa Nooren on Sambech d'Ha (Qredo de Paulstra) and Laura Roquet Puignero from Spain on the son of Diamant de Sémilly, Sandi Puigroq.