The winners of the weekend.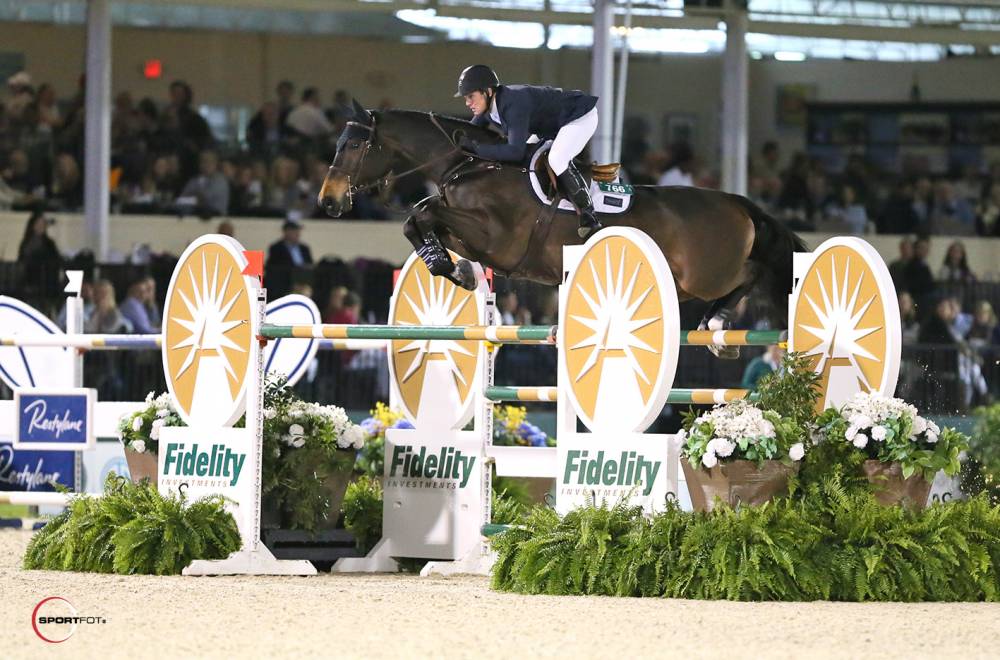 09 February 2020
Wellington CSI 5*
The Wellington CSI 5* Grand Prix kicked off with a dream start list, with over $400,000 on offer. The fine American rider McLain Ward won with his star mount, the huge striding Noche de Ronda (Quintender)! The winner of the 2017 World Cup Final came in more than 2 seconds ahead of his compatriot, Kent Farrington, who rode Creedance (Lord Z) in the jump-off. Eric Lamaze placed 3rd with his beautiful mount, Chacco Kid (Chacco-Blue). The Canadian stopped the clock in the same second as Farrington. Time is tight between those aces!
Nicole Shahinian-Simpson and Akuna Mattata (Quinar) placed 4th, and Martin Fuchs's partner (himself penalized by a fault in the initial round with the Sinner), Paris Sellon, placed 5th with her demonstrative mount Cassandra (Caressini L), and Tiffany Foster and Figor (Querly-Elvis) placed 6th, with all going clear in the jump-off.
Kent Farrington had already distinguished himself by winning a big event with Austria (Casall), the mare with whom he won the Top 10 Final last December in Geneva.
He placed ahead of Adrienne Sternlicht, the World Team Reserve Champion in Tryon, who was also placed in the Grand Prix, and Zoe Conter turned in a nice 6th place riding Davidoff de Lassus (Ugano Sitte).
Peelbergen CSI 3*
German rider, Katrin Eckermann, won the Peelbergen CSI 3* Grand Prix with Cornwell (Cornado NRW) ahead of Belgian Pieter Clemens on Horizon de Regos (Obourg), and Mario Stevens on Baloubet 4 (Balou Du Rouet).
Valencia CSI 3*
An Italian rider to the victory in the Valencia CSI 3* Grand Prix, ahead of two French riders. Giampiero Garofalo and Ezra Van W (Diarado) won ahead of Aurélien Leroy on Vendome d'Ick (Arko III), while his maternal half-brother, Atomic d'Ick Z (Cumano) placed 6th in the Peelbergen 3* Grand Prix with Angelique Rusen. Their dam China d'Ick (Chin Chin) is a daughter of Cassini I & II's full sister. Aldrick Cheronnet placed 3rd with Kingston van Paemel (Numero Uno), who is a maternal half-brother to the stallion Cicero Z van Paemel (Carthago Z).
Vilamoura CSI 3*
Titouan Schumacher led the lap of honor at the Vilamoura CSI 3* Grand Prix with his faithful mount Atome Z (Amadeus Z*brimbelles). The Frenchman came in ahead of Francisco José Mesquita Musa on Jivaro Imperio Egipcio (Echo Van T Spieveld), while Roberto Turchetto took 3rd place with Baron (Colman).
Damme-Neuenwalde CSI 2*
Hans-Thorben Rüder won the Damme CSI 2* Grand Prix with Singu (Singulord Jot), while 2nd place went to Patrick Stühlmeyer on Quincy 230 (Quintender), and 3rd was secured by Rolf-Göran Bengtsson on Cassilano Jmen (Calisco Jmen).