The winners of the weekend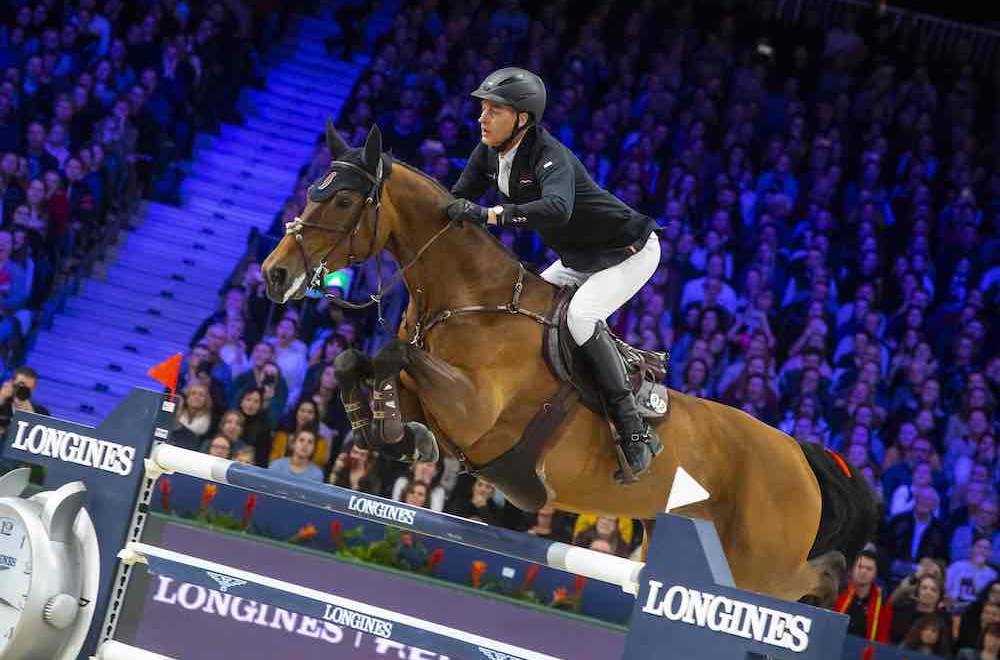 27 January 2020
World Cup in Amsterdam
Marc Houtzager won after a superb jump-off in Amsterdam in the 12th leg of the World Cup on the European circuit. Teamed up with Sterrehof's Dante (Canturano), the Dutchman succeeded in beating the time of his compatriot Harrie Smolders by more than one second, even though the former World No. 1 seemed unbeatable with Monaco (Cassini II).
Well done to Marc Houtzager, who pointed out that even if he does qualify for the World Cup final, it won't be in Dante's plans: "The Tokyo Olympics are an option with her, just like with Calimero, so we won't be making the final this time," said the rider. This mare was still being ridden by his wife in 2018 at 2* before she raised the bar to 5* with him.
In 3rd place was the young Belgian rider, Pieter Clemens with Quintini (Quintender), who is getting closer to a place in the final (he is provisionally 23rd). "It would be my dream to take part in a World Cup final, so I'll have to check on Monday morning to plan my next competitions, because there are only two stages left", the young Lansink stables' rider added.
Starting last, Niels Bruynseels and his Gancia de Muze (Malito de Rêve) weren't able to dethrone the leading trio and ended up in the 4th final place. It was a good result for the final, since the Belgian rider is now 13th in the ranking.
5th place for Marcus Ehning on Calanda (Calido I), who is ranked 2nd in the league's intermediate rankings, behind Steve Guerdat. The German had already excelled in the previous days in Amsterdam winning the big event on Friday with A la Carte NRW and coming second on Saturday behind Julien Epaillard.
4 of the 9 jump-off riders were Dutch, including Jeroen Dubbeldam. Even if he didn't try his best in the jump-offs, the multi-medalist achieved a superb double clear round and proved, at the beginning of this Olympic year, that in Oak Grove's Carlyle (Casall) he has found a new mount worthy of his talent. The horse was still being ridden by Rolf-Göran Bengtsson last year.
World Cup in Abu Dhabi
Christian Ahlmann's trip to the United Arab Emirates was worth it, since he won the World Cup Grand Prix with his good Solid Gold Z (Stakkato Gold). The German rider was ahead of Egypt's Abdel Saïd on Arpège du Ru and Ireland's Michael Pender on HHS Calais, all down to the same second.
Acquired by Ludger Beerbaum, Volver de la Vigne, the revelation of the last European championships started this Grand Prix under the saddle of Kamal Abdullah Bahamdan, after having participated in a few competitions with Philipp Weishaupt.
World Cup in Guadalajara
In a rare scenario at the World Cup stage in Guadalajara, Mexico, Alberto Sanchez-Cozar and his compatriot Gonzalo Azcarraga shared victory, riding Union de la Nutria and Fabio. The two Mexicans completed their jump-off tie. Third place went to Lorenza O'Farrill on Queens Darling.
Wellington 3* CSI
Erin Davis-Heineking won with Leonie in the Wellington Grand Prix, during the 3rd week of the WEF. She was ahead of Shane Sweetnam with Karlin van't Vennehof and Kent Farrington on Kaprice. Amanda Derbyshire also went double clear with Cornwall BH and was placed fourth.
The winner said that she had returned to the saddle two years ago with this mare: "Leonie was a commercial mare owned by my husband and he was trying to get me back in the saddle. He told me to have some fun with her at home, which I did. Then he registered me in a small Grand Prix near home. I went, I won, and I regained a taste for competition. But honestly, I wouldn't have seen myself at this level two years ago, so it's been an incredible adventure."
In the other big events, Abigail Mcardle won with Victorio 5, Tiffany Foster won a 150 with Northern Light and McLain Ward won a 145 with Catoki.
© Sportfot
Oliva 2* CSI
During this second week of the Mediterranean Equestrian Tour, Constant van Paesschen won the Oliva 2* CSI Grand Prix. With Isidoor van de Helle (Canturo), the Belgian rider won just a few hundredths of a second ahead of the French rider Margaux Rocuet, riding Trafalgar Kervec (Quaprice Bois Margot). Constant van Paesschen had already won on Saturday ahead of Edouard Schmitz on Balenciana K. 3rd place in the GP went to Matthew Sampson on Genève R (Eldorado Vd Zeshoek).
There was another Grand Prix ranking for Alberto Zorzi and Vauban of the Trio (Nervoso), already third last Sunday. The first 5 finished in the space of a single second and no less than 28 pairs participated in the jump-off.
In the Grand Prix qualifiers, a victory for Lorenzo de Luca with Amarit d'Amour and another for Tim Gredley on Unex Garçon de Lui (Plot Blue).
Valencia 2* CSI
Luca Maria Moneta from Italy won the Valencia 2* CSI Grand Prix with his faithful 18-year-old Neptune Brecourt. A few days ago, the rider had announced the retirement of his other faithful horse, Connery the little leaper.
2nd place went to Laura Roquet Puignero on Sandi Puigrop (Diamant de Semilly) and 3rd place to Cyril Cools on Guitlermo (Tangelo van de Zuuthoeve).
In Friday's rankings event, Armando Trapote of Spain won with Tinkerbell.
Lier 2* CSI
The Irish rider Jonathan Gordon won the Lier 2* CSI Grand Prix with Dorotheental's Classica, ahead of Erica Swartz on Jovita and Marc Dilasser on Vital Chance de la Roque. The same pair in the Friday ranking where the Irish came in ahead of the Swedish. Patrick Spits came in third with Virocondo Z.
Kronenberg 2* CSI
It was a victory for the Germans in the Kronenberg 2* CSI Grand Prix, thanks to Tim Rieskamp-Goedeking on Querido. The British rider Chloe Winchester was 2nd with Stenhaga Tulip Tatoo and the Dutch rider Kevin Beerse 3rd with Gilona AO.
Edwin Smits also went double clear and came in fourth with his fine horse, Farezzo. There was also a victory for Angelique Rusen in Friday's 145 with Atomic Z (Cumano).
Aarhus 2* CSI
Stein Endresen won the Aarhus 2* CSI Grand Prix, in Denmark, with Happy Feets Heartbeat (Heartbeat). The Norwegian rider went ahead of the Dane Lars N Pedersen on Grafitti P and the Irish Shane Carey riding Detroit.
Villeneuve-Loubet 2* CSI
Mandy Mendes Costa won the Grand Prix on Record d'Oreal ahead of Arnaud Doem on Eternity du Seigneur and Filippo Marco Bologny on Bernini GP.