The winners of the weekend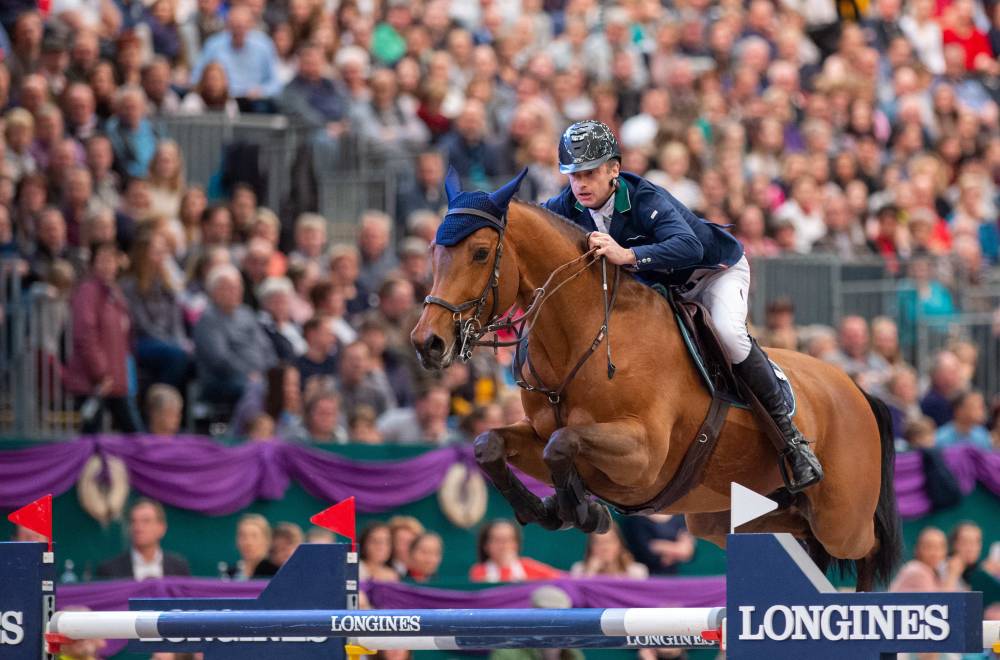 20 January 2020
Leipzig World Cup
The CSI-W audience in Leipzig were convinced they would see Christian Ahlmann win for the third year in a row. He had already triumphed in 2011 in this German arena, but he didn't count on Denis Lynch's passion. With GC Chopin's Bushi (Contendro), the Irishman beat Ahlmann's time by taking a chance at the double which the German hadn't risked. He didn't think his good Dominator 2000 Z (Diamant de Semilly) was ready yet enough for this kind of turn.
Third place went to another German, Marcus Ehning, riding Ratina's son, Comme il faut.
After his performance in Basel and this victory, Denis Lynch has secured himself a place in the Las Vegas final. "I bought Chopin, on the advice of Bertram Allen without trying him. It hasn't been an easy start, but after a few changes now everything's going better, especially after La Coruña and Basel. We needed time to get to know each other and build up trust," explained the winner.
Of the 40 pairs to start, 16 made it to the jump-off. Robert Whitaker, the last to start, was the only one to beat Lynch's time, but a fault relegated him to 8th place.
In the Leipzig Championship on Saturday, Marcus Ehning and his faithful Prêt-à-Tout won ahead of Michael Jung, who also went double clear in Sunday's World Cup stage. 3rd place went to Bryan Balsiger (Jenkins Ter Doorn) and 4th to Steve Guerdat, also ranked in the World Cup stage and who remains the leader of this circuit.
In the Driving World Cup, defending World Cup Champion Bram Chardon won ahead of Boyd Exell.
Oliva 2* CSI
The tours that started at the beginning of the year have resumed and during the first week in Oliva, the Frenchman Julien Epaillard won with Jane Richard Philips' former mare, Jalanta P. He was more than one second ahead of British rider Laura Renwick on Dublin V, already winner of the GP qualifier with Top Dollar (Dollar du Murier) and 2nd in the other qualifier behind Pedro Veniss. 3rd place in the GP went to the Italian Alberto Zorzi on Vauban du Trio.
In the 145 counting for the rankings on Sunday, there was victory for Grégory Wathelet with the 9-year-old stallion Carleyle ahead of Dayro Arroyave from Colombia on Baccarat Fontaine (Mylord Carthago) and the Dutch Sanne Thijssen on Con Quidam RB (Quinar).
Abu Dhabi 3* CSI
In Al Shira'aa 3* CSI Grand Prix , Kristaps Neretnieks won with Moon Ray (Cornet Obolensky) ahead of two British riders, William Funnel, 2nd with Billy Diamo (Cevin Z) and Jack Whitaker, 3rd with Elucar V.E.
One of the qualifiers for the Grand Prix was won by David Will on Spring Dark (Jazz Band Courcelle) and the other by Joao Marquilhas on Glamour ES.
Wellington 2* CSI
During week 2 of Winter Equestrian Festival in the Wellington 2* CSI Grand Prix, victory went to Santiano Lambre on Cetano van Aspergem Z, ahead of Eric Lamaze on his new recruit Idalville d'Esprit. 3rd place went to McLain Ward on Jet Blue (Zirocco Blue).
In the other big events, there was victory for Kent Farrington on Kaprice in one and Andrew Welles over Brindis Bogibo in the other.
Kronenberg 2* CSI
There was victory for Leopold van Asten on VDL Groep Falco in the Kronenberg 2* CSI Grand Prix. The Dutchman who announced Zidane's retirement went ahead of the Bulgarian Rossen Raitchev on Chester (Verdi) and the Swedish Wilma Marklund on Carlogero (Colander).
Pius Schwizer won the big event on Friday with Cas (Casall) ahead of Gudrun Patteet on Sea Coast Kashmira Z.
Villeneuve-Loubet 2* CSI
Of the 6 starters in the Villeneuve-Loubet Grand Prix, Patrice Planchat won on Baby Boy du Murger (Orlando) ahead of Giacomo Bassi on Doc (Chacco Blue).
Cornulier Prize (Gr 1)
One week before the Prix d'Amérique, the best mounted trotters in the world met for the Cornulier Prize (Gr1). Victory went to Bilibili, the favorite of the event, something that hadn't happened since Jag de Bellouet 15 years earlier. Nicky's son dominated the event with head and shoulders without any trouble, achieving a very nice attack at the exit of the last turn and winning himself a second consecutive Cornulier under the saddle of Alexandre Abrivard.
Etoile de Bruyère made a huge effort in the final straight to take second place ahead of Feeling Cash who led the race for the larger part of the event.