The winners of the weekend.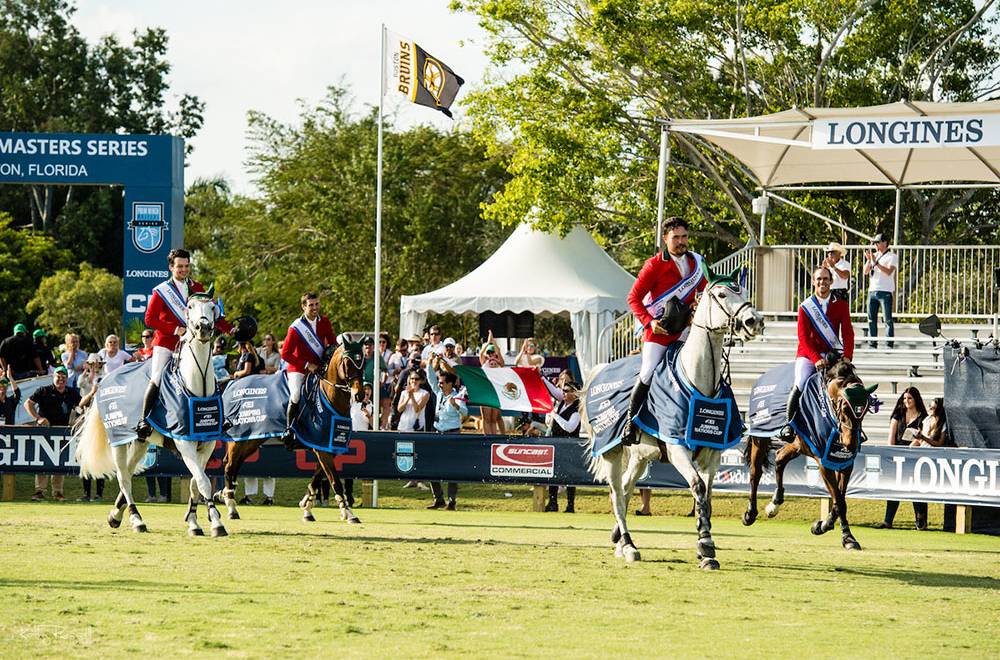 18 February 2019
Mexico won the Wellington Nations Cup with two of the three double clear rounds of the event, ahead of Israel and the USA.
Peder Fredricson won the Neumunster Grand Prix on Christian K (Narmelus R) in front of the three Dutchmen: Willem Greve on Carambole (Cassini I), Albert Zoer on Florian (Qamikase des Forêts) and Angélique Hoorn on Brego R'n B (Narmelus R) while the Luxemburger Victor Bettendorf completes the top five with his faithful Sorbier Blanc (Jerricho Pierreville).
Italy took the double in Vilamoura in the Grand Prix*** which was won by Roberto Turchetto on Barron (Colman) ahead of Piergiorgio Bucci on Cochello (Casall) and Britain's Ellen Whitaker on Jack Van'T Kattenheye (Diabeau) while the French fell off the podium: Olivier Guillon was 4th with Type Top du Monteil (Calvaro) in front of Felicie Bertrand who is doing well with Creta La Silla (Casall) and Marine Bouton was 6th with 1 extra time point on Zorro H (Indoctro).
The young Thibeau Spits secured another Grand Prix** victory when he won the Grand Prix de Lier with Bellissimo Z (Bamako de Muze), beating Niels Bruynseels on Kadafi van Orti (Diamant de Sémilly) and Maikel van der Vleuten on Beauville Z (Bustique).
Anglophiles had a stranglehold on the first Grand Prix of the Sunshine Tour which was won by the British Jake Saywell on Havinia vd Roshoeve (Cicero Z) ahead of American Catherine Pasmore on Hitec (Heartbeat) and her compatriots Holly Smith on Claddagh Iroko (Cruising) and Kayleigh Watts on Ninkie de Vy Z (Non Stop). Greg Broderick took 5th place with Dabelle (Nabab de Rêve) who is none other than the full sister of London, and who was raised and trained by Jos Lansink until the end of last year.
In Oliva, Giulia Martinengo Marquet won the Grand Prix** on Elzas (Diamant de Semilly) ahead of American Michael Hughes on Baldur (Baloussini) and the British Scott Brash on Hello Shelby (Stolzenberg) while Frenchman Harold Boisset was 4th with Katinka vh Valenberghof (Corland).
Finally, in Vincennes, the first generation of star Trotter Bold Eagle made an impression with the victory of Green Grass in the Prix Comte Pierre de Montesson Critérium des Jeunes, the first Group 1 to be won by the progeny of a Vincennes star, who has won this event himself.