The winners of the weekend.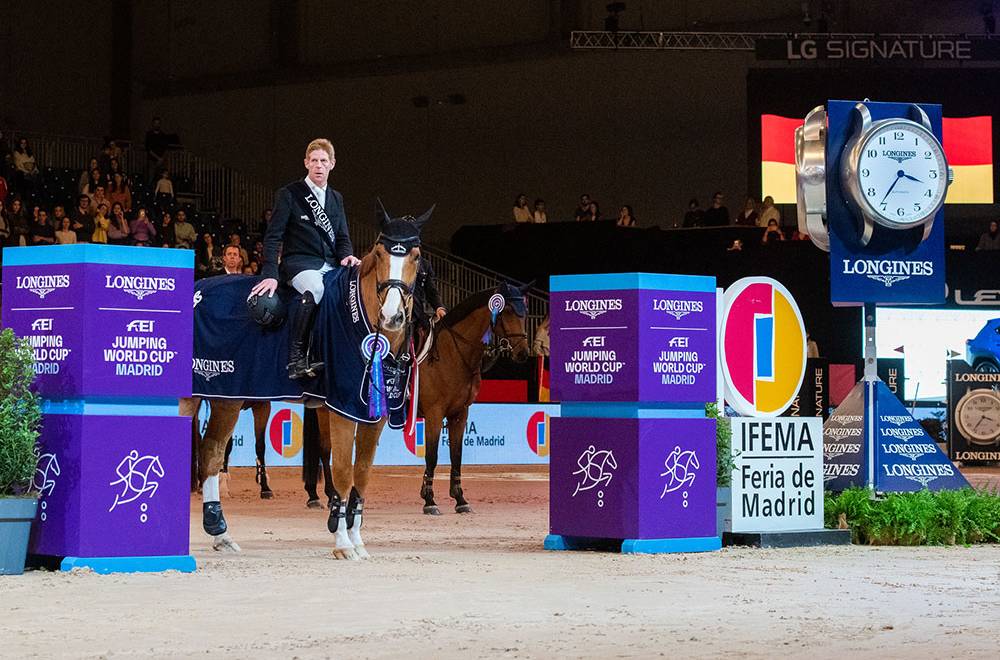 02 December 2019
Marcus Ehning and Prêt à Tout (Hiram Chambertin) added one more line to their list of achievements by winning the Madrid World Cup stage ahead of Christian Ahlmann on the stallion Dominator 2000 Z (Diamant de Sémilly), who has gone right back to the top, just a few months after his long Summer break to focus on breeding. Behind the Germans, Pieter Devos never gave up and took third place with Espoir (Surcouf de Revel), with another great performance that allowed the Belgian to take the lead in the World Cup rankings after this sixth qualifying round.
Jessica Springsteen never stops winning! This time, the American won the Stockholm 4* Grand Prix with Volage du Val Henry (Quidam de Revel), ahead of Harrie Smolders on Une de Lothain (Conterno Grande), and Marlon Zanotelli who achieved his first podium placing with one of his new recruits, Virtuose d'Eole (Panama Tame).
In Poland, Janika Sprunger won the Grand Prix with King Edward (Edward 28), ahead of Wojciech Wojcianiec of Poland on Chinta Blue (Chintan) and Emanuele Camilli on Jakko (Vagabond de la Pomme).
In Belgium, Rossen Raitchev of Bulgaria won the Opglabeek 2* Grand Prix on Chester (Verdi), ahead of Peter Moloney on Ornellaia (For Pleasure) and Gerrit Nieberg on Ben 431 (Sylvain).
In Lichtenvoorde, Eiken Sato, who has been stacking up the performances ever since he returned to Europe, this time won the 2* Grand Prix with Saphyr des Lacs (Mr Blue), ahead of the Germans Johannes Ehning on Qooper Z (Quidam de Revel) and Katrin Muller on Conan 44 (Con Sherry).