The winners of the weekend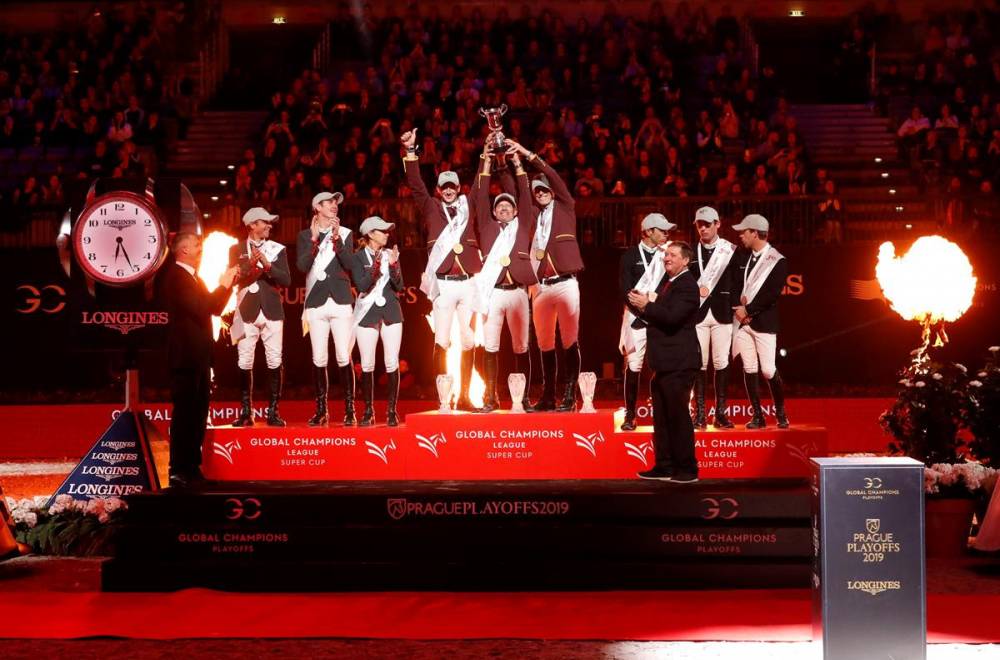 25 November 2019
The Prague Super Final
In the final of the Global Champions League in Prague, where only the weekend's top 6 teams remained, the Shanghai Swans won, securing millions of euros! The team, composed of Peder Fredricson on H&M Christian K (Namelus R), Pius Schwizer on Cortney Cox (Carlo) and Daniel Deusser on Jasmien VD Bisschop (Larino) completed both rounds for a total of 12 faults, clearly ahead of the Monaco Aces (made up of Laura Kraut, Jos Verlooy and Julien Epaillard), who were penalized by 21 faults. Madrid in Motion made a strong comeback (Mark McAuley, Maïkel Van der Vleuten and Eduardo Alvarez Aznar) and managed to take third place on the podium. The pressure was high in the Prague arena, and the scores in the second round were high, with teams that were well ranked dropping out after the first round. The Cannes Stars, who had more than two rails in hand, collapsed and finished 4th.
Munich CSI 4*
There was good participation in the Munich CSI 4* Grand Prix, where the young German rider, Guido Klatte, won with Asagan M (by Argentinus), ahead of Austrian rider Max Kuhner on Cornet Kalua (Cornet Obolensky), and German rider Kathrin Müller on Felitia DH (Querlybet Hero). 4th place went to Luciana Diniz and Vertigo du Desert (Mylord Carthago), while 5th place went to Edward Levy on Rebeca LS (Rebozo la Silla) and 6th went to the World Champion Team Runners-up, Fredrik Jönsson and Cold Play (Contendro I).
Rouen CSI 4*
In the Rouen CSI 4* Grand Prix, the French took the top placings. Max Thirouin made it into the Marseillaise ring thanks to Utopia Villelongue (Mylord Carthago). He came in ahead of the winning combination from the Bordeaux World Cup stage, Felicie Betrand and her bouncing mount Sultane des Ibis (Quidam de Revel). Third place went to Jacques Helmlinger and Icarus Vd Bisschop (Lord Z), and 4th went to Gregory Cottard with Bibici (Norman Pre Noir).
Of note, Dries Dekkers' victory in the Puissance, clearing 2.24m.
Gorla Minore CSI 3*
Swiss man Mathias Schibli won the Gorla Minore CSI 3* Grand Prix with Quno (Quo Vados), ahead of the two Italian riders, Filippo Moyersoen and Sundance (Fandango X) and Gianni Govoni with Lucaine (Lenardo).
Vermezzo CSI 2*
It was an Italian victory in the Vermezzo CSI 3* Grand Prix with Massimiliano Ferrario and Rigoletto della Florida (For Pleasure) coming in ahead of his compatriot, Claudio Minardi on The Best Bel (Quidam de Revel). And the Frenchman Nicolas Deseuzes turned in another great performance with his faithful mount Stella de Preuilly (Baloubet du Rouet). The 4th and 5th placings went to the Swiss riders Daniel Etter and Fly High (Lexicon), and Audrey Geiser on Holiday (Liandero), who will be competing in the Geneva CHI in 3 weeks.
Valencia CSI 2*
Thierry Goffinet of Belgium won the Valencia CSI 2* Grand Prix with his good mount Cadet du Ruisseau Z (Chellano Z). He was 20 hundredths of a second ahead of the Spaniard Armando Trapote and Tinkerbell (Chacco Blue). The top three placings were completed by Michel Hecart on Solero MS (Silvio I).
Peelbergen CSI 2*
The Peelbergen CSI 2* Grand Prix victory went to Thiago Ribas Da Costa. The Brazilian rode Epleaser Van't Heike's daughter, Kassandra Van'T Heike. Second place went to German rider Stephi de Boer with Facebook 2 (For Edition), and third place went to Spencer Roe on Eclips (Baloubet du Rouet).
Lier CSI 2*
The Allen brothers took the double in the Lier CSI 2* Grand Prix. Harry, riding Izzi By Picobello (Cicero Z) beat his eldest brother, Bertram, on Go to Fortuna (Eldorado Van De Zeshoek). The two Irishmen were only separated by three hundredths of a second!
The other young man that made the top three: Gilles Thomas took third place with Edison van Schuttershof (Darco).
Lucia Le Jeune Vizzini took fourth place with Cabalgaro Z (Calvados Z) and Bertrand Genin took fifth with Espoir des Merisiers (Qody De Saint-aubert).