The winners of the weekend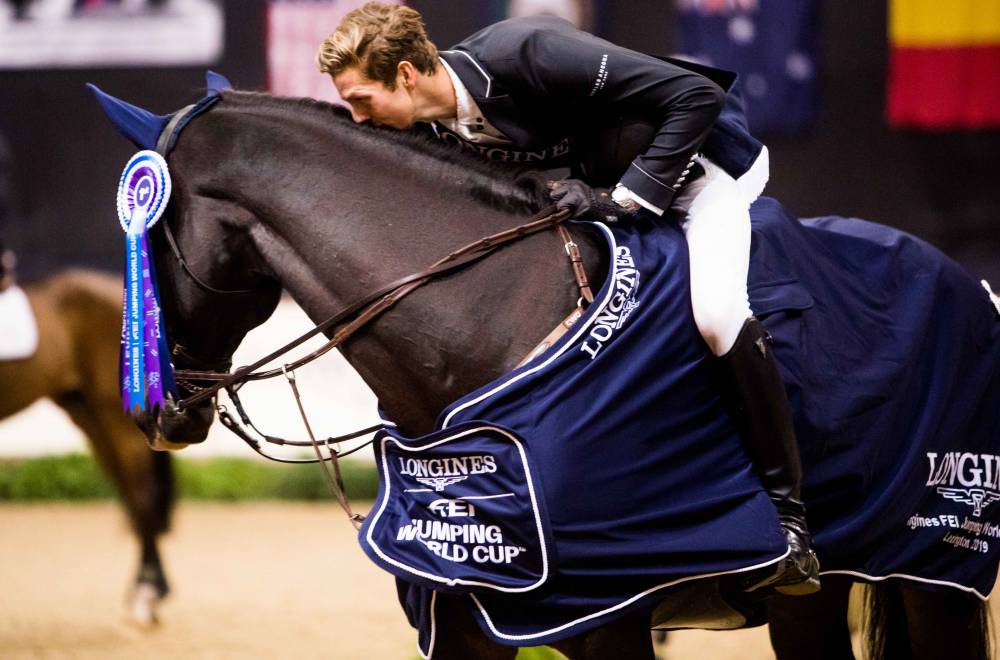 04 November 2019
World Cup in Lexington
On the American circuit, the young rider Brian Moggre made an impression when he won the Lexington World Cup at the age of just 18. The young American was paired with MTM Vivre le Rêve, who he has been riding since the stallion was seven years old. "I was 14 and he was seven, so we really grew up together. I jumped my first 5* this year and it was also his first 5*," said the winner. He was ahead of Karen Polle of Japan on Kinon, and David Blake of Ireland on Keoki. It was a quality line-up that included Rodrigo Pessoa, ranked with his new recruit Quality, and also Beat Mändli. The two-time European medalist pair Jos Verlooy and Igor picked up four points at the start, and Harrie Smolders, Ben Maher, Shane Sweetnam and Bertram Allen also all took part.
In the league ranking, Brian Moggre is ranked second with 41 points, behind Beezie Madden.
Provisional ranking of the American Northeast League
International Jumping of the Province of Liège
In the 4* Grand Prix of the Province of Liège, victory went to Belgium thanks to the young Andres Vereecke on Igor van de Wittemoere (Cooper Vd Heffinck), to the great delight of the crowd. He was ahead of team World Champion Laura Kraut on her excellent son of Codex One, Curious George. In third and fourth place were Austrian rider Gerfried Puck on Bingo du Parc (Mylord Carthago) and his compatriot Christian Rhomberg on Cornetta 13 (Cornet Obolensky). Among the stars of the Grand Prix, the European champion team pair Jérôme Guéry and Quel Homme de Hus took seventh place in front of an audience totally on their side!
In the big event of Friday, Charlotte Bettendorf won with Raia d'Helby, achieving the only double clear round.
On Saturday, it was a Belgian double in the Prix de la Ville de Liège with Constant van Paesschen on Vendetta Treize ahead of Christophe Vanderhasselt on Cana van de Blom.
In the 1* Grand Prix, it was Frenchman Nicolas Layec who led the lap of honor with Julysse, ahead of Jessica d'Errico on Gayatri Van'T Welthof (Non Stop) and Claire Schuler on Fee 913 (For Ever Jump).
Vilamoura CSI 3*
Jérôme Hurel won the Grand Prix of Vilamoura CSI 3* with Icarus V'T Klavertje Vier (Bentley), ahead of Marc Bettinger on his nine-year-old Quisandro. Third place went to Omer Karaevli of Turkey on Cheston de La Pomme d'Or Z.
Oldenburg CSI 3*
Frenchman Julien Anquetin was the fastest at the Oldenburg Grand Prix jump-off and won the car promised to the winner. He was riding Gravitiy of Greenhill (Nabab de Rêve). Second place went to Patrick Stühlmeyer on Chacco-Blue's offspring Chacgrano. The Schockemöhle stables' rider had won the 150 the day before with Varihoka du Temple. Jan Wernke was third in the GP with Nashville HR.
Lier CSI 2*
In the Grand Prix of Lier CSI 2*, Jeroen Appelen won with Cache VA, recently ridden by Swiss rider Nadja Peter Steiner. Second place went to Janika Sprunger and her very promising eight-year-old Little Magic d'Asschaut, whom her fiancé Henrik von Eckermann had ridden in Aachen in the young horse events, where he took eighth place in the final. Third place went to Joy Lammers on First Boy B.B.
Valencia CSI 2*
It was a British double in the Grand Prix of Valencia CSI 2*. Emily Moffitt won with the Swiss horse Copain du Perchet CH (Conteur), ahead of Will Edwards on Shw Candies B (Chacco Blue). In third was Lieven Devos on Inca's Big Think.
Wierden CSI 2*
Remco Been denied Harry Allen the victory by only 20 hundredths of a second at the Wierden CSI 2* Grand Prix. The Dutchman was riding Holland Vd Bisschop (Heartbreaker), while the Irishman was counting on Izzy By Picobello (Cicero Z). Monique van den Broek took third place with the nine-year-old by Comme il Faut, Corsari Van de Helle.
Lyon CSI 2*
Saturday was the Grand Prix of Lyon CSI 2* and the young French hope Inès Helias brilliantly won the event with Diplomat F (Diarado). She was ahead of great competitors, including Thierry Rozier, second on his new Star and Maelle Martin, third on her beautiful Come On Jumper (Comme il Faut).
Oliva CSI 2*
The French were in good form this weekend and it was also the French anthem that rang out at the end of the Grand Prix of Oliva CSI 2*, where Harold Boisset won with T'Obetty du Domaine (Kashmir Van Schuttershof) ahead of Katharina Offer on Elien (Carambole) and Matthew Sampson on Genève R (Eldorado Vd Zeshoek). There was also a victory for Pedro Veniss in the Friday qualifier with Anaya Ste Hermelle (Andiamo).