The winners of the weekend.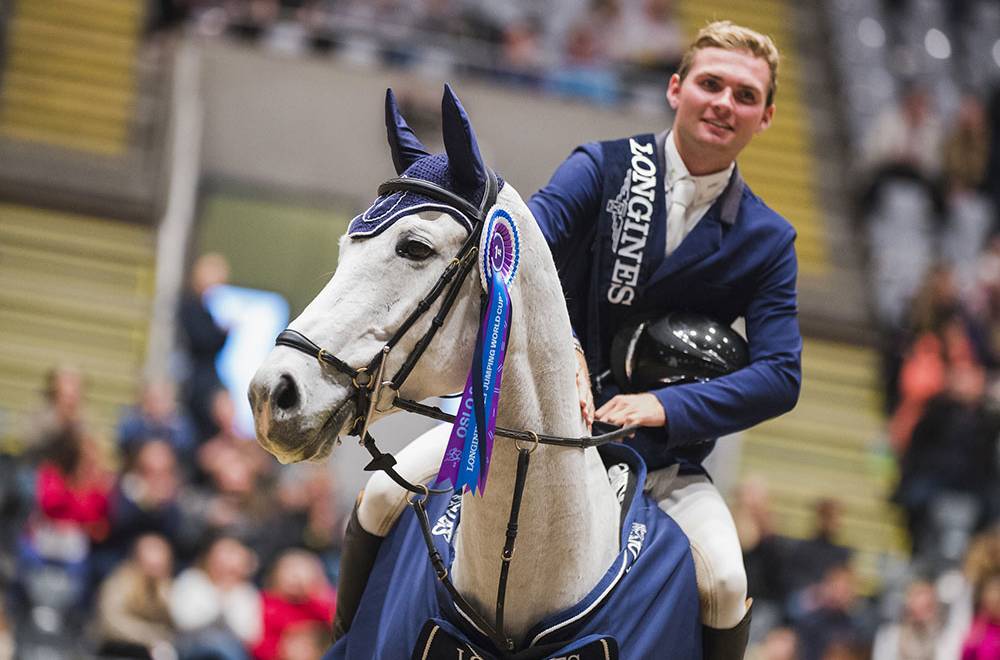 21 October 2019
As is the tradition, Oslo launched the qualifying season for the World Cup in Europe. No less than 12 combinations qualified for the jump-off and the young Swiss rider, Bryan Balsiger, won this stage with his faithful mount Clouzot de Lassus (Ugano Sitte). He came in ahead of Luciana Diniz on Vertigo du Désert (Mylord Carthago x Robin II Z), and the amazing Geir Gulliksen who outdid himself on home soil with Maikel van der Vleuten's former mount, Quattro (Quaprice Bois Margot). Olivier Robert finished in 4th place with Tempo de Paban (Jarnac), ahead of the amazing Emma Augier de Moussac who continues to perform well, today riding JCS Chacco Dia (Diarrado), while Peder Fredericson set the best time in the jump-off with All In (Kashmir van't Schuttershof) – unfortunately they had a rail, which knocked them back to 6th place.
McLain Ward won the Tryon Grand Prix***** on Noche de Ronda (Quintender), ahead of Mexican rider Eugenio Garza on Armani SL Z (Asca Z) and Kirsten Vanderveen on Bull Run's Risen (Utopie).
It was an Italian double for the end of the Morroco Royal Tour 2019. Roberto Turchetto won with Baron (Colman), ahead of veteran rider Natale Chaudiani on Chopard (Rascin). Elian Baumann, riding Campari Z (Contact vd Heffinck), completed this very European podium.
"I love this circuit," said the winner. "This is the third time I've come and the second time that I've won the Grand Prix here in El Jadida. And I promise that if I have the right horse, I will definitely be back here next year. The courses were particularly difficult today as you could see, very technical, with difficult questions spread throughout the tracks and you had to be vigilant at all times, but there were still twelve clear rounds. Then, to win, you had to take all the corners really tight, which, as you saw, there was nothing in it."
Scott Brash won the last Grand Prix**** of the season in Grimaud with Hello Senator (Carambole), ahead of Eduardo Menezes on Ennebel van het Posthuijs (Numero Uno), while Marie Demonte reaffirmed her form with Tanael des Bonnes (Watch Me van't Zorgvliet), coming in ahead of Jérôme Hurel on Vegas de la Folie (Castronom Z).
An incredible scenario unfolded in Oliva with a draw in the Grand Prix***. Constant van Paesschen and Vendetta Treize (Diamant de Sémilly), and David Will and Forrestia (Forsyth) shared the victory... both stopping the clock at 33.03 seconds, ahead of Julien Epaillard on Jalanta P (Catalano).
Hans Dieter Dreher won the Grand Prix** of Chevenez on Prinz 1293 (Perigueux) in front of Frenchman Nicolas Deseuzes on Ulloa du Trèfle (Sheraton) and Irish rider Noelle Barry on Jolie vh Molenhof (Nabab de Rêve).
Eleven jump-off riders lined up in Lier for the Grand Prix**, which was won by German rider René Dittmer on Carlitto's Way (Casall), ahead of the young Belgians Vicky van de Poel on his bouncy Frenchy VDS (Cornet Obolensky) and Gilles Thomas on Edison van't Schuttershof (Darco), who is none other than Qerly Chin's grandson.