The winners of the weekend.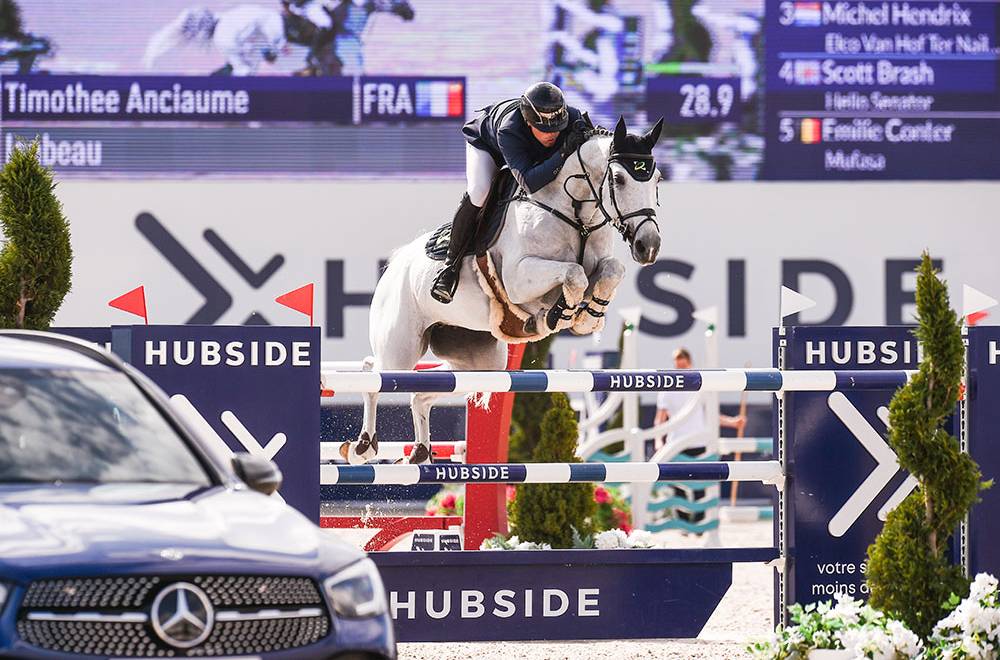 14 October 2019
Ce Normand-là ne s'était pas imposé dans le Grand Prix d'un CSI 4* depuis… 2011et sa victoire à Bourg-en-Bresse. Champion de France Pro Elite en 2014, brillant co-équipier des Vestes Bleues à la fin des années 2000, début des années 2010, Timothée Anciaume remporte cet après-midi le Grand Prix du CSI 4* de l'HUBSIDE Fall Tour de Grimaud, en selle sur la prometteuse Isabeau.
This Normandy native had not won any CSI 4* Grand Prix since 2011 and his victory in Bourg-en-Bresse. French Pro Elite Champion in 2014, a brilliant member of the Blue Jackets in the late 2000s and early 2010s, Timothée Anciaume won this afternoon's CSI 4* Grand Prix of the Grimaud HUBSIDE Fall Tour, riding the promising Isabeau.
For this penultimate 4* Grand Prix of the HUBSIDE Fall Tour, Italian course designer Andrea Colombo proposed a course that, like the line-up, was exceptional. Thirteen obstacles, sixteen attempts, heights at 155 and a course for which an overwhelming majority of the great names in world show jumping couldn't find the key. The winner of Friday's qualifier, Italian Emilio Bicocchi, with four points on this first course and placed eighth in the final ranking, said: "The first course was very complete in its difficulties, perfectly fair for this level of competition and prize money. Each obstacle caused its share of mistakes, and the course designer did an excellent job."
Only five pairs, including the current World No.1, Switzerland's Steve Guerdat, managed to qualify for the jump-off. And then, what a show it was!
First to start, Timothée Anciaume of Normandy achieved the first double clear round at an already very fast time! Following him, Frenchman Hugo Breul managed to slightly lower the time benchmark. However, he was later eliminated under the FEI Blood Trace Regulation. The winner of yesterday's qualifying event, Luxembourg's Charlotte Bettendorf also achieved a clear round, but not as fast. The same was true for the 2012 Olympic champion Guerdat, perfect on the bars, but still slower than the French rider. The last rider to start, José María Larocca Jr. of Argentina finished in a respectable third place. The jump-off thus saw a flood of clear rounds, and only the stopwatch counted.
For the Grand Prix winner, Frenchman Timothée Anciaume, "the qualification the day before yesterday was already tricky and so was this Grand Prix. But the competition was elevated today, and I think it was well balanced. In the jump-off, I could have been even faster in the last line, especially by taking a stride like some horses did. I had a good rhythm from start to finish. I kept up this pace, which allowed me to set a good time. Isabeau is an extraordinary mare that I have been riding for a year. On the HUBSIDE Fall Tour, she finished third, second and first in the events in which she competed. The success at the last competitions has been amazing, and I warmly thank her owners, the Haras de Méautry and Edouard de Rothschild, for the trust they have placed in me. I cannot help but think of Hugo Breul, with whom I share this victory. There are rules in our sport, I won't argue, but I think very much of Hugo who remains, in my opinion, a man of horses whom I respect very much."
Next step for Timothée Anciaume and Isabeau? "We will go as far as we can; I think we still have room for improvement, very encouraging" (smile). - Press release.
Alexander Butler won the Vilamoura Grand Prix*** with Chilli B (Berlin), ahead of Luis Sabino on Dominka van de Lucashoeve (Cardento) and Jacob Hellström on Mansini (Caressini), while the young Dutchman Niels Kersten took fourth place with Dabelle (Nababab de Rêve), who is none other than Carembar de Muze's own sister, aka London.
In Beijing's Bird Nest stadium, Penelope Leprévost won the Grand Prix*** on Cenai (Chacco Blue) ahead of Daniel Deusser on Leonidas (Leonardo), while Gregory Wathelet achieved the fastest jump-off on Chumberland (Colman), but a fault pushed him down to 5th position.
Lutetia Briant wins the Nevers Grand Prix** on Slalom de Mere (Lieu des Forêts), ahead of Brice Brassart on Uddy de Vernay (Diamant de Sémilly) and Margaux Bost on As de Papignies (Kashmir van't Schuttershof).
In Oliva, Katharina Offel won the Grand Prix** on Elien (Carambole), ahead of the young Harry Allen on Guinness (Nabab of Dream) and Marielle Friesen on Stakkabisa (Stakkatol).
In Opglabeek, no less than nine pairs were penalized by the clock in the first lap. Only five of them qualified for the jump-off, among them three Irish riders! Richard Howley won the Grand Prix on Arlo de Blondel (Stone Dollar), ahead of Marlon Zanotelli on Breakout (Clinton I) and Bertram Allen on Go To Fortuna (Eldorado vh Zeshoek).
Marc Dilasser wins a new Grand Prix with his faithful Arioto (Diamant de Sémilly) ahead of his compatriots Aymeric de Ponnat on Elize and Raphael Goehrs on Radieuse du Landey.