The winners of the weekend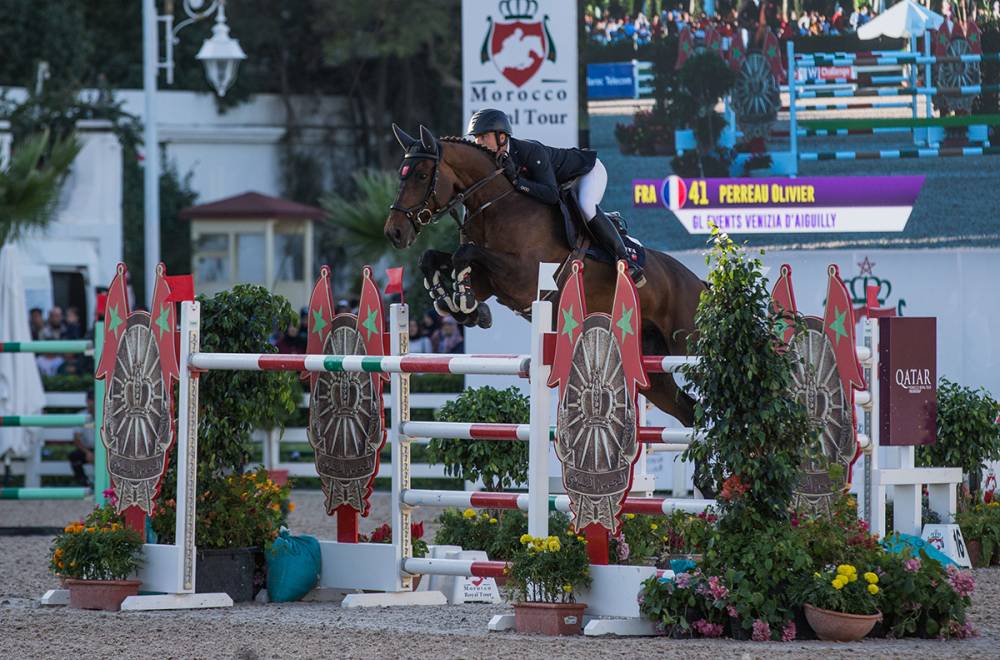 07 October 2019
A French double in the Tetouan Grand Prix****, the first stage of the Morocco Royal Tour. Olivier Perreau took first place with his faithful Venizia d'Aiguilly (Diamant de Sémilly), ahead of his compatriot Emeric George and Chopin des Hayettes (Radco d'Houtveld), while the Brazilian Felipe Amaral took 3rd place with Premiere Carthoes BZ (Carthago).
"This is the second year I've been to the Morocco Royal Tour, and I'm delighted to be back. The program is well thought out –everything is well thought out for both horses and riders. The course designer is really good. He prepared a technical and tricky course, but one which did not put the horses in danger. I saw that Emeric was going very fast when I was waiting to enter the track, so I tried to do the maximum without pushing my mare too hard and while staying calm, because sometimes I tend to take a little too many risks and make mistakes (laughs). My mare is fast, and I can trust her and her respect of such heights. She always wants to do the right thing.
This is the fourth Grand Prix the mare has won, in addition to the Saut Hermes she won last March. That performance really pulled me up. I was afraid it would be a fluke, but my mare has been very consistent all year round, and I am really very happy. After the Rabat Nations Cup and the El Jadida Grand Prix, our next objective will be to get as fit as possible for the Lyon World Cup Grand Prix," said the GL Events-sponsored rider."
Michel Hécart won the Vilamoura Grand Prix*** on Solero MS (Silvio I), ahead of Laura Renwick on Top Dollar VI (Dollar du Murier) and the young Irishman Michael Pender on Casanova van Overis Z (Casper Van Erpekom Z).
Marc Dilasser won the Barbizon Grand Prix** with Cliffton (Clinton), ahead of his compatriots Jéremy Le Roy on Razzia des Sables (Zandor) and Sophie Michiel on Bacot (Lavillon).
It was a very international Grand Prix in Oliva, where Pius Schwizer won the top prize with Chidame Z (Chipendale Z), ahead of the American Julie Welles on Ambra (Quintender) and the Irishman Camron Hanley on the BWP Loukas de la Noue (Malito de Rêve).
Lisa Nooren won the Opglabeek Grand Prix** on Dienellie (Berlin) ahead of Rik Hemeryck, who continued a fine run of performances with Déesse de la Sure (Quickfire de Feran), and Victor Bettendorf of Luxemburg on Chactus (Chacco Blue).
Meredith Michaels Beerbaum won the Riesenbeck Grand Prix** with the stallion La Caramba (Carambole), ahead of Mario Stevens on Baloubet 4 (Balou du Rouet) and Jens Baackmann on Carmen 255 (Cornet Obolensky).