The winners of the weekend.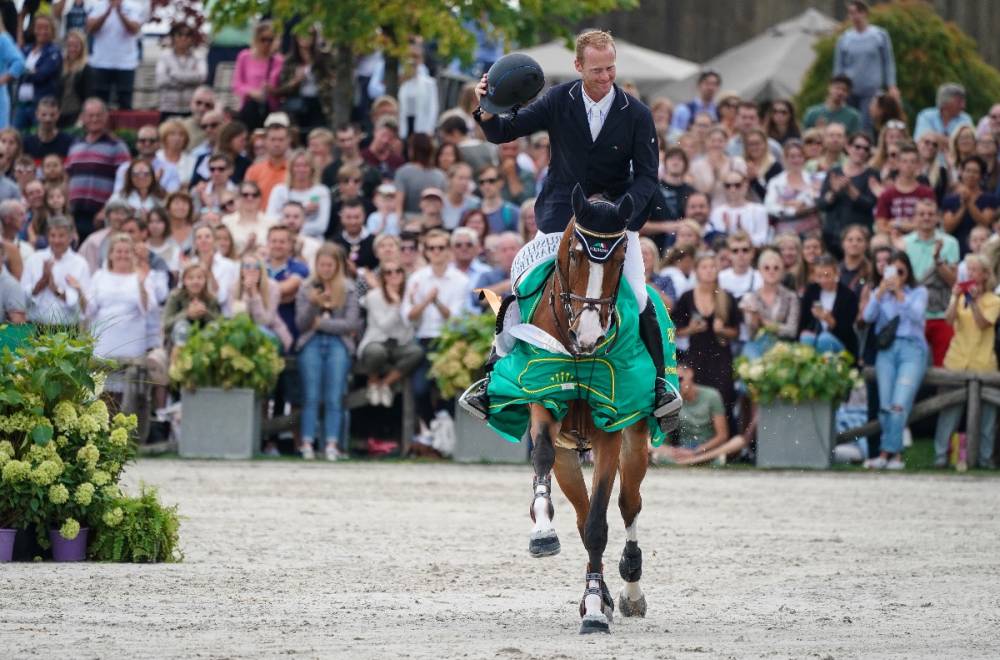 02 September 2019
Niels Bruynseels won the Brussels Stephex Masters Grand Prix for the third time in his career out of just 6 editions of the competition, after winning in 2016 with Cas de Liberté Z (Cracky Z) and again in 2017 with Gancia de Muze (Malito de Rêve). The mare made her return to competition only a few weeks ago in Valkenswaard, but Niels Bruynseels had decided not to participate in the European Championships in Rotterdam as she was not yet in championship form. She's now gaining strength and has regained her top-level feel in Brussels. "I'm happy. For a rider, winning a five-star Grand Prix is always a special moment, but it's even more so for a Belgian to win one in Belgium, and today, I have to first of all thank my mare, who really wanted the victory, while I was more on track to ensure we'd place 5th," said the day's winner.
He came in ahead of Dutchman Harrie Smolders on the stallion Don VHP Z (Diamant de Sémilly) who also decided to step out of the running for the European Championships, realizing that his horse was not quite ready, before achieving 4th place in the Grand Prix of Valkenswaard and a second here! The Pan-American Games gold medalist Marlon Zanotelli took third place with VDL Edgar M (Arezzo VDL).
Earlier in the morning, Italian rider Silvia Bazzani won the Grand Prix*** with the stallion Charlemagne JT Z (Cachas), ahead of Justine Tebbel on the magnificent Light Star 4 (Light On) who started the day off well for the Tebbel family as her brother went on to take out 4th place in the Grand Prix 5* with Don Diarrado (Diarrado). Mohammed Al Kumeiti came in third with Taittinger de Altube (Clarimo), just ahead of Cindy van der Straeten who took 4th place with her promising stallion Cartaro (Carinue).
In Gijon, Italy won the Nations Cup ahead of Great Britain and France on Friday. On Sunday, in the Grand Prix, it was Irishman Greg Broderick who won the Grand Prix with the Swedish Warmblood, Westbrook (Jaguar Mail), ahead of the two French combinations who had already gone double clear on Friday, and who were still present on Sunday: Mathieu Billot took second with Quel Filou (Quidam's Rubin), just ahead of Felicie Bertrand on Sultane des Ibis (Quidam de Revel).
In Valencia, French European Championship reservist Roger Yves Bost won the Grand Prix**** with Sangria du Coty (Quaprice Bois Margot), coming in just ahead of Colombian Dayro Arroyave who discovered Jimcy du Lys (Quaprice Bois Margot), while Yuri Mansur came in third with Casantos (Carthino Z).
Earlier in the day, another French veteran made the Marseillaise ring out. Michel Robert won the Grand Prix*** with Emerette (Diarrado) ahead of the silver medal combination from the last Pan-American Games, José Maria Larocca on Fin Lente (Gaillard de la Pomme), while Patrice Delaveau took third place with Silver Deux de Virton (Kashmir van't Schuttershof).
In the USA, Mario Deslauriers won the Hampton Classic Grand Prix in New York State with Bardolina (Clarimo) ahead of his daughter, Lucy Deslaurier on Hester (Wandor vd Mispelaere). Devin Ryan took the third spot with Eddie Blue (Quamikase des Forêts).
In Humlikon, German rider Marcel Wolf won the Grand Prix*** with Hunter C (Cabrio vd Heffinck), just ahead of the new Swiss Champion Pius Schwizer, who this time rode Cortney Cox (Carlo), and Werner Muff on Jazoe van't Steenpaal (Cornet's Stern).
In Opglabeek, young Tim Prouve won the Grand Prix** with Orson des Hayettes (Mozart des Hayettes), coming in ahead of William Whitaker on RMF Echo (Virus de Laubry), and Thiago Ribas da Costa on Kassandra van't Heike (Epleasure van't Heike).
On Friday, Tony Cadet won a new Grand Prix at Auvers with Tolede de Mescam (Mylord Carthago), ahead of Marc Dilasser on Abricot Ennemelle (Quaprice Bois Margot), and Margaux Rocuet on Trafalgar Kervec (Quaprice Bois Margot).