The winners of the weekend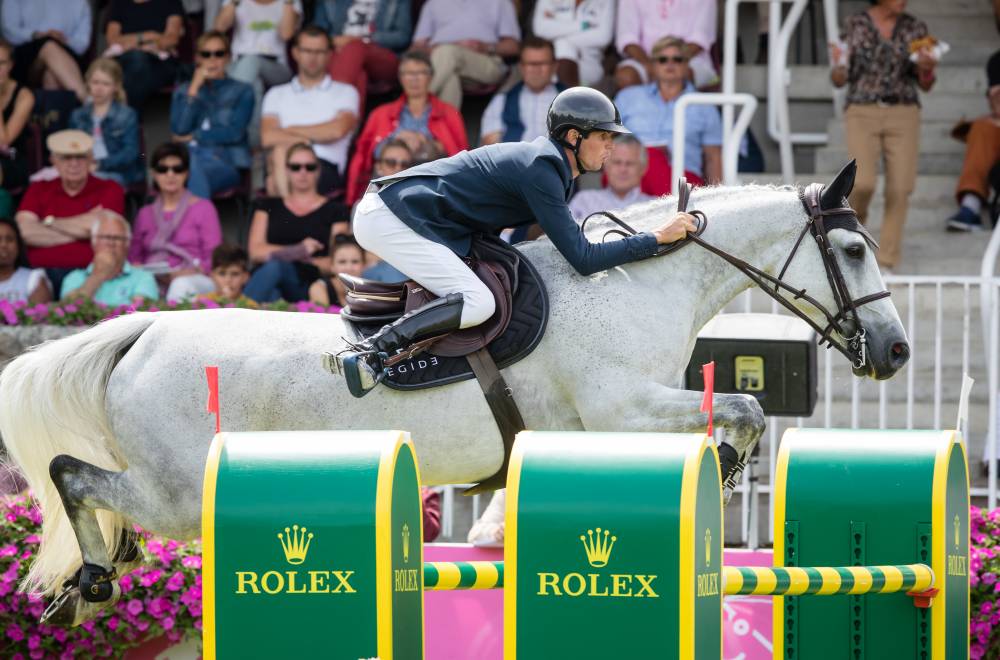 05 August 2019
The Rolex Grand Prix, the highlight of Jumping International Dinard, brought together 46 of the best current show jumping pairs in the world. On the initial course at 1m60, only six pairs, five of them French and three of which have been selected for the European Championship in Rotterdam (Alexis Deroubaix/Timon d'Aure, Pénélope Leprévost/Vancouver de Lanlore, Nicolas Delmotte/Urvoso du Roch), achieved a perfect round and reached the jump-off. Victory went to Alexis Deroubaix. "This result gives confidence for the European Championships," said the rider. "This time I got into shape for this last round before Rotterdam. I think that during the season I was sometimes a little too relaxed, or tense. I didn't always put enough pressure on myself. This morning, I woke up motivated, and now I know how to get myself in shape."
Penelope Leprévost finished second. "I am delighted with my horse. He flies, and even when I make mistakes he makes up for them. I never doubted him, from the beginning I have believed in him and loved him, and he gives it back to me a hundredfold." The German Daniel Deusser, who finished 3rd with Scuderia 1918 Tobago Z, pointed out with a smile that: "He did everything right, but his rider was a little slow. I don't know where I could have taken a stride, maybe before the double, then before the wall, or before the last obstacle, because the distances didn't come out as I wanted. At the end of the day, all I could hope for was a clear round like the first one." Mathieu Billot and Quel Filou came in fourth, followed by Nicolas Delmotte on Urvoso du Roch and Max Thirouin on Utopie Villelongue.
In the 3*, victory also went to France, thanks to Timothée Anciaume of Normandy in the saddle on 11-year-old Isabeau, daughter of the famous stallion Winningmood, owned by the Haras de Meautry, who took this victory on the first day and finished fifth yesterday.
"Isabeau made a great jump-off today. Thierry Rozier's course motivated me enormously, and I wanted to try to win. I had a great time. The story with Isabeau has been going on since the end of last season, but for the past three months she has been extremely competitive. She has won many events at this level, and she is incredibly consistent." In second place was the Italian Emmanuele Gaudiano, riding the eight-year-old Contento 23, owned by his father. The delighted rider said: "My horse jumped really well today, and he won a CSI2* two weeks ago in Poland. It's a complicated ground for an eight-year-old." Third place went to Henrik Von Eckermann of Sweden, riding the nine-year-old French horse Que Bueno de Hus Z, owned by Nicolas Brot. "The horse was great. it was the rider that was too slow today. But he jumped so well that he lost a little time. It is an excellent problem. I've been riding him for a little over a year. He's already done some very good things." Fourth place went to Thierry Rozier on his mare Star, owned by Victoria Niarchos, as well as Venezia d'Ecaussines, absent from the field for a few weeks before her return to the Deauville show. The rider of Bois le Roi, delighted, paid tribute to his mare, who did not touch a single pole in the competition. "I lost a little time on the last three, but I am delighted with her behavior and consistency. For the moment, Star is the team captain, which is perfect for her, as she usually runs the races on time to support Venezia. It's a dream for me to be in the top five, especially with this Grand Prix line-up."
Tiffany Foster won the 4* Grand Prix of Samorin on Brighton (Contendro), ahead of the Italians Matteo Leonardi on Zypern III (Casall) and Filippo Marco Bologni on Sedik Milano Quilazio (Quidam de Revel). Mexican Andres Azcarraga took fourth place with Contendros (Contendro I), leaving Frenchman Thierry Goffinet in fifth place with Atome des Etisses (Mylord Carthago). The Slovak competition also included a CSIO for young people.
The Mathy stables' rider Charlotte Bettendorf won the Munster Grand Prix4* with Raia d'Helby (Fergar Mail), ahead of Angelica Zanotelli on Nintender Star (Nintender) and world champion Simone Blum on DSP Alice (Askari).
Frédéric Vernaet won the Grand Prix*** of Beervelde with the stallion Dieux van't T&L (Toulon), the only double clear round, ahead of Giulia Martinengo on Elzas (Diamant de Sémilly) and Maxime Harmegnies, the rider from the Tinti stables, on Easy Boy (Tangelo vd Zuuthoeve), leaving the young Belgian Gilles Thomas on Konal (Nabab de Rêve) at the bottom of the podium.
Maikel van der Vleuten won the Grand Prix*** of Omen with Beauville Z (Bustique) in front of the Belgian Pieter Clemens on Icarus (Querlybet Hero). Patrick Lemmen came in third with Ideaal (Andiamo).
It was a French quintet in Courlans for this new edition of Rock'N Horses, with victory for Brice Brassart on Uddy de Vernay ahead of the French champion Alexandra Leedermann on Requiem de Talma (Cento) and Morgan Bordat on Uma, leaving Bruno Garez on Untited Sunheup in fourth place and Grégory Cottard on Bibici in fifth.
At the Mons racecourse for the only Belgian Group 1, Bold Eagle (Ready Cash) won his 20th victory at this level at the Grand Prix de Wallonie, which he had already won in 2017. Guided for the first time by Tony Le Beller, he won a very slight lead ahead of Valokaja Hindo, driven by Christophe Martens, while Billie de Montfort came in third.