The winners of the weekend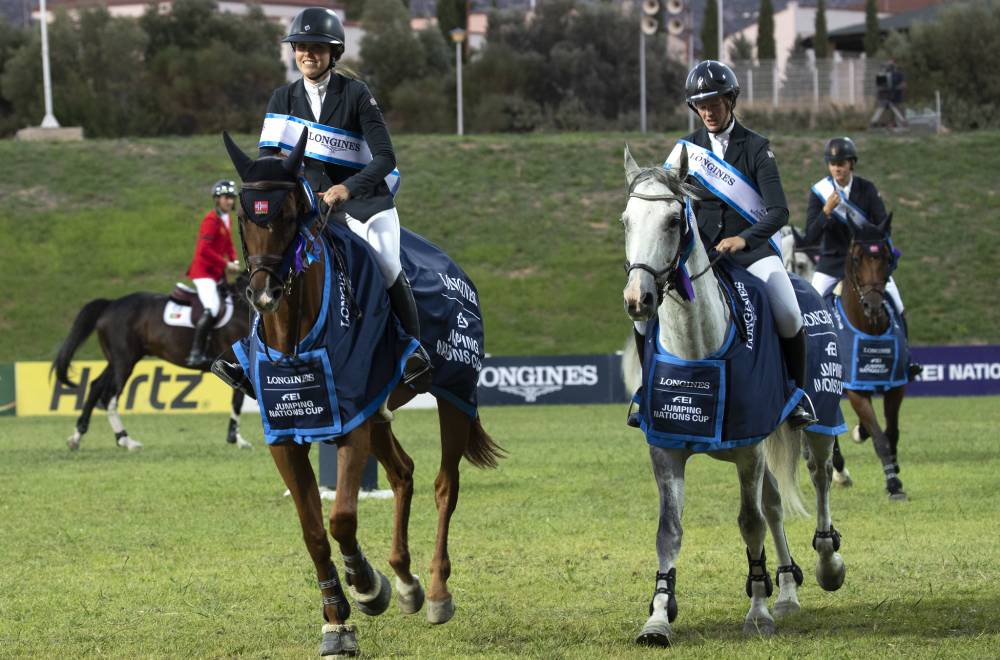 30 July 2019
CSIO Hickstead
After Sweden's victory in the Nations Cup, the Swedes brought their A-game in the Hickstead CSIO Grand Prix. Peder Fredricson took second place with Douglas Lindelöw's former mount Zacramento (Cardento 933), while third place went to his compatriot Fredrik Jonsson and his good mount Coldplay (Contendro). The Swedes seem decidedly invincible! The victory however went to Germany, thanks to David Will and his 9-year-old Never Walk Alone (Numero Uno).
On Saturday, the Belgian National Anthem played for Jos Verlooy and Jacobien Dwerse Hagen, a 10-year-old by Querlybet Hero, after winning in the 1.50m class.
CSIO 5* of Athens
The Norwegians were victorious in the Nations Cup of Athens, on the hallowed 2004 Olympic grounds, completing with two double-clear rounds. The team consisted of three members of the Gulliksen family - Victoria, Johan-Sebastian and Geir, who rode Bertram's Allen's former star Gin Chin van het Lindenhof, and Hege Tidemandsen. Portugal came in second place and Poland completed the top three.
With this victory in the Division II final, the Norwegians have earned a promotion to Division I in 2020, and most importantly, access to the final in Barcelona. "We're very happy to be able to go to Barcelona, and hope to qualify for the Tokyo Olympics," said Chef d'équipe Mikael Kolind. Regarding the transition to Division I, we still have to think about it.
In the Grand Prix on Friday, Portugal's Rodrigo Giesteira Almeida came out ahead of Poland's Wojciech Wojcianiec and his unbelievable Chintan gelding, Chintablue, who was already a horse of note after the Gothenburg World Cup Final. Geir Gullisken came in third with Gin Chin.
CSI 5* of Berlin
In the aftermath of the Global Champions Tour Grand Prix, the Tops Stable's driver won in the 1.50m on Sunday. Riding Cinsey (Contendro), who came in sixth in the previous 1.45m, the Italian Alberto Zorzi came in ahead of Germany's Christian Kukuk on Colestus (Cornet Obolensky), and Kent Farrington on Jasper (Heartbreaker).
CSI 4* of Samorin
During the second week of the CSI4* of Samorin, the Grand Prix victory went to the Turkish rider Ömer Karaevli and her good mount Roso au Crosnier (Looping d'Elle), ahead of Mexico's Andres Azcarraga on Contendros (Contendro I), and the young Italian Filippo Marco Bologni on Sedik Milano Quilazio (Quidam de Revel). Martin Fuchs' partner, Paris Sellon, had another great performance, coming in fourth place with Cassandra (Caressini L), having already qualified for the Grand Prix the previous Sunday going double-clear.
CSI 3* of Lier
Belgium took the top three placings in the Lier CSI3* Grand Prix with Jeroen Appelen on Gappeloup Van Het Reenhof (Larino), ahead of Bart Clarys on Joie de Toulon (Toulon), and Max Sebrechts on Cacacha Van Het Schaeck (Bamako de Muze).
CSI 2* of Fontainebleau
Despite Venezia d'Ecaussines' injury, Thierry Rozier remains on the scene. He distinguished himself at Fontainebleau by winning the CSI2* Grand Prix with Star. Ahead of his two compatriots Nicolas Delmotte on Darmani Van T Heike (Grandeur), and Jérôme Hurel on Vegas de la Folie (Castronom Z de Hus). Of note, Rodrigo Pessoa and his new horse, Quality FZ's (Quintender) seventh place, a horse that he plans to take to the Tokyo Olympic Games.
CSI2* of Zuidwolde
Of the 7 double-clears, Dutchman Willem Greve's was the fastest and won the CSI2* Grand Prix of Zuidwolde. In the saddle of 8-year-old Gogo (Zirocco Blue), the Dutchman deprived Dennis van den Brink and Frasier (Carambola) of the victory. Hessel Hoekstra came in third with Quincy 230 (Quintender 2).
CSI 2* of Riga
Well-known Latvian rider Kristaps Neretnieks won in front of his home crowd in the CSI 2* Grand Prix of Riga, riding Cornet Obolensky's son, Moon Ray. Abdullah Al-Sharbatly placed on his two mounts, Larry 210 (unknown) and Gain Line (Stolzenberg), his new acquisition, second and fourth respectively. Third place went to Mariann Hugyecz on Chacco Boy (Chacco Blue).
Coupe de Wallonie
The Agricultural and Equestrian worlds met in the rain at the Libramont Agricultural Fair, after the hot weather Europe has been experiencing. Many international riders would love to have such an audience attending their performances. In the 1.40m Grand Prix on Sunday, Christophe Leutenez won with Cruz Van Kerselare Z (Chellano x Canadian River), in the main arena. Unenative de Virton (Natif de Virton) came in second, ridden by competition regular, Bertran Genin, while third place went to young mother, Sarah Toussaint who returns with her promising young Arka de la Hart (Arko III), daughter of her old mount, Best de la Hart.