The winners of the weekend.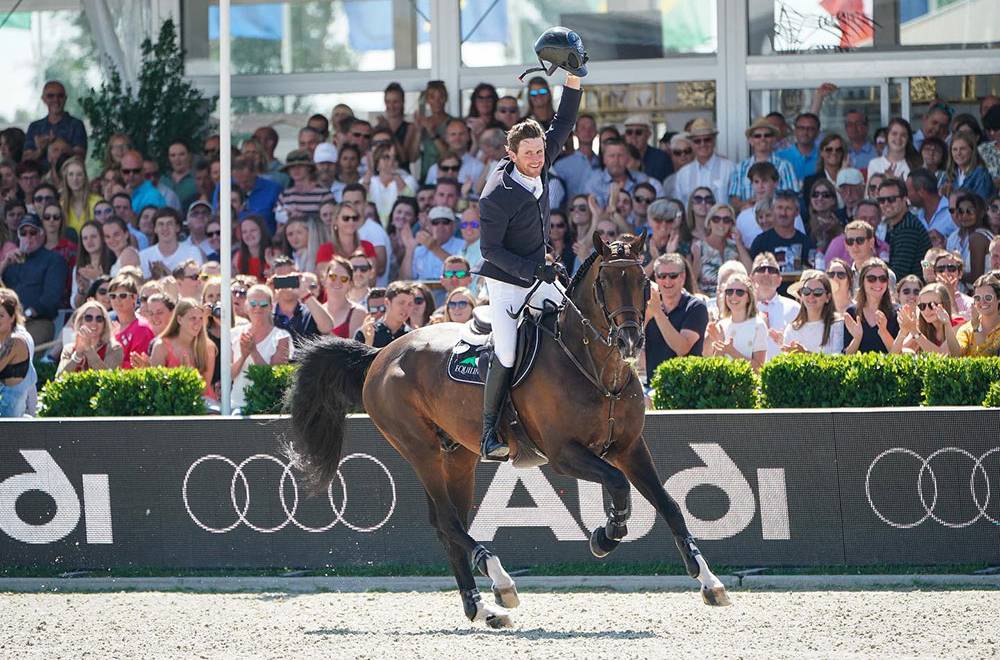 01 July 2019
Steve Guerdat made his Canadian tour a real success! Second in the first Grand Prix with Bianca, third in the second with Venard de Cerisy (Open Up Sémilly), with whom the World No. 1 won his third Grand Prix in 4 weeks in Calgary! All the portents are good for the big event in Aachen, which will take place from 16 to 21 July, one of the only major objectives that has eluded the Swiss rider until now.
The World No. 1 won ahead of Brian Cournane of Ireland on Armike (Armitage) and Jennifer Gates on Capital Cornado (Colman).
In Knokke, Darragh Kenny won the 500,000 euros Grand Prix***** with Balou du Reventon (Cornet Obolensky), maternal half-brother of a certain Balou du Rouet, ahead of the German world champion Simone Blum on DSP Alice (Askari), and Bertram Allen on Harley vd Bisschop (Dulf vd Bisschop). Marie Goldstein took fourth place with Royce (Cafe au Lait) while Nicola Philippaerts finished fifth on Chilli Willi (Casall) with a double clear round in this six-rider jump-off.
To close this first season of CSI**** with Hubside Jumping near Saint Tropez, the winner was Guillaume Foutrier with his faithful Valdocco des Caps (Numer One d'Iso), ahead of his compatriot Thomas Lévêque on Seurat Galotiere (Iowa) and the Irish rider Susan Fitzpatrick, a little lost in this very French environment, with Fellow Castlefield. Alexis Deroubaix took fourth place with Timon d'Aure (Mylord Carthago), while Mégane Moissonnier finished fifth with the stallion Cordial (Casall), a full brother to Cashpaid J&F.
There were 15 contenders for the Grand Prix of the first week of the Wallonie Jump Festival, and a British victory for Lilly Attwood on Cor Leon vd Vlierbeek Z, ahead of the Moroccan Sofian Misraoui on Scarlet d'enfer (Calvaro), while the Belgian Gaëtan Stalpaert came in third on Evelien, ahead of a horde of six Frenchmen led by Juliette Faligot on Vérité une Prince (Number One by Iso), Grégory Cottard on Bibici (Norman Pré Noir) and Allan Pacha on Vallauris (Nouma d'Auzay).
It was a French quintet in Vichy, where Clément Frerejacques won the Grand Prix with Undiams de Varenne ahead of Jimmy Jean on Aramis d'Avril and Jacques Bonnet on Uzi de la Beka.
Royan hosted an American victory, with Alice Debany Clero winning the Grand Prix** with Amareusa S ahead of Vanessa Norblin on Tender Bride and Marie Demonte on Dindoctro, leaving fourth place for Margaux Rocuet on Trafalgar Kervec.