The winners of the weekend.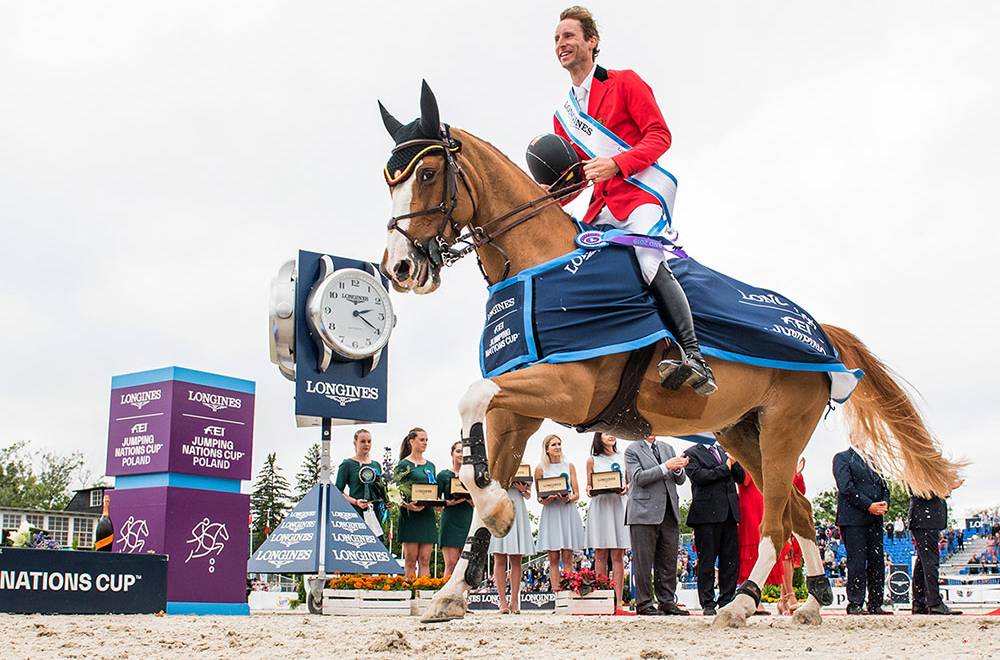 17 June 2019
Belgium wins the Sopot Nations Cup thanks to Pieter Devos' triple clear round with Apart (Larino), while Irishman Paul O'Shea set a very fast time, but left the arena with a rail down. France came in third. For his German team return, Daniel Deusser scored a double clear after winning the Grand Prix on Jasmien vd Bisschop (Larino).
https://www.longinestiming.com/equestrian/2019/longines-fei-jumping-nations-cup-of-poland-sopot/resultlist_15.html
In Treffen, Laura Renwick won the Grand Prix 5* on Dublin V (Vigaro), ahead of her compatriot Robert Whitaker and Catwalk (Colman), while Christian Ahlmann finished third with the young Zangersheide stallion, Take a Chance on Me Z (Taloubet Z).
https://results.hippodata.de/2019/1680/html/en/hippodata/resultlist_09.html
In Great Britain, Rik Hemeryck won the Bolesworth 4* Grand Prix with his piebald stallion Ulyss Mordinda (Utah Van Erpekom), ahead of Laura Kraut on Vvaramog de Brève (Verdi) and Ellen Whitaker on Arena Uk Wiston (Waldo Van Dungen).
https://online.equipe.com/en/class_sections/423527
In Saint Tropez, Olivier Perreau reaffirmed his excellent form, winning the Grand Prix 4* with Venizia d'Aiguilly (Diamant de Sémilly), ahead of René Tebbel on Cedric Angot's former mount, Saxo de la Cour (Dollar de la Pierre) and Félicie Bertrand with her faithful Sultane des Ibis (Quidam de Revel), while Charles-Henri Fermé took fourth place with Dali Pp Z (Diamant de Sémilly).
https://online.equipe.com/en/class_sections/423449
Still in Saint Tropez, Nicolas Delmotte won the Grand Prix 2* with Alanine des Vains (Allegretto), while Nathan Budd finished second with the young Haras des Rosiers stallion, Cashpaid J&F Z (Casall), jumping his first Grand Prix at 8 years old. Emilio Bicocchi arrived third with Flinton (Clinton).
In Bonheiden, Katharina Offel won the Grand Prix 2* with Elien (Carambole), ahead of Derin Desmiroy on Harry K (Carnute), leaving the young Belgian Jeroen De Winter in third place with Karmelita van den Dries (Diamant de Sémilly).
Max Thirouin won the Grand Prix 2* of Deauville on Jewel de Kwakenbeek (Cicero Z van Paemal aka Cicero Z), ahead of Timothée Anciaume on Beguin de B'Neville (Lamm de Fetan), while Sylvain Misraoui came in third with Athina Mail (Jaguar Mail).