The winners of the week-end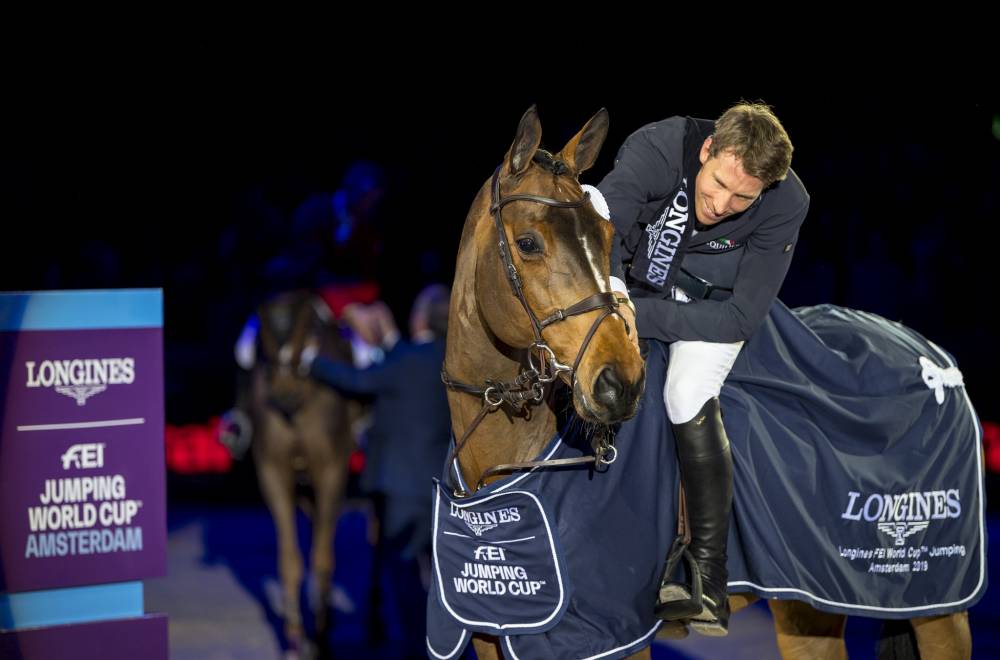 28 January 2019
Henrik von Eckermann of Sweden has won the Amsterdam World Cup stage on Tovek Mary Lou (Montendro) ahead of Pius Schwizer on Cortney Cox (Carlo) and Daniel Deusser of Germany, riding the stallion Tobago Z (Tangelo vd Zuuthoeve), who takes the lead in the World Cup ranking. Kevin Staut took fourth place with For Joy van't Zorgvliet (For Pleasure) ahead of Niels Bruynseels on his faithful Gancia de Muze (Malito de Rêve).
The day before, Simon Delestre won the Grand Prix with Ryan des Hayettes (Hugo Gesmeray) ahead of the ubiquitous Daniel Deusser on Jasmien vd Bisschop (Larino). Tom De Craen's breeding operation was on great form, with another product of his stud from the same generation, Jade vd Bisschop (Ogano Sitte), taking fourth place with Pieter Devos. Rolf Goran Bengtsson finished between the two BWP mares with Oak Grove Carlyle (Casall).
The European World Cup leader, however, missed the Amsterdam stage, although he was in Holland! Christian Ahlmann took advantage of the weekend to refine his youngsters and took the opportunity to add the first international Grand Prix to the hit list of Dominator 2000 Z (Diamant de Sémilly) at the CSI** in Kronenberg. The German was ahead of the French Guillaume Foutrier on Valdocco des Caps (Number One d'Iso) and Denis Lynch on Chablis (Couleur Rubin), while Philip Rüping took fourth place with the Schockemoehle Chacoon Blue stud's stallion Chacco Blue.
It was a French raid at the CSI** in Nantes where François Xavier Boudant won with Ciento ahead of Julien Anquetin on Gravity of Greenhill and Guillaume Batillat who completed the podium on Baby Love.
In Oliva, Pedro Veniss won the Grand Prix with a mare from the Will stud, For Felicia (For Pleasure), ahead of Valentine Belooussoff of France on Calou (Roven xx) and Samantha McIntosh on Check In (Cordalmé Z)
This last weekend of January is also the rainy, cold weekend at Vincennes racecourse that draws the big crowds. More than a third of the runners in this 2019 edition of the Grand Prix d'Amérique were sons of the former double winner of the event, Ready Cash! The star attraction was still Bold Eagle, trying for the hat-trick, but unsuccessfully. Too far back in the field, the star couldn't do better than a sixth place. In front, it was a great triumph for the whole team of Jean-Michel Bazire, who took his fourth victory in the Grand Prix d'Amérique as driver and second as trainer thanks to Belina Josselyn (Love You), ahead of stablemate Looking Superb who gave the champion a perfect run secured himself a nice but thoroughly unexpected second place by a nose, managing to repel the attacks of 2018 winner Ready Express, while another Ready Cash son, Davidson du Pont, also a member of the JMB team, was impressive in fourth.
<iframe width="560" height="315" src="https://www.youtube.com/embed/zcDscLacqUs" frameborder="0" allow="accelerometer; autoplay; encrypted-media; gyroscope; picture-in-picture" allowfullscreen></iframe>