The winners of the week-end.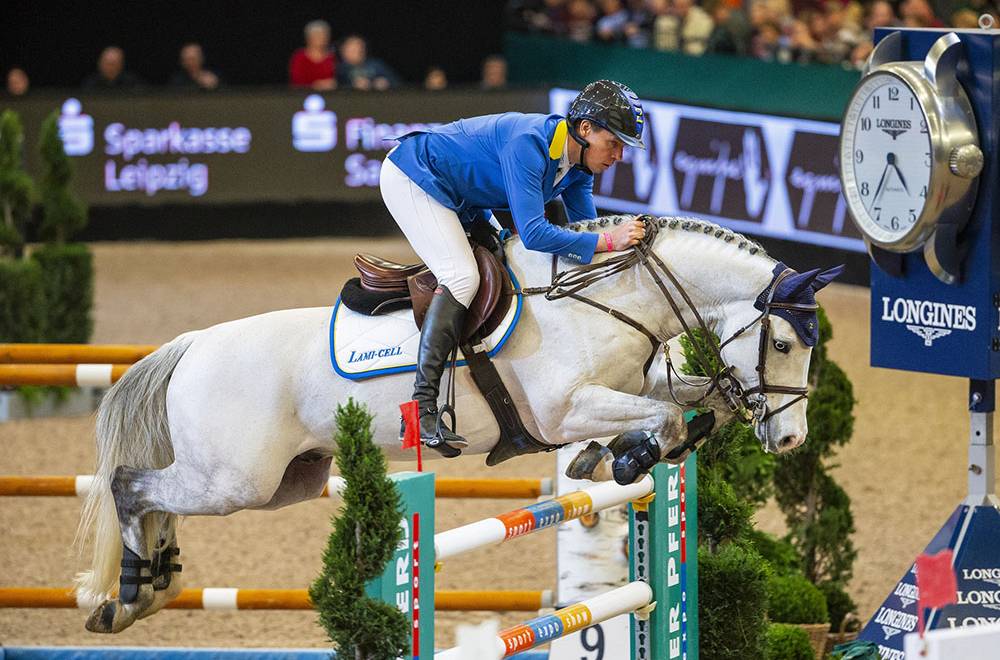 20 January 2019
After his victory in Mechelen , Christian Ahlmann does it again by winning another stage of the World Cup, this time at home! In front of his supporters in Germany, one year after the emotional success of Taloubet Z's final outing, he held on to the Grand Prix with Caribis Z (Caritano Z x Caretano). Last to start, the German improved on François Mathy's time by seven tenths. although the Belgian scored precious points with regard to the Gotheborg World Cup final with his powerful Uno de la Roque (Numero Uno). Lorenzo De Luca took third place with a perfect double from his veteran Armitages Boy (Armitage). Two other Germans had been faster, but both Daniel Deusser on Tobago Z (Tangelo vd Zuuthoeve) and Marcus Ehning on Comme Il Faut (Cornet Obolensky) left the track with one fault each.
In Dubai, Janika Sprunger took the 5* Grand Prix with her stallion Bacardi VDL (Corland) ahead of the Italian Paolo Paini on Ottava Meraviglia di Ca' San G (For Pleasure) and Philipp Weishaupt, who completed the top three with Che Fantastica (Check In).
In Kronenberg, James Billington won the Grand Prix** with Fancy Roos (Baltic VDL) ahead of Bart van der Maat on Queen of Lightness (Quintender), while Douglas Lindelow completed the top three with Casquo Blue (Chacco Blue).
Finally, in Oliva –the first outdoor tour of the year, for which many riders made the trip– it was the young Sanne Thijssen who won with Bulavsco (Verdi), ahead of Pedro Veniss on For Felicia (For Pleasure) and Jérôme Guery on his pretty black Kel'star des Vingts Ponts (Kannan).
Meanwhile in Vincennes, Bilibili impressively caught up in the last corner to prevent Traders from achieving the double in the premier event of the mounted trotting.