Who other than Germany could win a 14th Olympic title?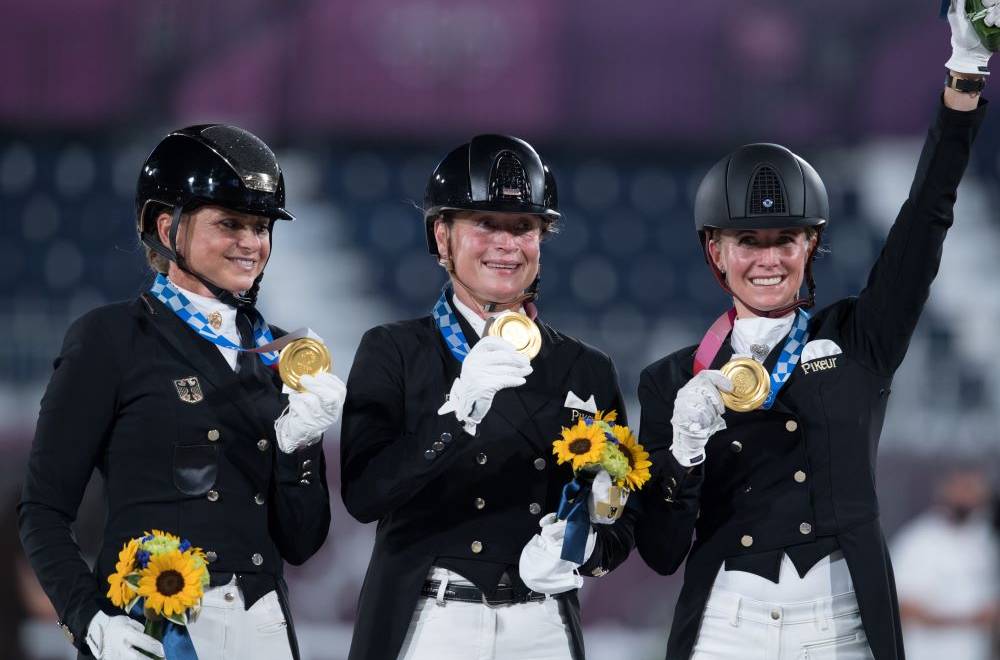 27 July 2021
Author : Eléonore Magnien
The first national anthem was played at Baji Koen stadium and unsurprisingly, it was Germany's. Dorothee Schneider, Isabell Werth and Jessica von Bredow-Werndl were regal from start to finish and gave their competitors no chance to catch them. The USA and Great Britain took the other two steps on the podium.

The third day of competition marked the end of the Grand Prix Special and the Team Championship. Although the approaching typhoon Nepartak brought back memories of the Tryon World Equestrian Games, where riders left after the Grand Prix Special without having ridden the Musical Freestyle, the event went off without a hitch. The previous night's rain was replaced by stifling heat.
Eight teams were still in the running for a medal collectively. However, the gap quickly widened between Portugal, Spain (which was the only one to use the substitution rule to bring in Jose Antonio Garcia Mena's second mount), Sweden, whose leader Patrik Kittel's absence was felt in the final rankings, and the others. These three teams finished at the back of the pack.
The battle then tightened up a bit, but not enough for the Netherlands to dream of a podium finish, despite Hans Peter Minderhoud and his companion, Edward Gal's good performances. Riding Glock's Total US, the latter came close to the 80% mark. Expressive, supple, and powerful at the same time, Total US shows that he has a lot of quality even though he is only 9 years old. His meteoric progress in the last few months suggests that he could one day match his superstar father, Totilas, but the time has not yet come.
At the foot of the podium, we find Denmark who didn't quite perform as expected, especially its leader Cathrine Dufour who scored 77.720% with Bohemian (Bordeaux 28). "Of course I'm disappointed today. I mean it was just super expensive in the end to do that pirouette (Editor's note: it scored a 4, with a coefficient of two), but besides that he felt really good. I'm overall pleased, but of course disappointed about the mistake. I think we just we lost balance for like 0.1 second, and that just cost the jump out of it."
Edward Gal found in Glock's Total US a perfect successor to Totilas © FEI/Christophe Taniere
Adorned with gold in London and silver in Rio, Great Britain was content with bronze this time. Carl Hester, the opener for his team, put on a very fine performance with En Vogue, scoring 78.344%. The gelding still lacks a lot of experience despite his 12 years of age, having competed in three international Grands Prix before coming to Tokyo, but Carl and Charlotte unanimously recognize him as "one of the best horses they have ever ridden". In fact, Charlotte was riding him until last year and owns a half share in him. When Carl found himself short of a mount, she offered for him to take him on as a thank you for entrusting her with her star horse Valegro (Negro) a few years earlier. Like all sons of Jazz, En Vogue is not the easiest: "He is very nervous, if I push him too much, he gets tense and if I don't ask enough of him, he makes mistakes," explained Carl. For a championship, however, he performed well. "He was a boy when he got here, he leaves as a man. He did everything I asked of him," Carl assured.
Charlotte Dujardin was equally happy with the performance of her young mount Gio (Apache) and their 79.544%. Without her fault in the one tempi changes, she might have been able to gain a few points which would have allowed Great Britain to gain an additional place, but considering the youth of her mount, this is a great achievement so early in his career.
These Games have also been a formidable experience for the young Charlotte Fry, whose mother Laura, participated in the Barcelona Olympics in 1992 alongside Carl. By achieving a score of 76.854% with Everdale (Lord Leatherdale), Charlotte has not disappointed. The torch has well and truly been passed.
Both Charlotte's standing either side of Carl Hester on the third step of the podium © FEI/Shannon Brinkman
On paper, the USA was a serious contender. Steffen Peters and Suppenkasper (Spielberg) had been undefeated on the American continent for two years and had no less than 22 consecutive wins. Together along with Adrienne Lyle and Salvino (Sandro Hit), they had already been crowned runners-up at the 2018 World Championships in Tryon. It's no surprise that these two combinations passed the 76% mark today, but we maybe didn't expect such a great performance from their compatriot Sabine Schut-Kery. Already surprisingly comfortable in the Grand Prix with the sublime Sanceo (San Remo), the rider proved that this brilliant performance was no accident in the Grand Prix Special. She achieved the third best performance of the day (81.596%) securing the silver medal for her team. Moved to tears as she left the arena, it was hard for the 52-year-old rider to come to terms with: "These are my first Olympic Games and it was rather intense to have to wait until the end of the event (...) It was a great experience and to tell you the truth, I'm still a little speechless. I'm mostly full of pride and joy."
Sabine Schut-Kery, now a team silver medalist, has undoubtedly achieved the best performance of her career © FEI/Shannon Brinkman
Out of the last nine editions, Germany has won the Olympic title eight times. Five years after Rio, they have added yet another title to their trophy cabinet. Was this a foregone conclusion? "We have enough experience in this sport to know that one horse can make the difference, especially when there are only three in a team and there is no reserve," Isabell Werth told the press afterwards. "We came here with a lot of confidence because we knew that if we performed well, it would be very difficult to beat us, but you never know. A bad day or a sick horse... After such a long journey, anything is possible." Yet everything went off without a hitch. Germany had already taken the lead after Dorothee Schneider with Showtime FRH (Sandro Hit) and Isabell with Bella Rose 2 (Belissimo 2), who scored 80.608% and 83.298% respectively, had had their turns, so when Jessica von Bredow-Werndl entered the arena, she was under no pressure. She "only" needed to get 75% to win the gold. However, she couldn't rest satisfied with that and broke her personal record yet again with Dalera BB (Easy Game) despite a fault in the line of one tempi changes which cost her a lot of points. With a score of 84.666%, she still achieved the best performance of the day.
Jessica von Bredow-Werndl couldn't help but jump into her husband's arms after her victory, a beautiful emotional moment ©FEI/Christophe Taniere
Tomorrow, the 18 best combinations from the Grand Prix will meet again to perform their Musical Freestyle, the last step before the individual medal ceremony. Will Jessica and Dalera achieve the double? The battle promises to be tough.
With release. Featured photo: FEI/Shannon Brinkman