What role do sponsors play?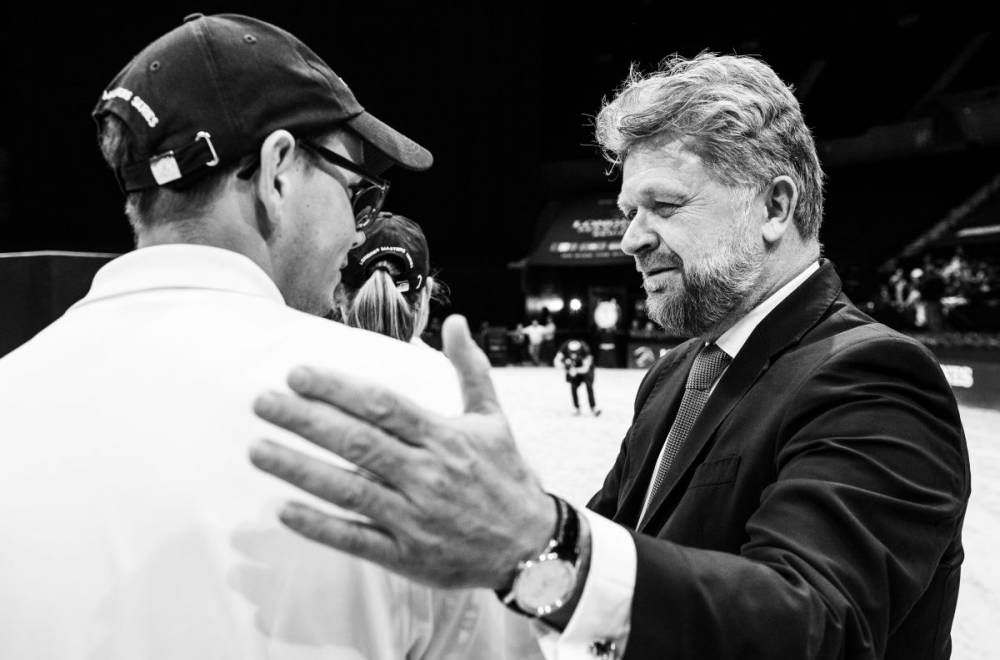 11 November 2019
This month we're looking at the issue of sponsorship. It can take different forms, the most visible of which is the naming of horses, events and even competitions. Sponsors accompany the players in their daily lives and are major strategic partners. It is in this capacity that we met Charlène Guillemyn, personal assistant to Pénélope Leprevost, Christophe Ameeuw, founder of the Longines Masters, and Daniele Mars, organizer of the Dinard Jumping, so that they could give us their points of view on the real role of sponsors. That's the question of the month!
Charlène Guillemyn: "The majority of Pénélope Leprevost's partnerships, for whom I work as an assistant, are based on a human relationship and trust. Most of them originate from friendship, or products that have been used and appreciated over a long period of time. The partnerships have evolved with Pénélope's reputation and results are that most of the contracts are renegotiated as these parameters evolve.
There are different types of partnerships. The majority include the provision of equipment and/or financial support. The counterparts, including Pénélope's availability to her partners, depend on the contract and the importance of the sponsors' commitment, with priority given to those have invested most.
All the partners are looking for visibility using Pénélope's image in their communication , and through their presence on her social networks. Those who come from the equestrian world will tend more to be looking for credibility, legitimacy, product feedback and rely on word of mouth. Those who come from other sectors will insist more on Pénélope's values. Partnerships can sometimes include client events as well as signing sessions at competitions.
In the relationship with partners, and I emphasize this term above all, the priority is to suit the taste of each party. It is important to establish fluid and honest communication on both sides. When Pénélope receives a new partnership proposal, we must be careful not to make any mistakes. We must check for exclusivities and share with other partners, in order to ensure that the new sponsor does not encroach on their interests.
With the development of social networks, we have to pay more attention than before to the image and communication around Pénélope, especially in terms of the quality of the visuals (ads, videos and photos). In the past there were occasions that certain poor quality visuals were broadcast by sponsors. The image has left a lasting impression on the public and even today we still hear about it. It is therefore especially important to remain authentic, and to have a communication that reflects Pénélope."
Christophe Ameeuw: "Sponsorship is a fundamental issue for sports event organizers. In order to attract sponsors, you have to offer an innovative product which benefits from significant media coverage. The visibility of the brands associated with the event must be guaranteed, it's a matter of a return on investment. The first sponsors are decisive, because they will give the event its credibility, and thus attract others. An event that has proved its worth will attract several sponsors, sometimes from the same sector, thus creating competition that will benefit the organizer and ensure a certain level of financial independence. One must always think of a partnership, and sponsorship, as a win-win agreement. As I said, it is a virtuous circle if, and only if, the proposed product, in this case a show jumping competition, stands out from the market in terms of its concept. To illustrate my point, I will go back to 2008 and tell you about my own experience in organizing the first edition of the Gucci Masters in Paris.
If we take a look at the specific context of that year: the economic crisis and the resultant bad economic situation. At that time, most show jumping competitions were based on patronage. I wanted to change this unsustainable economic model of "show jumping". In order to do so, I created an experimental concept that would turn the world of show jumping upside down and break the codes by mixing the sport with the lifestyle, while bringing together the best riders in the world. To bring in the public and sponsors, I decided to propose a real show, entertainment with sound, images and glitter that could be easily broadcast on a range of digital platforms. Specific formats were designed for television broadcasting, such as the Speed Challenge. We wanted to create highlights during each evening.
The objective of this approach was multiple. I wanted to create a unique family, gastronomic, and artistic experience. It needed to have strong markers that would help identify the event and give it a strong identity, like Wimbledon or Roland Garros. This segmentation and positioning were accompanied by very strong media coverage, to attract sponsors looking for visibility and guaranteed returns on investment.
In 2008 when I presented myself at the Salon du Cheval and to sponsors, my embryonic project had already been tested during the 2007 Audi Masters in Brussels. This argued in my favor when I started looking for a title sponsor. It was therefore paramount to find a partner with an aura and values that appealed. I took the gamble of associating myself with a luxury brand: Gucci.
In order to convince them, I sold my project as an alternative in times of crisis to their more traditional communication. My proposition was to help them to find their own DNA through this event, which could become their new showcase. I believed in my project and I personally invested my own during the first year, since the funds available for the project were limited. I saw it as an investment that would prove to be extremely profitable. Partnering with Gucci was a wise strategy, it built the credibility of the event and attracted many sponsors.
The success of the Gucci Masters allowed the title sponsor to remain in place for the following years. The subsequent selection of sponsors through competitive bidding, led to increased bidding and ultimately ensured the event's economic viability. As the sponsorship contracts were signed on a long-term basis, this gave us visibility and allowed us to think ahead. Over the years, we have thus been able to develop the Masters brand and create the Longines Masters Series. We were pioneers in exporting the Masters to two other continents, Asia and America, which allowed us to strengthen the identity of the concept and make the event stronger. As proof of this, the change of title sponsor in Paris in 2014 had minimal effect. In the recent past, sponsorship often meant that the sponsored event was dependent on the sponsor.
The strong concept we have today, which is not only defined by its title sponsor, is a sign that we have succeeded in the bet we made ten years ago. This does not mean that our work is finished, quite the contrary! We have had to deal with a lot of challenges on the road and are still ahead of us, starting with ever-increasing competition. We've gone from around thirty to a hundred CSI5* in less than ten years, and we've witnessed the explosion of social networks which are redefining communication standards. In order to preserve the DNA of your idea or concept, you are having to constantly reinvent yourself, always believe in it and not let yourself be overly influenced. This is the key to success, in sponsoring but also more generally for the event industry."
Daniele Mars: "We are a purely family-run organization within Dinard Jumping which makes it easier to manage and rationalize costs. Nevertheless, finding the funds is clearly not the easiest part and obviously, in our discipline, sponsors are not falling over themselves to be partners, so we have to go out and find them for ourselves.
It's all about differentiating ourselves by offering an event that stands out from the others, by offering significant media exposure. Our two flagship events, the Tropicana Derby and the Rolex Grand Prix, are broadcast live and recorded in more than seventy countries, in addition to the thrilling sporting event that attracts more than forty-five thousand spectators. This media positioning strategy allows us to approach our sponsors who play a key role in the organization of the jumping event.
Indeed, sponsorship represents an important financial contribution, amounting to about 60% of our budget. On the other hand, it is a sign that renowned companies are beginning to recognize the value of our event by offering their support it. Even if most sponsors are large multinational companies, we also highly value our local partners.
Above all, we select companies that have the same DNA as us, companies that have a true ethic. They are attached to events that support great sport. This means that they want to make sure that the sports program is organized with the riders and horses in mind, if the well-being of the athletes is respected and if the public is present, numerous and involved.
I wanted to highlight this point because over the past few years, high level show jumping has undergone many evolutions with the multiplication of very remunerative high level competitions. They do not always favor sport with a capital S. The grounds are often very small and require a lot of effort from the horses. The public is very often absent. In short, these are more shows than sporting events.
The influence of the sponsors is real, since without them practically no high level competitions could not take place. However, it can sometimes be at the cost of sport. This is notably the case with the sponsor/funder of the Fédération Equestre Internationale (Longines, editor's note) which is in some cases both judge and jury. They should not be able to influence the FEI's sporting choices or strategies. The main problem is in fact that the FEI sponsor/funder is at the same time the "title" sponsor of a certain number of competitions or circuits, which can lead to a complete skewing of the game."
Interview by Manon LE COROLLER. Featured photo: Jean-Louis CARLI / ALeA / EEM