What media coverage for equestrian sports?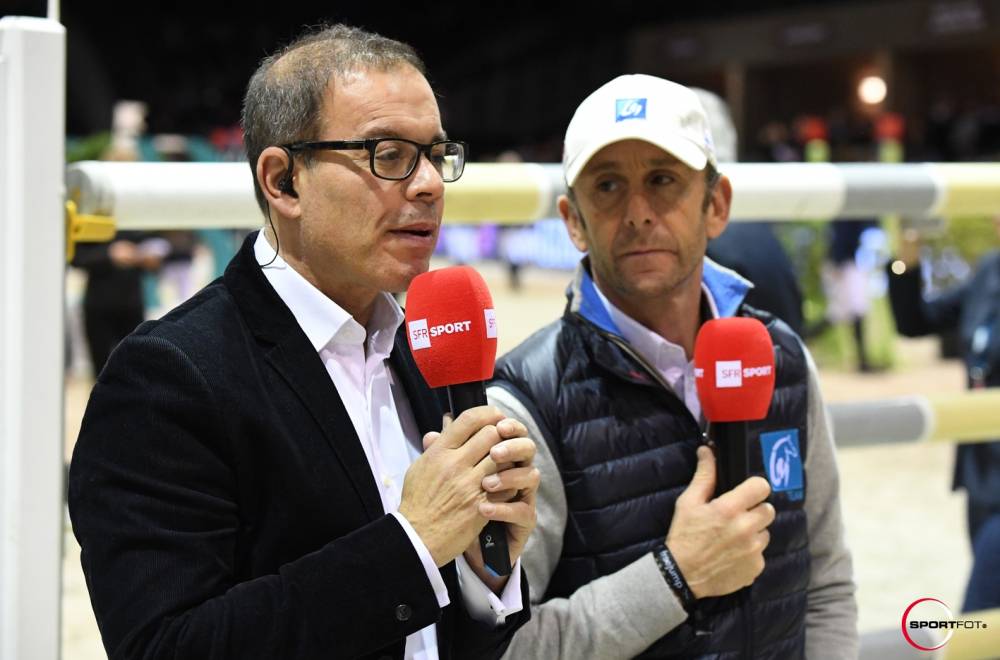 11 February 2020
It is a fact that equestrian sports suffer from a lack of popularity among the general public media. Often little or badly known, they are only occasionally brought to light. This under-representation is paradoxical for a sport that has more than two million participants and is the third most popular sport in France in terms of number of licensees. Numerous initiatives are now beginning to emerge, with stakeholders mobilizing to raise awareness beyond the equestrian community.
To answer this vast Question of the Month, we called on two experts, Virginie Couperie-Eiffel and Kamel Boudra, to give us an overview of the situation and explain the challenges ahead in the sector in this area!
Virginie Couperie-Eiffel, organizer of the Longines Paris Eiffel Jumping and vice-president of the FFE: "It is a fact today that show jumping suffers from low visibility in the general press. This low media coverage raises questions when we know that the French Equestrian Federation is the third largest federation in France in terms of licensees (800,000, editor's note) and riders (about two million, editor's note).
There are many reasons for this. Journalists from the general press are often not very familiar with our sport and not very aware of equestrian sports in general. Most of the time, the media do not send journalists to events due to a lack of time and budget. Journalists therefore find themselves reading AFP wires and we know that commenting on the results of show jumping competitions can be a tricky exercise for an uninitiated journalist! What we need to do is a thorough job of educating them and raising their awareness before major equestrian competitions. At the Longines Paris Eiffel Jumping, I provide extensive, attractive, short and punchy press kits. Every evening, I give short videos to the television stations to integrate them into their news programs. This is highly effective and ensures that the events are well publicized.
Today we want ready-made information that tells a beautiful story. Journalists are deluged continuously with information and are therefore looking for something extraordinary, a story that will attract the public and fascinate them. To this end, I often offer creative solutions to journalists.
For example, I invited TF1 to do a report on the life of a horse from its birth in my breeding to the LPEJ. This story ends in the arena where the sporting exploits will be told to the public. I also offer conferences on horse welfare and equine therapy. This approach of the horse as a mediator, a healer, interests the media and allows me to focus on a facet other than the athletic horse.
I create a link with journalists and get them to live the experience. This human relationship is particularly important because it is when they are touched that journalists want most to write or talk about it on television. We must bring all these people into our passion and carry the values we believe in, to be a force for change.
The LPEJ is for me a laboratory that allows me to defend my values (sharing, diversity, respect for nature, well-being...) by communicating them.
In communication, we must create a demand and find the people. Nothing happens by waiting. It is in the movement, by pushing, that we will succeed in building something. We must therefore be proactive, capable of attracting a public of supporters who come to discover the sport and the animal. The horse is a formidable channel for social bonding. We need to use it to communicate in a different way and thus highlight the horse as an animal but also as a top-level athlete.
To be visible, you need to be accessible geographically, financially, and socially. At the LPEJ, we offer a partially free event, located in the heart of Paris and which organizes many activities with our village which is accessible to all and bears our values. For example, we collaborate with educators and associations aiming at establishing operations in schools in the Parisian suburbs to promote riding.
To arouse the interest of all the media, we need a great duo like Pierre Durand and Jappeloup in the past, who win medals and titles and who are able to bring people together. We need a figurehead on whom we can center communication. It has been proven that repetition gives impact to messages.
At the same time, the FFE must play its role in encouraging its champions to invest more in the media. We need a media plan that puts the horse back at the center of communication. This is not easy because riders have little free time for communication. It is a constraint due to their profession, although not impossible. Some of them have already done it successfully by being very active on social networks. By sharing their daily lives, they have created real communities!
This requires a real reflection on communication and on the strategy needed to obtain the expected results.
As we saw at the 2016 Olympic Games, sports results are crucial but not sufficient. We weren't able to capitalize on the gold medals won by the French team in Rio de Janeiro. We are at a turning point today. We have until the Paris Olympics in 2024 to achieve a coherent media project. The intangible heritage of the Olympics is vital to me. We need to invest in the pre-Olympic campaign, so that every French person can claim a piece of the 2024 Paris Olympics. A program and specific actions are being developed. The Olympics will be a wonderful showcase for our sport. We must be ready to take up the challenge and I will obviously play my part in this project!"
Kamel BOUDRA, sports journalist at RMC Sport: "Equestrian sports barely manage to make a name for themselves in the sports world, apart from exceptional cases. My objective after the closing of Equidia Life was to bring equestrian sports to the heart of other sports. This is essential to open up equestrian sports from a media point of view. So I brought the project to the RMC group with Alice Weill La Rocca.
Today, we enjoy the support of the strike force of the Altice France group, which has many diverse and complementary media, such as RMC, for which I work, l'Express, Libération, BFM TV... When we cover an event, we set up a multi-support coverage, radio / TV / written press. We talk about riding in media that do not usually talk about it. Belonging to such a group therefore allows us to have a range of diverse and varied links to different communication media and be present where we're not expected. It is essential to communicate differently and to a wider public, in order to increase the visibility of our sport. This is what Altice France is doing successfully.
Being part of RMC sport also means benefiting from a broadcast schedule that includes extremely popular sports with many viewers, such as soccer or rugby. It's an extraordinary opportunity. It increases our visibility and allows us to reach an audience of new fans, to get out of the equestrian community and spread ourselves all around. Event organizers, advertisers and the French Riding Federation are sensitive to this argument.
The resources needed are considerable. I understand the nostalgia for Equidia Life but I would like to say that today we broadcast more hours of equestrian sports on RMC Sport than on Equidia before. The change from a free to a pay TV channel has shocked the equestrian community. Yet it is a necessity. In order to produce quality content and to be economically viable, audiovisual means and access to know-how are needed. All this necessarily has a cost. With this economic model, horse riding is now living among other sports, where innovative and attractive formats are being developed.
However, I see two major obstacles to the media coverage of equestrian sports: the numerous parties involved in the purchase of rebroadcasting rights and the lack of uniformity in the competition rules. When we program events, we realize that there is not one competition that starts at the same time and not one event that has the same rules. The international equestrian authorities must really reflect on this crucial subject for the future of our sport.
In order to build on the future of our sport, and this will be my last point, I think that the Paris 2024 Olympic Games represents a major stake from a media point of view because it goes beyond the framework of sport. The Olympics can help to advance the cause of the horse by highlighting all the culture around it, and which is deeply rooted in our French traditions. We need to emphasize what the horse represents in our country and to highlight the industry value as a whole on economic, social, cultural and sporting levels. A challenge that represents a vital media turning point, and one which should not be missed."
Interview by Manon LE COROLLER. Featured photo: © Sportfot.com