What are the challenges in organizing a contest during the pandemic?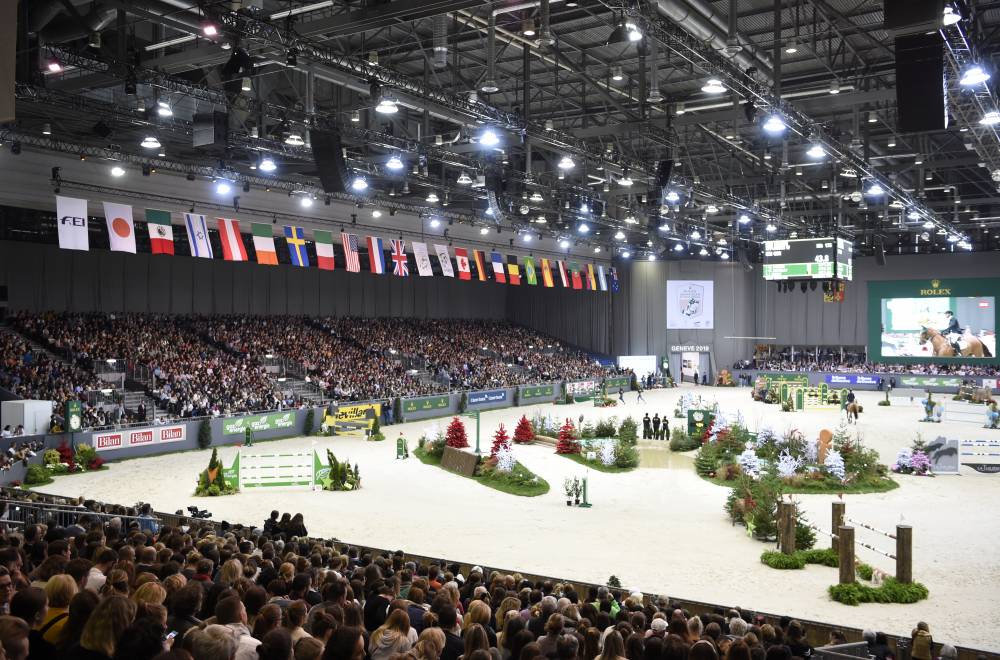 11 November 2020
While organizing an event in Covid times seems overwhelming, we wanted to gauge the moods of two organizers, one of whom was able to carry on with their competitions, and the other that had to cancel. For this new Question of the Month, we give the floor to Laurens Meynaerts, Managing Director of Sentower Park equestrian Center, and Sophie Mottu Morel, Executive Director of the CHI Geneva.
Laurens Meynaerts - Sentower Park
At Sentower Park in Opglabbeek, Belgium, many 2* and 3* CSIs have already been organized this year, and some are still planned for the end of the year. Laurens Meynaerts explains the reasons for this: "It's of course easier to organize competitions with existing infrastructure, as is the case for us. If we get the authorizations for a competition, we can set it up in just two days. That helps a lot. It's a clear advantage in the current situation. But I don't think that competitions like ours are going to replace the CSI5* competitions that take place at specific venues. Take the stages of the Global Champions Tour, like Miami, it's really exceptional!
We had to make the decision to run our events without spectators. Obviously, it's really sad, because we try to create a festive and enjoyable atmosphere for the riders. We want them to have a good time when they're competing here at Sentower Park. But right now, the simple fact that they can jump at all is already something. Even though the lack of an audience is frustrating, we're happy to at least be able to hold these events for riders. In many countries, it's not even possible anymore. We feel we have a certain mission: to organize competitions for the riders despite all the current challenges. Our sport must go on.
Even though spectators are not admitted, we have tried to develop live-streaming, which allows everyone at home to follow the competition. We work with Clipmyhorse and Equipe for the results; it's a very professional program. So we can truly follow everything live.
I must admit, however, that it's not easy financially to organize contests under such conditions. Of course, we have partners who help us, but that doesn't allow us to invest in improving our infrastructure. The financial inputs are therefore only made up of the riders' entry fees and the help of the sponsors. We can still hold competitions like this for a few more months and pay all our expenses, but it's not ideal, and it will be difficult to keep functioning like this in the long term.
We were fortunate to be able to keep all our staff; we didn't need to lay off anyone, even though it's not been easy. On the other hand, since we had to cancel several of our competitions, some of the people who work at these events have found themselves without work, such as the course designers, the judges, all those people in the shadows who help make the event run smoothly. Without forgetting the impact on the region, especially for hotels, supermarkets, gas stations. There's a lot of loss in all areas. The 5* events have been the most affected because they have a budget that is 10 times bigger than a 2 or 3* event. If we take on the goal of organizing a 5*, it certainly will not be in the current situation. This is not the best time!
However, we have had an incredible line-up of riders lately. The podiums on the first weekend of November were phenomenal: Marcus Ehning winning ahead of Kevin Staut and Jeroen Dubbeldam! It's incredible! It warms your heart to have such participation, because even a CSI3* isn't easy to organize during this period."
Sophie Mottu Morel - CHI Geneva
As the end of this year approached, all eyes were focused on the CHI Geneva. As one cancellation after the other rolled in, the organizers of the legendary Geneva competition tried to take up the challenge. Despite their best efforts, the second wave of the pandemic left the Swiss with no choice but to throw in the towel.
"When Geneva was back in semi-containment again, when the authorities asked people to stay at home, to limit interactions, to telework, we asked ourselves how we could justify putting so many people under the same roof. Between the officials, technicians, volunteers, riders, grooms, the health clinic, and the committee, there would have been 300 to 400 people. That's when we decided that we could no longer keep going ahead with the competition."
Before the cancellation, the CHI Geneva had worked out several scenarios, considering various versions of the event being held in reduced numbers, or even running it behind closed doors: "When we decided to hold our event with fewer or no spectators, we had to inform the people who had already bought tickets, who had reserved tables, as well as the members of the jockey club. We had to offer them a refund of what they had already paid.
This would also have had an impact on the exhibitors' village, which would not have been necessary, and would have been a great loss for Palexpo, depriving it from being able to use its entire catering area. And beyond that, we spent days redesigning our protection plans to keep up with the changing context, with security measures, entrance controls, floor markings and signage, each time depending on the number of spectators. And for each scenario, we had to rethink the budgets...".
But that's not all. Even though the CHI Geneva considered going behind closed doors, the organization was taking the risk that the event would be banned overnight: "One of the big worries we had was that the event could be cancelled right up until the last moment, even on Sunday. We could have been told on Saturday that the show had to stop. However, we were prepared for that contingency."
The CHI Geneva has always been cited as THE ultimate competition, especially for its unique atmosphere. Would an edition without an audience have made sense? "Obviously, it would have been a completely different competition, not the CHIG that we're used to seeing, but we made it a point of honor to organize a competition for the riders, so that they could ride their horses in the arena. It's in our DNA is to organize a sporting event. We've tried to add festivities and fantasy to it, but sport comes first.
And obviously, the volunteers were ready for that too, since we opened registrations, there was a flurry of activity (more than 400 requests came in very quickly). We felt that people wanted to be part of the party no matter what. It was very encouraging, as was the Hospitality Terrace, which was already booked out, and the ticketing. As soon as that opened, a lot of tickets were sold out straight away, whereas usually people wait a little longer to buy them."
And the sponsors? "We first had to consult our sponsors to find out if they would agree to support us in the different scenarios: with more than 1,000 people, less than 1,000, behind closed doors? All of them continued to support us. We reviewed the contracts, because the publicity behind closed doors is of course not the same as when the audience is there in person. We were in daily contact with them. It's very encouraging to hear them say, "We're here this year, and we'll be here next year. We're not leaving you." Everyone was happy that we tried everything we could, and thanked us for responding to their requests and concerns. And some of them even extended their contracts. They also saw that from our point of view, we were aware that they were going through the same crisis as us."
Managing all the staff when there is so much uncertainty is no easy task: "We had this enthusiasm, and said, 'Let's go,' but at the same time, we had these reservations that were holding us back. There were days when we believed we could do it, and we had days of doubt. One day you make plans to protect everyone and you see all that remains to be done, and it seems insurmountable, but you find the energy to keep going. It felt like a roller coaster. Our role, Alban Poudret, the Sports Director, Michel Sorg and myself, is to motivate the troops. We have to show them that we're there with them and that we believe in the event. Within the committee, there were people who were worried, and rightly so, but we had to tell them "It's going to be okay". It's not easy, when you yourself have spent the day coming up with protection strategies, to find the motivation to give them confidence. That's an aspect that took a lot out of me."
This pandemic is putting the entire equestrian sector under pressure, but the 5* events have almost all been cancelled, while 2*, 3* and 4* CSIs have nevertheless been able to take place. "Indeed, it is mostly the 5* events that have been cancelled. Moreover, with indoor events, we mustn't forget that we start out with empty halls, where we have to set everything up. We have to create everything for an event that lasts 4 days. The infrastructure represent a gigantic cost; it's half of our budget. There is also more prize money, but this prize money is given to us by our sponsors and they too had a very difficult year. The 5* events are subject to regulations that are stronger than those of a 2* or 3* CSI. We don't have registration fees, which would allow us to make some money back, and we have to offer hotel rooms to all riders and team leaders. These are small things, but added together, they represent a large part of the budget."
While the cancellation wasn't an obvious choice, Sophie Mottu Morel says that all signals are green for the 2021 edition: "We hope to have an even better 2021 edition. We're obviously a little frustrated at not being able to have this 2020 event, so next year we will give of ourselves even moreso. We hope that in 2021 we will obviously be able to return to a more normal life. When we see all the contests that have already been cancelled at the beginning of the year, we ask ourselves a few questions. We didn't think that this situation would last until today. But I don't think we will be able to ban events for a long time to come. Another element to take into account in our decision is that a large number of our service providers make a living from events. After we saw their enthusiasm when we announced in September that we would try to go ahead, they were saddened when we cancelled. And that's tough! There's Palexpo, and also Skynight, who are in charge of the sound and light shows. Mathys who supervises the construction of our stands, Jaquet who manages the arena, Nüssli who manages the construction of our stands, and also Supervision who is in charge of the big screens, the timing... There are countless companies we work with. And we mustn't forget that there were no other events for them this year either. We couldn't have saved their year completely, but thanks to CHIG, they would have had some financial input anyway. Within our company, the employees will have to switch to a reduction in work hours. For the company as a whole, salaries represent a huge cost. Although I'm not questioning the importance of protecting the population, the economic losses due to the crisis, whether in the events sector, leisure, hotels or in many other sectors, will be disastrous. I don't know how we're going to recover from this."
Credits: Scoopdyga.com