This weekend, Xavier Leredde presents the Anglo-Normand studbook at the Stallion Show in St-Lô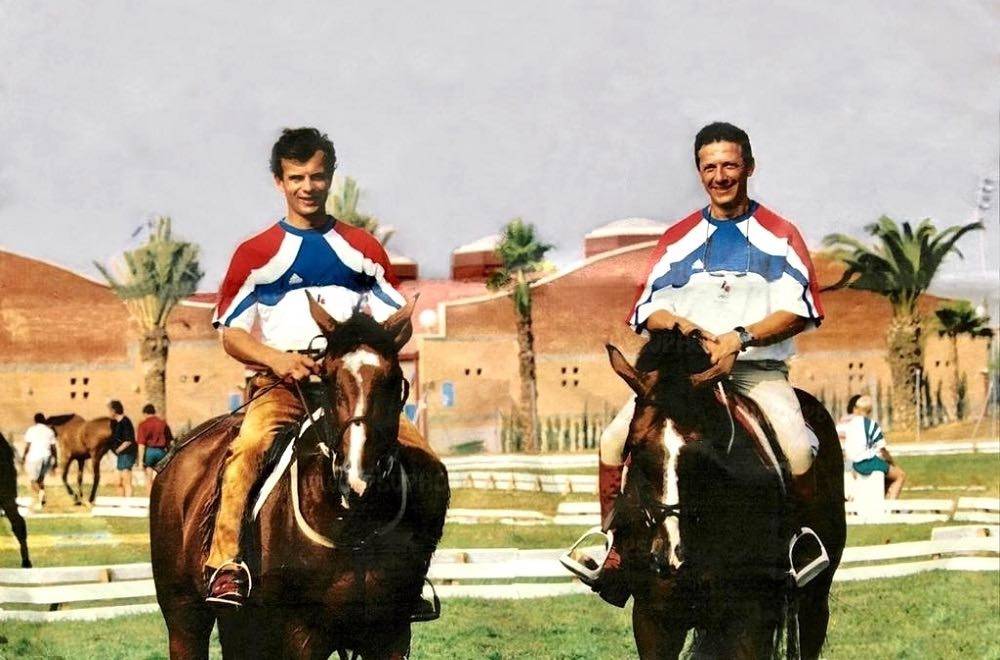 18 February 2022
During the Stallions Show, you will present on your stand this French studbook which differs from the Selle Français and the Anglo-Arab and which is perhaps the future of the high-level French horse. The origins date back to the last century and yet we find them in the current studbook. Can you tell us about the genesis and the founding principle of the Anglo-Normand studbook?
Xavier Leredde : The Anglo-Normand studbook was born just after the Second World War, under the aegis of the director of the Haras de Saint-Lô at this time, Mr Paul de Laurens de Saint-Martin and his assistant director, Mr Jacques de Royer-Dupré, father of Alain de Royer-Dupré, trainer of His Highness Aga Khan. The objective of this studbook was to produce horses that would perform at the highest level of competition.
To do this, Laurens de Saint-Martin has been able to draw on the blood streams of different stallions of sporting breeds, namely the English Thoroughbred, the Anglo-Arab, the AQPS and the French Trotter, and have paired with local mares with sought-after qualities. The result was great because we were able to obtain exceptional horses, like Ibrahim, who then produced Almé, Jalisco, Papillon Rouge or Quidam de Revel.
We find this same pattern on the side of the broodmares. Thus, let's note Gazelle d'Elle, great strain of the Pignolet family: his first dam comes from the Pur-Sang L'Alcazar and his second dam from the Pur-Sang Ivanoe. Gazelle d'Elle's sire, Uriel, comes from a ¾ Thoroughbred dam. Finally, Dirka, the dam of Quidam de Revel, has the Thoroughbred Harphortas as a dam sire. These crosses of lines are very important and were published towards the end of the 1940s in the studbook Studbook Anglo-Normand. I keep the precious volume 1 from my father.
Can you remind us of some of the major performance indicators of these Anglo-Normand horses?
XL : This studbook has had some exceptional years, notably the victory of the French team at the 2002 World Equestrian Games in Jerez de la Frontera. The team, then made up of four couples, became World Champion with four Selle Français stallions of the Anglo-Normand type! Éric Levallois was with Diamant de Sémilly, Gilles Bertran de Balanda with Crocus Graverie, Reynald Angot with Dollar dela Pierre and Éric Navet with Dollar du Murier (Jalisco B x Uriel). Note that Éric Navet and Dollar du Murier also won the individual silver medal. A performance to date unequaled by other world studbooks.
The latest representatives to date of the Selle Français of the Anglo-Normand type are for example Orient Express, Rahotep de Toscane or Urvoso du Roch. The Selle Français Anglo-Normand is a wonderful current of blood, the result of a delicate selection of fifty years!
Your observation concerning the French horse today is that it is struggling to maintain itself at the highest level, regularly conceding places to foreign horses at major events. In your opinion, what directions have led to this state?
XL : I was part of the first office of the Selle Français, under the presidency of Philippe Curti. At that time we had, among other things, created two sections in the studbook: one open to all horses (foreign horses and the mixing of brood mares with foreign horses) and the other only open to pure Selle Français. For us, one of the main points was to have a French breeding that keeps the blood supply at all costs, whether through Thoroughbreds or Anglo-Arabs.
The office that succeeded us chose to take a completely different path, such as less importance given to the contribution of blood in favor of the addition of foreign blood. I have never been opposed to foreign blood, but only from foreign horses of very good quality. Alas, that has not always been the case here. This choice was not a choice of the breeders but was imposed by only a few stallions owners. As a result, we are now in the wake of foreign studbooks. These new French horses that we produce have almost nothing French and nothing very attractive… In twenty years, fifty years of selection have been diverted by forgetting these principles which animated us and which led in a convincing way to French excellence.
Could the addition of blood, especially from Thoroughbreds, in the breeding of show jumping horses be the major asset for producing tomorrow's champions?
XL: For twenty years I have heard that the Thoroughbred has no value and that it is destructive! This is completely wrong, these are comments made by people we rarely see on the racetrack and who have never ridden or bred a Thoroughbred. Using a quality Thoroughbred bloodline will be more beneficial than going for average bloodlines from foreign horses. The performances prove it. For example, Falcone Rouge (editor's note: Champion of 2-year-olds at Saint-Lô in 2017 and then exported to Germany) and his own high-quality brother Him Alaya Rouge have Villez, a Thoroughbred, as their dam, which is also found in the damline of steeplechase champion Frère d'Armes, also bred at the Haras des Rouges, and trained by Dan Skelton, son of the famous Nick Skelton.
Jappeloup, a famous example of a cross between a Trotteur Français stallion and a Thoroughbred dam (©KIT HOUGHTON)
In your opinion, do horses in Amateur events need blood such as that provided by the Anglo-Norman?
Him Alaya Rouge, Tyrol Rouge with a Thoroughbred dam by Villez - Credit @BreedinGLOBAL Interregional 4 year-olds Champion in Auvers
XL: No, but to race Five Stars Grands Prix and win in a jump-off, blood is important. Having run the CHIO of Aix-la-Chapelle, I assure you that you need a strong horse because the races follow one another! (Nations Cups in two rounds on Thursday rest on Saturday then the Aix la Chapelle Grand Prix on Sunday, editor's note). In the second round and in the jump-off, we can clearly see those who still have some reserve and those who no longer have any.
Xavier, do you have a last message to conclude this interview?
XL : I want to pass on everything I was able to understand and learn during these years of selection, especially through contact with the wonderful people I met and who were driven like me by this desire to produce a horse capable of winning at the highest level, both in show jumping competitions and in races. I am ready to help breeders who wish to progress to the top level, so I have decided to reopen the Anglo-Norman studbook, created by my father with the aim of naming, preserving and properly maintaining the real studbook original.
Main picture : ©PSV photo