"We saw the horses fall one after the other" Guillaume Batillat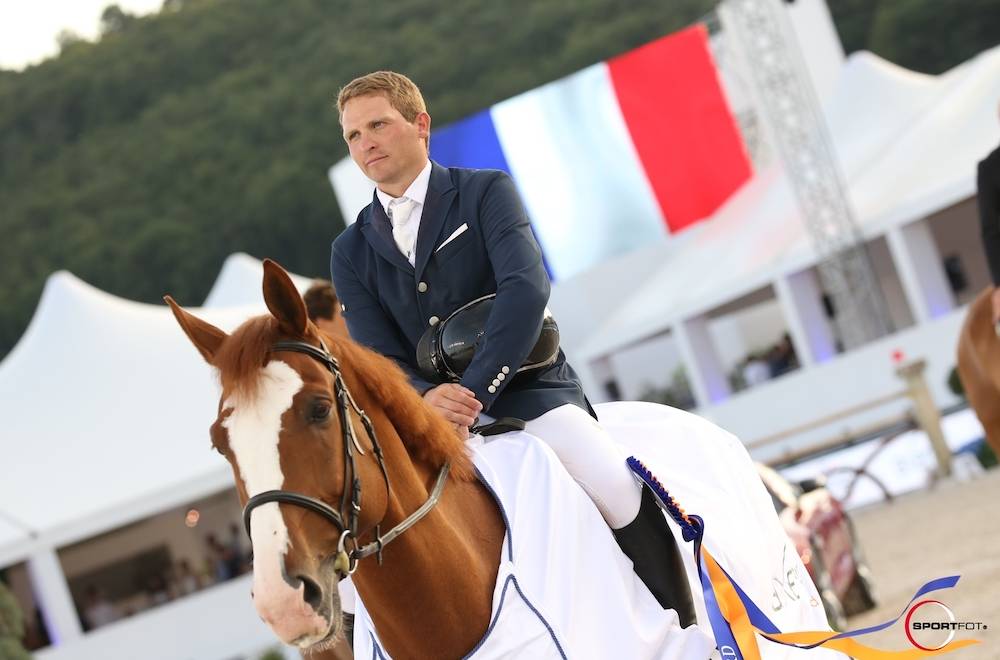 22 March 2021
Through his social media, the Frenchman Guillaume Batillat has let us follow his daily life during his quarantine at the CES in Valencia where the neurological rhinopneumonitis virus developed, and then at the Federal Equestrian Park in Lamotte-Beuvron. Last Thursday, he left with his four horses, all of which tested negative, to finally join his stables. "A bad memory that must be erased quietly"...
For Studforlife, the French rider looks back on the last weeks which filled his daily life: "I had no other choice than to stay on site because one of my mares was unwell. Making her travel was a risk. On Monday, February 22, the competition organization announced that the Spanish government would be taking over. They came every day and held meetings but nothing changed, except for sending healthy horses to the 'safe' area, still in the hard boxes. This was done without testing or precautions. The result of this was that half of the horses started showing symptoms a few days later. The government mismanaged the situation! It was chilling seeing the horses fall one after the other. The riders, grooms or owners did not have the strength to hold on to them anymore. We helped them but finally their horses collapsed in our hands, it was very hard. The situation on site started to calm down when quarantine boxes arrived, and a protocol was finally established! These boxes were actually only 2.50m by 2.50m, which was far too small and nobody wanted to put their horses in them. So I decided to open them up. 5m x 2.50m was already much better for horses that had to stay between four walls and could only walk a little outside. The FFE and Patrick Borg's teams were the first to act. They went to the government, organized the transport, and helped us financially and morally. All we had to do was follow the lead! "


"The horses were better in spirit."
On Thursday, March 11, the first French horses were able to leave Spanish soil to continue their quarantine at the Federal Equestrian Park in Loir-et-Cher. "I had already been in boxes alone in Valencia for a week. I just wanted to be able to go back to France, even in Lamotte-Beuvron and not at home. It was already a relief to be closer to our stables and our families. The convoy was composed of my four healthy horses in my truck and another one with six of Franck Curti's, as we didn't want to mix them. A small truck followed us, just in case we had a problem. They were accompanied by the French vet Jérôme Thevenot. We stopped in Béziers in temporary boxes in the middle of a field. Once we arrived at our destination, the horses were better in spirit because they could go outside and see the light of day". Guillaume Batillat continued his week-long quarantine at Lamotte-Beuvron. After his horses tested three times negative, the Frenchman had all the green lights to return to his stables based in Seine-et-Marne on Thursday, March 19. "Once we got them home, we still kept them separate them from the others for a few days before they could meet their friends." As for his French teammate Franck Curti, "his horses had not started their quarantine in Spain so they will stay there for about a month. Julien Bussereau also joined him with his horses," he said.
"We experienced the horror."
If there is one lesson that the Frenchman has learned, it is "that we don't know what the world is made of! This virus is very rare and yet we experienced the horror. At first, we didn't worry too much, but when horses started dying before our eyes, we started to panic." Mutual aid has also been at the heart of these last few weeks, "there has been so much that we don't know who did what anymore" he reacts. "The FFE has been incredible. Nicolas Deseuzes too, by taking the initiative to send Patrick Borg to us. Nobody is used to dealing with this disease and when people saw through our publications on social media what we were experiencing, I received so many calls of support, the solidarity was crazy." Guillaume Batillat ended our interview by pointing out that the FEI "sent a veterinarian to Valencia but did not take any action. They did not take any decision like cancelling the competition for example. The FFE was the first to act and then the foreign nations followed by asking their governments for the same health papers."
Photo credit: Sportfot.com