"We have a great challenge to face together," Yuri Mansur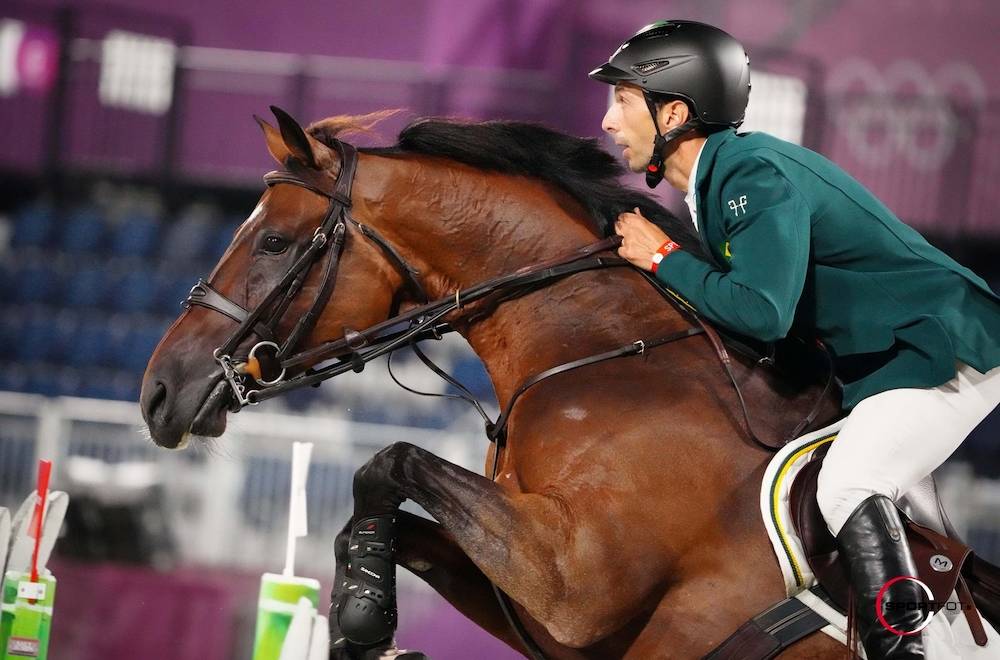 08 September 2021
This summer, Yuri Mansur swapped his yellow jacket for the Brazilian one to live out his biggest dream: to participate in the Olympic Games. Having been back from this singular event for a month, the Brazilian looks back on his experience in Japan with his bay mount Alfons Santo Antonio (Aromats), and analyzes the format, strategy and fallout for Studforlife.
How was your experience at your first Olympic Games?
"To be honest, I was feeling really well, better than ever. I knew I was realizing my dream and that I was prepared to do it. I was realistic about my medal chances in the individual final. After my clean round in the qualifier, there were more than a dozen pairs ahead of me. Even though it looked easy from the outside, it was really difficult, like every 5* Grand Prix. If all went well, I had a small chance. On the second day, the level was very high, especially because of the time allowed, I had to cut the corners, and this was when my mistakes happened. Even though I was clear, the riders were so fast, I'm not sure how I could beat them. The course designer Santiago Varela did a great job! Throughout the event, my mindset was very good, enough to handle any pressure there may have been."
What can you take away from the new, regularly criticized, format of the Olympic Games? What are the positive and negative points?
"This is a big discussion! The possibility that all the riders can compete and to be able to change the composition of the team makes the sport much more enjoyable to watch and strategic. It also makes the team more united, as anyone can start at any time. I have to say, about the drop score, I don't have a clear view about this, or a fixed opinion. When you have a situation like the Japanese team, I would like to have an alternative solution (the team was eliminated in the team qualifier after two of its riders dropped out at the start). On the other hand, it adds more pressure and emotion to high level sport.
About the individual final, the format is similar to a normal Grand Prix, but in the context of the Olympics it was really good. I don't think you have to jump the horse so much to prove that he deserves to be Olympic Champion. Explosion and All In would be the best anyway, in any format. What I would change is making the individual final after the team final, like in the old format."
The well-being of the horse has also often been questioned...
"Yeah... Why is this questioned? Because the riders tried to finish the course? I remember that at the Athens Olympic Games in 2004, three horses had bad tendon injuries (Editor's note: among them, American Chris Kappler's horse, Royal Kaliber, Frenchmen Bruno Broucqsault and Eric Navet's horses, Dilème de Cèphe and Dollar du Mûrier, who suffered a back injury) and the format was totally different. Injuries are part of sport, any sport. I think it's important to question ourselves in order to improve, but people who know our sport know the way we take care of our horses, how we make them the center of everything in our lives and should not have any doubt about the welfare. The rules must be adequate about this, but they are not the ones that bring harm to the sport."
Your Chef d'équipe Philippe Guerdat decided to start only Marlon Zanotelli and yourself in the Games' individual event. Concerning the team events, your teammate Rodrigo Pessoa left his place to you during the final. What did you think of Philippe Guerdat's strategy?
"It was a strategy like any other. When it works, it's a good one. When it doesn't, it doesn't. I think it was a good try. To be honest, my horse jumped well in the team final because he rested for two days after the individual final. So, in the end, everything worked out. Honestly, I never thought the championship was over after the individual events. I even told my wife that I couldn't relax because it wasn't over. We also knew that Quabri de L'Isle, Pedro Veniss' horse, wasn't so fit, so in my mind, and with this new format, I stayed awake till the end!"
It's been a few weeks since the Olympic Games ended. Where do you think equestrian sports are heading?
"I think the sport itself is growing. There are more and more riders and investments, more competitions and more shows. It's probably the sport where there are the most high-level athletes, so close together. In this aspect, the future is really promising. For sure, there are questions like world rankings and show formats that need to improve to keep up with this growth. We have a big challenge that we all have to face together. We have to show the world how we take care of our horses, how they live, and be strong enough not to let others change our script. They are animals and we love them, that's what outsiders need to know. We need to show them the good parts. It's easy to take some hard moments and make this the cover of our sport."
Photo credit: Sportfot.com