Vivald'Ick goes to breed in Ireland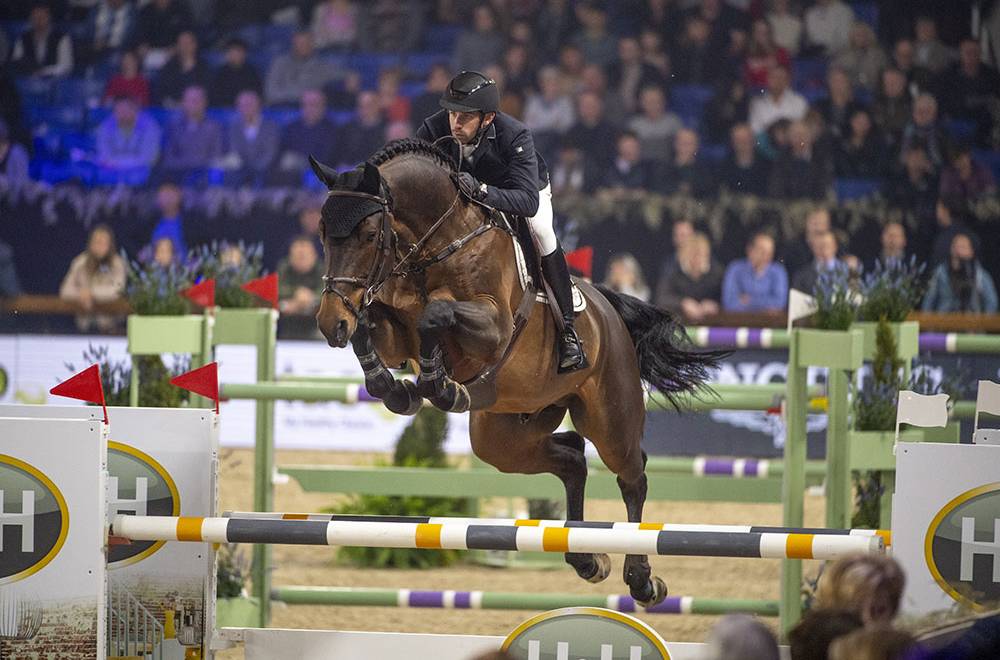 30 December 2020
The Selle Français stallion, AES and Zangersheide-approved, Vivald'Ick (Vivaldi du Seigneur x Rubens du Ri d'Asse) is going to Robertson Equine in Ireland to breed. Maternal half-brother to the impressive Very Belle du Seigneur (aka Oak's Grove Heartfelt; Heartbreaker), as well as the Grand Prix horse Arac du Seigneur (Ogano Sitte), Vivald'Ick has himself competed at Grand Prix level. Their dam, Quasibelle du Seigneur, is a maternal half-sister to the multi-medal winning star horse Dutch London (former Carembar de Muze; Nabab de Rêve) who marked his generation with Gerco Schroder, as well as Taran de la Pomme who excelled with Kevin Staut, and Dabelle and Golden Hawk (former Figo de Muze) at the highest level.
Born in the Eure region at the Ick stud farm which acquired the dam when in foal from this cross, Vivald'Ick was quickly bought by de Hus stud farm. They decided to sell him a little later to Luc Henry. After a fine international career unfortunately brought to an end by a serious injury, he will now devote himself only to breeding.
"I noticed this stallion as soon as the catalog was put online but I hadn't planned on buying him. Finally, last night, I said to myself that it was a great opportunity for Ireland to have such a great stallion. It's an incredible lineage and this horse has enormous capacity. Besides, last year we lost Tolan R who unfortunately died, so it's a great opportunity to be able to offer another stallion with such a potential directly to our breeders. Our breeders in Ireland are very interested in using stallions available with fresh semen. My feeling is really very good with Vivald'Ick. I am all the more happy because I visited Richard Dick's stud last year and I myself lived in Normandy for a few years", Alan Robertson explains.
This will not be the only Irish acquisition of the evening since the top price, Ottoucha Hero Z, also brought joy to an investor from Ireland. This daughter of the young 6-year-old stallion O'Neill van 't Eigenlo (Vigo d'Arsouilles x Montender) is above all daughter of Attoucha Hero Z, the great promise of Paris Sellon. Attoucha is the granddaughter of the top-priced Gattoucha van 't Roosakker from the first sales night and is also the dam of the top-priced Datcha Queen Hero Z (Dominator 2000 Z). She featured in the second sales night for 90,000 Euros last Wednesday. Asteria Broekkant Hero Z (Aganix du Seigneur x Diamant de Sémilly), full sister to the internationals Attoucha Hero Z and Alana Hero Z, will join Germany for 60,000 Euros. Cosmicah Hero Z (Comme Il Faut x Kassander van 't Roosakker) kicked off a duel between the French, almost arbitrated by Switzerland, but Panama du Seigneur's granddaughter will eventually go to Normandy after having been acquired for 57,500 Euros.
The disappointed buyers have only one evening left to make up for it. This will happen tonight with the closing of the last 23 lots.
Ottoucha Hero Z.