Vitiki, at valiant heart, nothing impossible (3/3)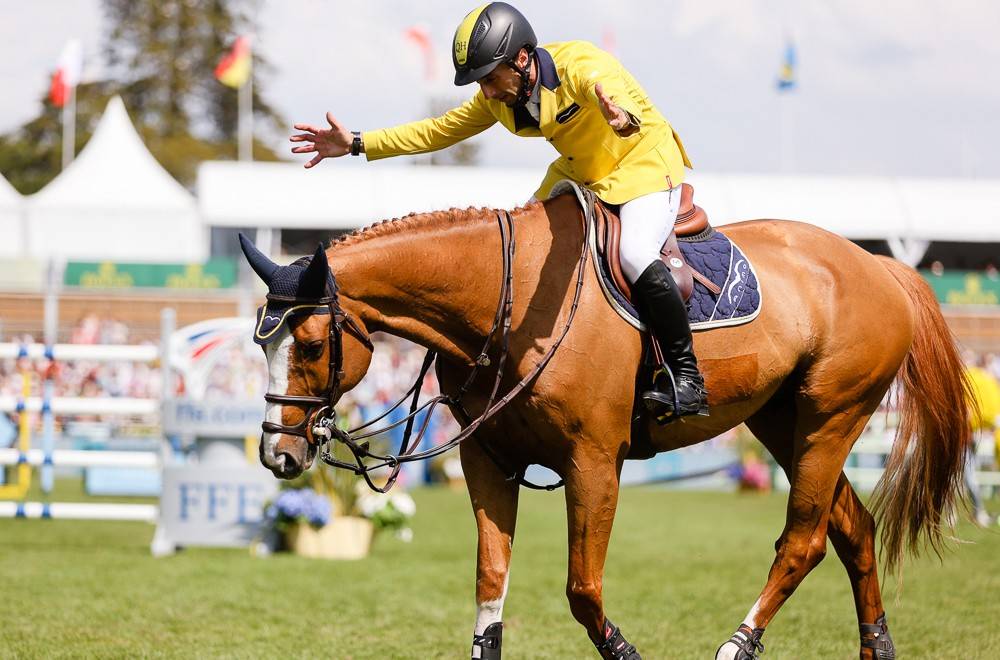 26 May 2022
Author : Mélina Massias
The story of Vitiki and his rider, Yuri Mansur, could have been limited to a simple encounter, the result of the hazards of life, and then a meteoric rise to the very top. However, the life of the lovable chestnut took a completely different turn when he set foot on the track in Aachen, the Mecca of equestrian sports, for the first time in his life, in July 2018. The son of Valentino broke his pastern bone after a jump, leaving him fearing for his life. Thanks to a huge dose of courage, and the boundless, almost utopian positivity of his rider and his entourage, the fourteen-year-old Hanovrian gradually recovered, after a long convalescence made up of ups and downs, until he was back on top. At the end of 2021, a new operation kept this crack away from the competition. But, like a phoenix, the chestnut once again defied all the predictions, finishing second in the Grand Prix de La Baule at the beginning of May. His closed-ones, being riders, grooms or vets retrace the journey of a horse like no other. Because with Vitiki, nothing is impossible.
The first two parts of this article are available here and here.
"When he started to walk again and trot, I thought it was already a miracle," confesses Philippe Guerdat. "Last year, when Vitiki was clear in the Wellington's 5* Grand Prix, the whole family was in tears. For them, it was like a victory. I didn't believe that this horse would come back, unlike Yuri, who has always been positive. It has been a long road. Today he is trotting beautifully. He knows that he has to protect himself, especially when landing. But he is so clever that he can do it. If he wasn't smarter than the others, he wouldn't be able to do it. He is so generous and respectful by nature that he manages to do everything."
...and turns hearts upside down!
"I have always acknowledge how strong Yuri is mentally. He was especially so at the beginning, when he chose to continue with Vitiki, while respecting him. Now the horse has become a real bodybuilder again, with a muscular neck and rump. He is becoming more and more consistent with time, it's incredible," adds Cristiano Pasquini. "The traces of the injuries will always be there, but Vitiki is healthy and able to compete. On the track, he never changes leg or shifts to one side or the other to compensate for discomfort. Everything is normal. When I look at Vitiki, I never think that we have done too much. Never, never! It's a fantastic story, and there's no doubt that this horse is a real fighter. He is a great horse and his strong mind has played a big part in his recovery. He is one of those horses that wants to go out there and fight for their rider and do their best. He is that kind of champion. That makes a big difference. Of course, it was the work of a whole team, but you also have to highlight Vitiki's behaviour, who is an incredible athlete."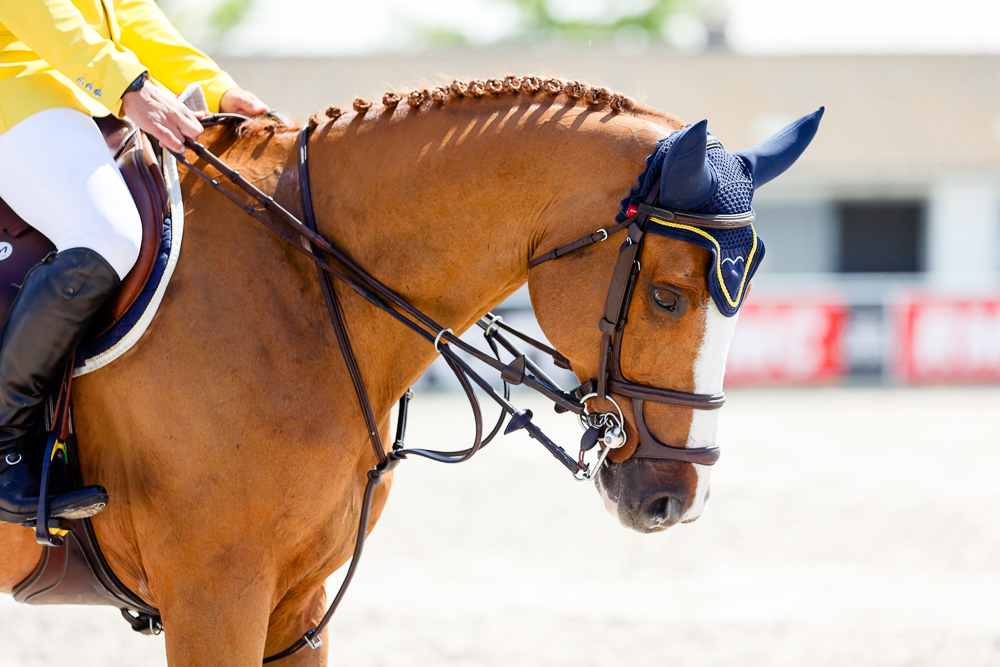 The lovely Vitiki. © Mélina Massias


With such a touching and inspiring story, Vitiki has everyone under his spell. At the stables, no one could resist the touching looks of the powerful chestnut. "My children always ask about him. My daughter loves to give him kisses and every time she comes to the stables she looks for him. He is adorable with them: he doesn't move, puts his head down and waits to be petted and cuddled. However, if I go into his stall, he doesn't always want to talk to me! My son, Pedro, rides him all the time. It's crazy because with Yuri, Vitiki is always very motivated, he can be a little bit on the eye and fresh. But with my son, he is completely limp. He walks super slowly. In Aachen, he rode him in the warm-up, where the other horses were galloping, jumping and so on. It took them forever to go round the arena! They were both falling asleep," joked the mother. Yuri added: "After his eight months of boxing, my son, who was seven years old, could walk him every day. He knows to be calm and that's one of the things that helped him recover. He is as gentle as a dog and loves people. He has a great character; he's really special."
Thanks to the genuine affection and love of everyone around him, who willingly took turns to give him a hug, a treat or a moment's attention, Vitiki overcame his initial injury. "Everyone wants to be part of Vitiki's story because he is special. Everyone who came into the stables fell in love with him during his recovery. The whole team was involved in his recovery because they put their energy into him. They wasn't doing it out of compulsion; no, they all wanted to help him. That's what made the difference," says Louisie. Leandro Bessil, Vitiki's current showgroom, has experienced his return to competition from the inside. Having just arrived at Yuri Mansur's stables, this dedicated groom has been looking after the little miraculous horse. Since then, the chestnut has not really been given any special treatment and is considered in the same way as any other horse in the stable. Only ice is routinely applied to his limbs after work, as well as zinc strips to help him recovers from more intense training. "We do everything we can to make him look his best. He is amazing and always wants to do things. He's always in shape! We have a lot of good times together. Every morning when I come to do his stall, he rubs up against me and asks for a cuddle. He puts his head on my shoulder and, until I have petted him, he won't let me clean his box (laughs). He is very special and I think everyone loves him", smiles Leandro, who also says that Vitiki is sensitive, especially to noise.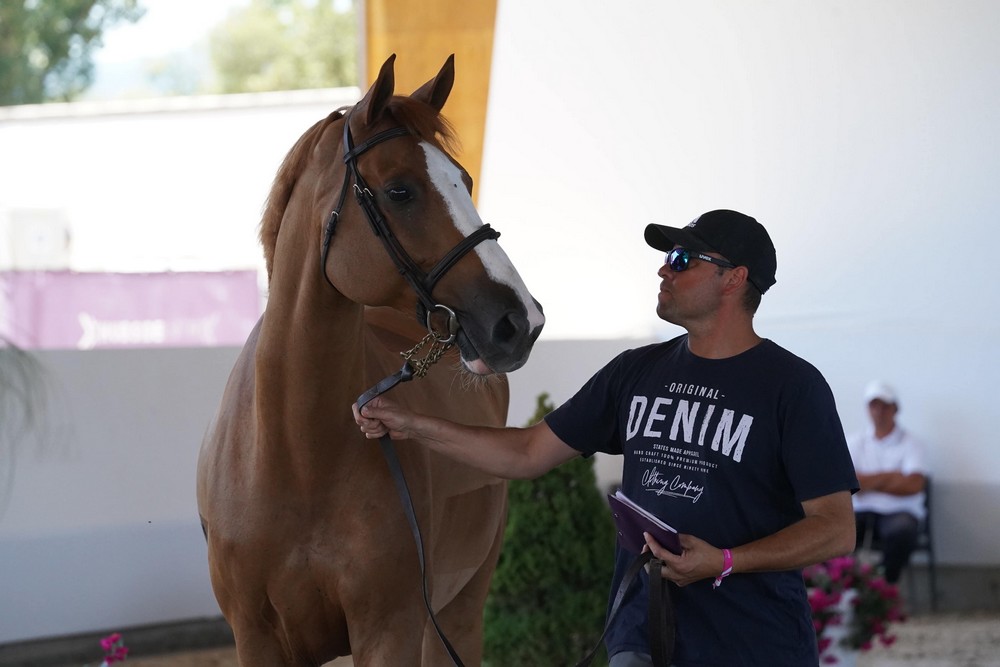 Vitiki and his groom. © Sportfot
A new operation at the end of 2021
While everything seemed to be going well for Vitiki in 2021, his fractured pastern bone being a distant memory, his rider felt that he was losing ground during the year. In spite of some good results, the chestnut had a series of small health problems. "He started to have infections, then to be hotter on the courses. He was losing scope and jumping strangely. On the other hand, he trotted beautifully and was really healthy. I didn't really understand what was happening to him," confesses Yuri. "Then I started to hear a noise, similar to a roaring." After a battery of veterinary examinations, a cyst was detected in Valentino's son's left sinus. At the end of the year, with his rider having bad luck with his horse, Vitiki was once again on the operating table. An impressive surgery later, the Hanoverian is heading for another convalescence. "It was horrible to see. With the surgery, he had lost a lot of blood and was completely emaciated. He didn't have a muscle left in his body. I thought it was going to be a long time before he comes back in shape," the Brazilian said. "He accompanied me on the Sunshine Tour and, little by little, he got back into shape. At the end of the tour I jumped a Grand Prix with him and he was placed. I thought 'what a horse'."
After three weeks of rest, Vitiki flew to Miami and Mexico in April. In the US, he returned to the top level with some excellent performances in the Global Champions League. And then, Yuri took a gamble by coming to La Baule. "I wasn't sure if Alfons could jump the Nations Cup. So I planned to bring Vitiki just in case. Neco (Nelson Pessoa, editor's note) didn't agree with this idea at all. He told me I was doing something stupid, but I felt my horse was in great shape. He spent a day trying to dissuade me from taking Vitiki to La Baule. Once there, he did a clear round on the first day, then my son rode him on Friday and Saturday. And on Sunday, he more than lived up to his name. He is simply unbelievable", says Yuri, who finished second in style on the François André stadium arena, giving way to a great moment of emotion. And Leandro added: "When I started to prepare the other horses to go to La Baule, Vitiki was scratching in his box, as if he wanted to come with us. Yuri decided to take him along and to advise once there. And then he was magnificent! After the Grand Prix, our phones were ringing off the hook (laughs)."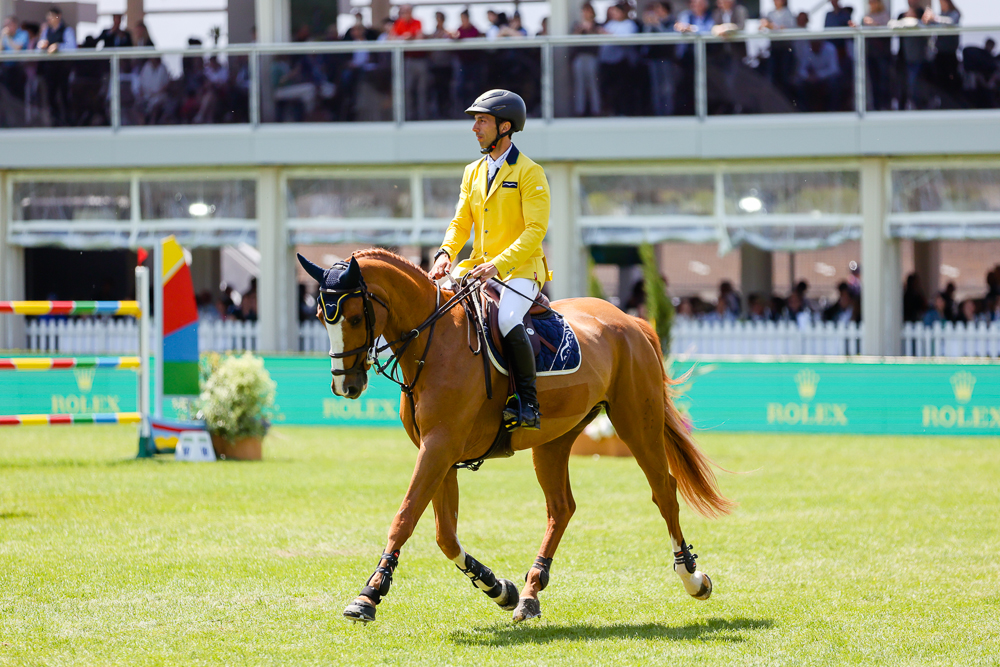 Vitiki in La Baule. © Mélina Massias
Looking to the future
In four years, Vitiki seems to have lived a thousand lives, overcoming the impossible on several occasions, with an iron will. "I met his breeders in Aachen just after his accident. They told me that, since he was born, he had always had something," says Yuri. Now let's just hope that life will give Vitiki some breathing space. "We never forced fate. If the horse had been too uncomfortable, the plan was to give him a retirement in the field. There were ups and downs in his recovery, which is perfectly normal, but never, ever did we push him beyond his limits. His condition improved gradually and steadily. It took time, but Yuri was extremely patient and calm. He knew how to wait for his horse. He always believed, dreamed, from the beginning, that he would manage to save him. Honestly, I don't know how he managed to stay so positive. In my opinion, it was completely utopian at the beginning, but in the end, Yuri was right", claims Cristiano Pasquini, still a bit surprised.
Given his recent performances and his constant progress, which nothing seems to be able to stop, Vitiki offers those around him the possibility of a bright future. "There have been times when I thought that a horse could be limited to a certain level. With Vitiki this has never been the case. He is always improving and gives everything to Yuri. He knows when the classes are important. Until now, he was still in a learning phase. All his adventures have made him a bit of a late bloomer, but now it's time for him to put his knowledge into practice. He has all the experience he needs and Yuri knows him by heart and knows how to handle his character," adds Louisie, who can't help but have goosebumps just thinking about her protégé's future. "From what I can see, Vitiki has a bright future ahead of him," adds Jack Snyder, who saw his patient again at the two legs of the Longines Global Champions Tour in Miami and Mexico.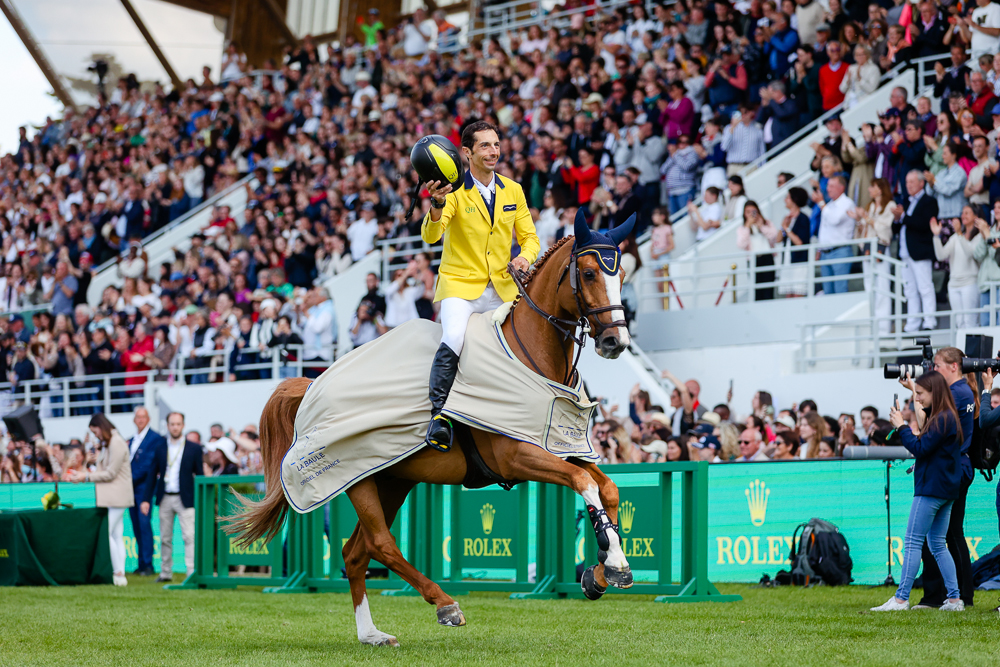 Vitiki during the lap of honor in La Baule. © Mélina Massias
As huge fan of the Aachen competition, Yuri has made the German event his main objective with Vitiki this year. His entire team hopes to finally be able to perform well on this legendary arena. In 2021, the chestnut had once again set foot on the Soers stadium. Once the emotion of his colourful reunion has passed, the Brazilian rider will have his mind free to concentrate on his courses in a month's time. And then, why not think about the World Championships, which will take place in Herning at the beginning of August? The choice will be made by Philippe Guerdat, the national chef d'equipe. If the sympathetic Swiss has other plans in mind, he assures that he is not completely closing the door on Vitiki. "I wouldn't want anything to happen to him during a championship, but on the other hand, if he keeps himself in shape and manages to take the strain, why not? It's not my first option for Yuri, but you can't say he has no chance. If something should happen to Vitiki, the decision will be made in agreement with Yuri; I would never push him to ride that horse in a championship," he explains.
Beyond the sporting performance, Vitiki's future will be written alongside Yuri and his family. "When he retires, he will stay in our garden, at home, not in the stables," says the rider. "Vitiki is a special horse. His accident in Aachen was probably the hardest day of my life. I was living my dream and in a split second I found myself in hell. However, if someone offered me to change the course of things, I would refuse. My family, my children and I have learned so much from this horse. I have improved as a rider, as a horseman and as a person. We have learned a great lesson: you have to believe that everything is possible. Then the dream can really come true."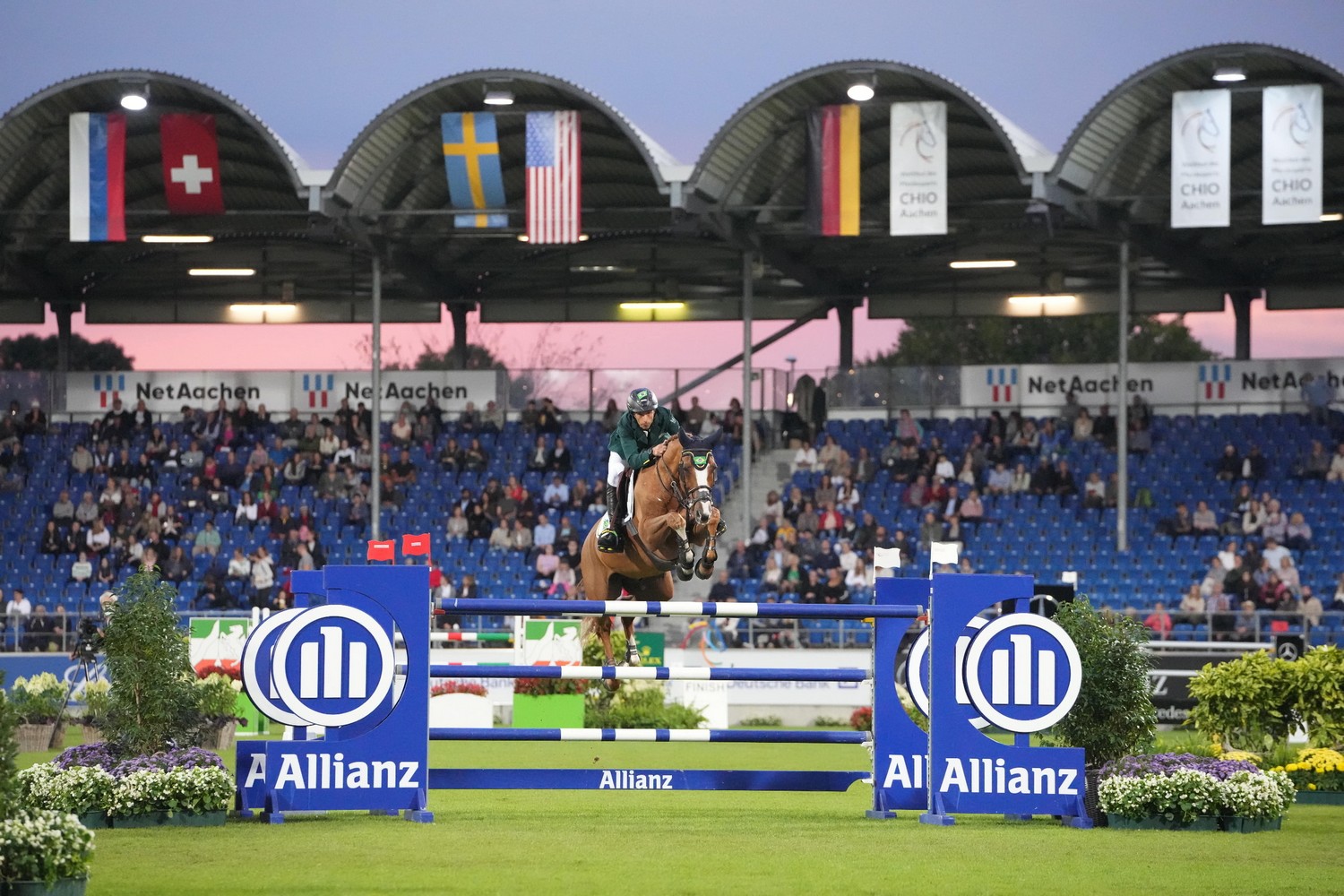 In a few weeks, Vitiki will be back in mighty Aachen. © Sportfot


Main picture: Vitiki in La Baule, offering the biggest joy to his rider by jumping a double clear in the Grand Prix. © Mélina Massias