Vitiki, at valiant heart, nothing impossible (2/3)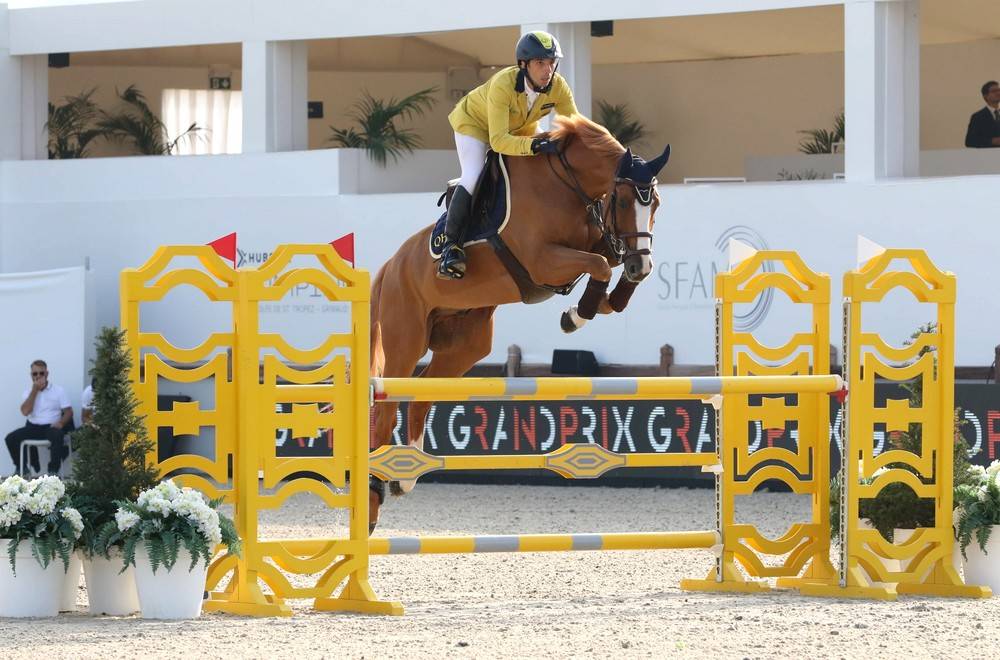 25 May 2022
Author : Mélina Massias
The story of Vitiki and his rider, Yuri Mansur, could have been limited to a simple encounter, the result of the hazards of life, and then a meteoric rise to the very top. However, the life of the lovable chestnut took a completely different turn when he set foot on the track in Aachen, the Mecca of equestrian sports, for the first time in his life, in July 2018. The son of Valentino broke his pastern bone after a jump, leaving him fearing for his life. Thanks to a huge dose of courage, and the boundless, almost utopian positivity of his rider and his entourage, the fourteen-year-old Hanovrian gradually recovered, after a long convalescence made up of ups and downs, until he was back on top. At the end of 2021, a new operation kept this crack away from the competition. But, like a phoenix, the chestnut once again defied all the predictions, finishing second in the Grand Prix de La Baule at the beginning of May. His closed-ones, being riders, grooms or vets retrace the journey of a horse like no other. Because with Vitiki, nothing is impossible.
The first part of this article is available here.
Attentive to every detail, Louisie kept a close eye on the progress of Vitiki's recovery. Every day she had to check that nothing was getting between the skin and the cast of her protégé. After a while, the bandage started to press on the chestnut's skin, so that his leg had to be let bare a little earlier than planned. Then began small rehabilitation exercises, allowing Vitiki's fetlock to be moved gently by hand. Then the fighter took a few steps outside, before being able to walk to a arena made of very comfortable, soft sand, allowing him to continue his rehabilitation. "It took months and from five minutes of walking we went to ten, fifteen, twenty and so on. We progressed very slowly, so that he could regain mobility in his joint. We also tried different physiotherapies, including aquatraining, but we realised that it was doing him more harm than good because walking in the water required a lot of efforts," explains Louisie.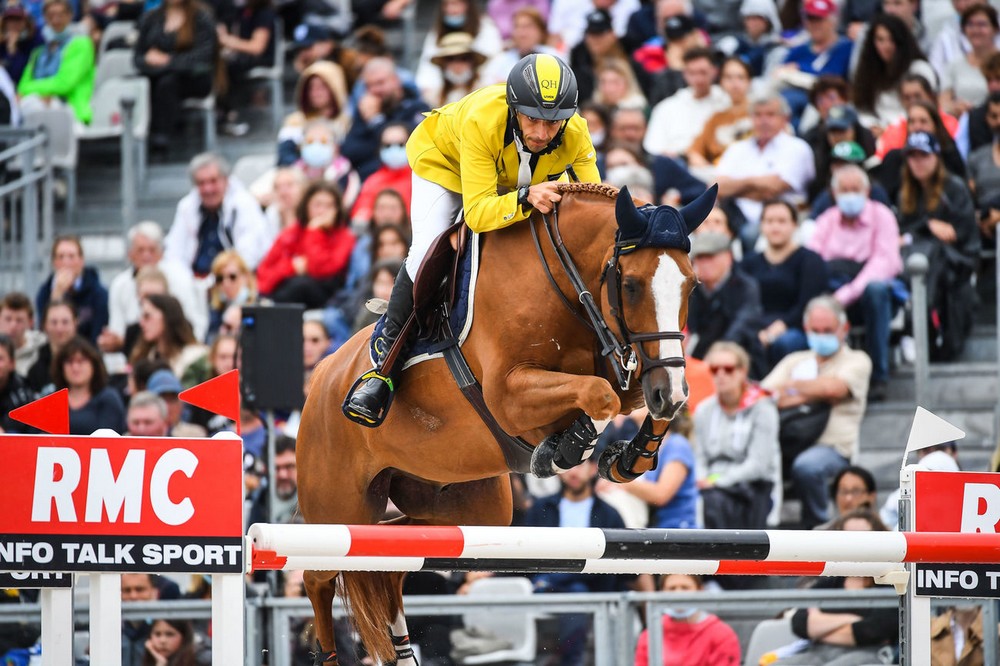 Vitiki in Paris in 2021. © Scoopdyga
An shoe that will change everything
While Vitiki's rehabilitation is tumultuous, Yuri asks Cristiano Pasquini, an Italian veterinarian he met during the World Cup stage in Verona, to visit the miraculous horse. The scientist agreed to visit him in order to try to help him get back to work. "In theory, the situation was terrible. Honestly, I didn't see any possible way out in sport. My approach was rather to make the horse's life more comfortable. I told Yuri that nothing could be done miraculously. He insisted, told me that this was the horse of his life and that he was sure I could help him and bring him back into the sport. I was a little embarrassed because I had nothing intelligent to say as the situation seemed so pointless. He added that he was willing to try anything, with respect to his horse. I finally gave in and used my last card with a very corrective shoe. We put a rock'n'roll shoe on him, also called a springtop. This greatly reduces the stress on the joint when the foot rotates. Ten minutes after he was shod for the first time, he was transformed. He was still a little uncomfortable in the trot, but nothing as bad as before. So we decided to give him a little more time," Cristiano recalls.
With patience and a lot of love, the moment to put a saddle back on Vitiki's back came, causing a wave of enthusiasm for the whole team of the beautiful chestnut. "I remember the emotion I felt when I put the saddle back on him," Yuri recalls. "But to trot, it was a disaster! First we took one step, then two, three, etc, but he was lame. At the time, one of my grooms, a friend, who has worked for Doda (de Miranda, editor's note) for a long time and who is normally very optimistic, said to me 'Yuri, put the horse out to pasture, he deserves it. He'll never come back'. But what not many people know is that at that time, when Vitiki wasn't doing well, I was broken in my head. It took me a long time to become myself again. Somehow, in order to regain my confidence and motivation, Vitiki had to get better. So each time I told myself that I would continue, just a little more. One day I thought I would try to gallop. And then I heard 'clack'. I thought I had made it worse. I trotted him again and he trotted much better! (laughs)"
After many weeks of getting used to his new body, Vitiki seems ready to make his first jump. Yuri lets his brother, one of the many people who have fallen under the Hanovrian's spell, have the honour to jump Vitiki over a small cavaletti for the first time. "I went to a competition in Monaco. One morning, when I woke up, my brother had sent me a video at six o'clock. He rides a bit but is not really used to jumping. And for Vitiki's first jump after his operation, he did a georgette! (laughs) We still laugh about it today. I thought that after that, Vitiki could jump anything again," jokes the Brazilian. Gradually, the chestnut is getting back into the habit of doing small jumps, but the path is still full of pitfalls. "My old groom, Caro, was always angry and told me I shouldn't do this or that. Sometimes Vitiki would limp after certain exercises, so I would give him a few days off and start again gently. I understand people's reaction, but I couldn't help it, I couldn't give up. I know Vitiki and I saw in his eyes that he wanted to continue", says Yuri, who decides that it is time for his partner to go back to the competition. "Cristiano, who has done a great job with Vitiki and is largely responsible for his recovery, came to see him one Monday. Every time he came, Vitiki trotted a bit worse than what he was able to do. That day he told me that it would be more reasonable for me to start looking for other horses and that Vitiki's condition was a bit uncertain. Then, on Wednesday, I phoned Cristiano to tell him that I had taken Vitiki to Saint Tropez to jump 1.20, 1.30m. He passed the veterinary check-up without any problem. The way he trotted was unimaginable. The adrenaline of the competition did him good, and the simple fact of changing environment motivated him. I took it easy in Saint Tropez and when he came home Cristiano was really surprised because he trotted ten times better than before he left!" Louisie adds: "From then on it was crazy. The whole family went to see him in Saint Tropez and he was transformed. He had gained thirty kilos of muscle, looked tall and finally felt alive. At home he was a bit depressed. His eyes were shining and he was a real machine again. I thought to myself that maybe Yuri was right and that this was what this horse needed. After that, we didn't think about the past and we just started to work with him again. This horse is incredible, a real miracle."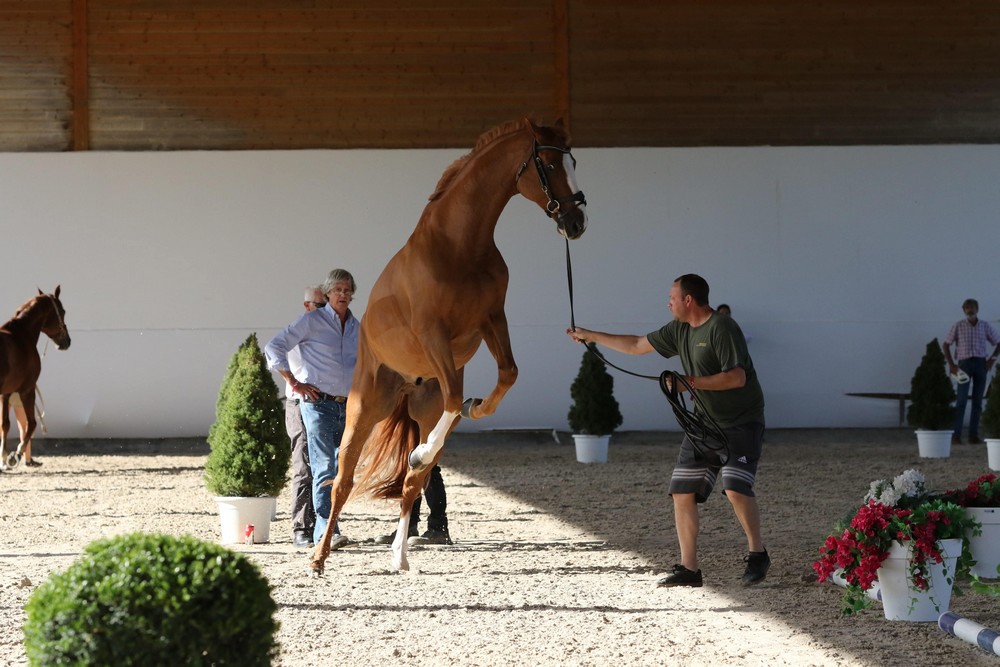 Vitiki, happy to be back at the vet check. © Sportfot
Vitiki beats the odds...
A true fighter, the miraculous Vitiki has risen from the ashes like a phoenix. After going through a thousand and one ordeals, the chestnut never ceased to impress his world by returning, little by little, to the CSI 5*. In the course of his ascent, he once again faced obstacles, once again needed time to regain his full sensations above 1.40m, but those around him never gave up. "If Vitiki was a human athlete, he would be Roger Federer," says Marcello Servos, referring to one of, if not the, best tennis player in history, often bothered by injuries but never defeated by his body. "The whole team has done a great job with Vitiki, but in my opinion, Louisie, Yuri's wife, has played the biggest part in this story. All the care, all the treatments, everything we proposed for the horse, she executed perfectly, with the precision of a clock."
While the medical professionals who worked with Vitiki agree that the care and attention to detail played a major role in his return to the top, there seems to be an almost irrational element to this unlikely story. Perhaps it is Yuri Mansur's boundless optimism? "Many people say I was always there, and I was. I was there every day, taking care of him, administering his medication, monitoring his progress by the second, but when you're in a situation like this, it's hard to go against the advice of several competent vets, who have spent years studying, and who tell you that we should give up. To say 'no, we'll keep trying', you have to be really passionate and put your heart into it. And Yuri has always been that person. He always said that Vitiki would do it," Louisie praises.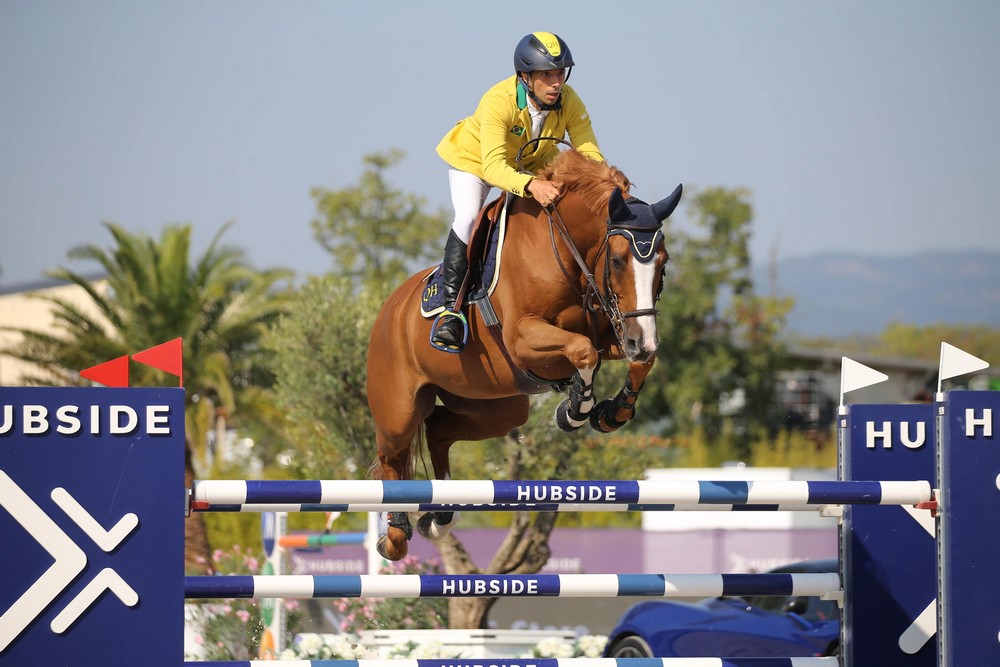 Vitiki, here back in action in Hubside Jumping Saint Tropez. © Sportfot
Fourteen months after his operation, Vitiki is back on the show ring. Slowly, the chestnut is back on the track to compete on bigger courses. At the beginning of 2020, his rider even took him to spend the winter in Florida, a risky gamble that many considered crazy. "After a national event at 1.40m, I decided to take him to the international competition at 1.45m. In the warm-up he was great, but once on the track he was a disaster. We did seven bars. I was under a lot of pressure! Everyone knew his story and had noticed. There's a fine line between being a hero and an executioner... Philippe Guerdat, who was happy to have seen him jump so well in the warm-up, told me that he would be a good horse, but that he wouldn't jump more than 1.50m. Then on Wednesday there was a National Grand Prix at 1.45m. I thought I would give it one last try and he won! It was another step forward and, even though he was different in his body, he progressed with each outing," recalls Yuri. "At the end he had one time fault in the small Grand Prix 5*, which was really good. Then we went a long time without a competition with the pandemic. In 2021, he came back to the US. He was getting better and better and took part in his first 5* Grand Prix. It was in the evening in Wellington and... there was a river! I hadn't jumped one with him since the accident and I was a bit worried about the landing, which is always special. When I walked the course, I thought 'no way, how am I going to jump that' I decided that if the distance wasn't right I would do a circle. In the end everything went well and he did a magnificent jump. We had one down, but it was already incredible. And then at the last Grand Prix of the Winter Equestrian Festival, the biggest one on the tour, which is $500,000, he was clear. It was crazy. Everyone was crying. And to think that at that point he was only at half his current capacity! He still had bad landings sometimes; he was still adjusting to his new body."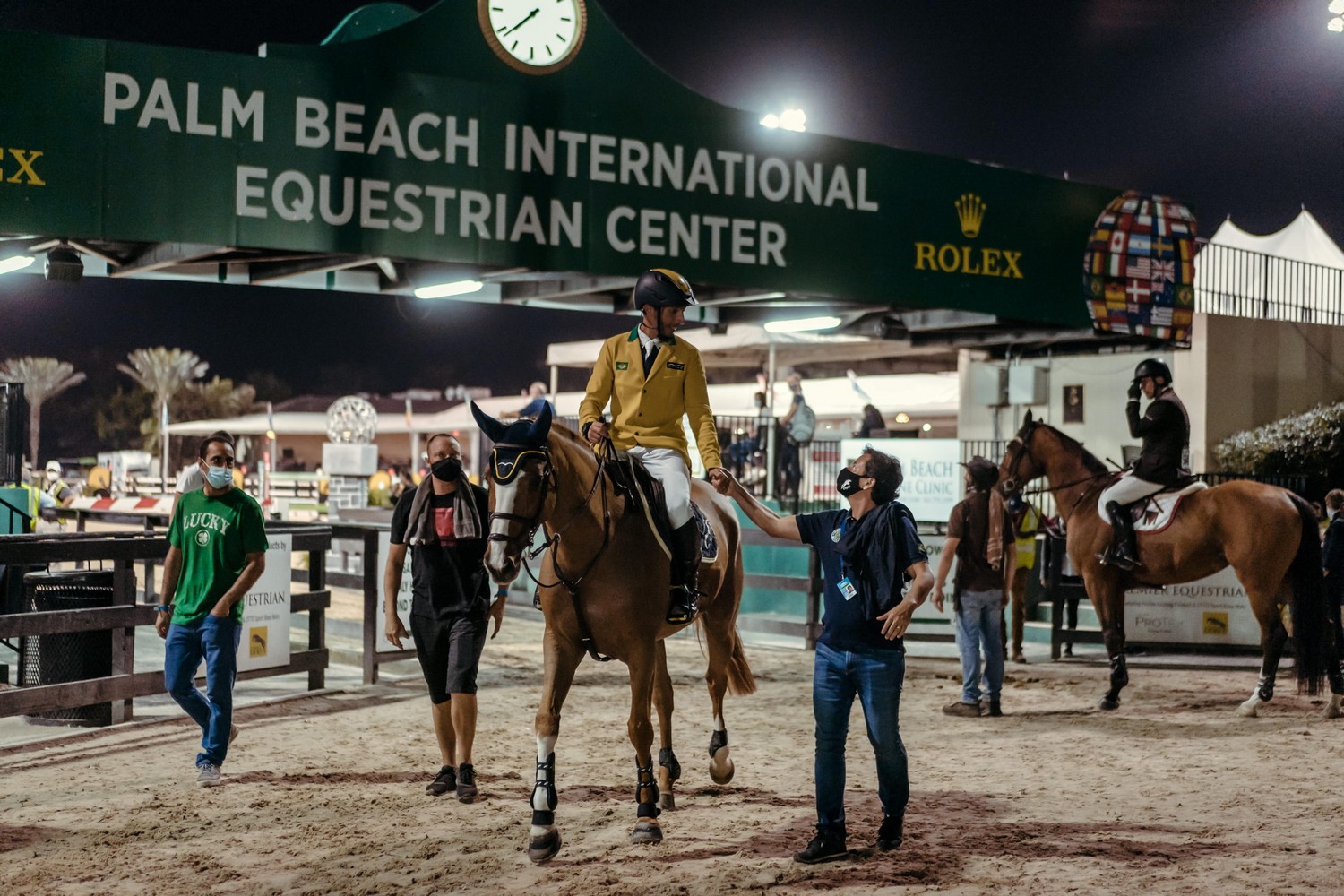 Vitiki after another great performance in Wellington. © Sportfot
Main picture: Yuri and Vitiki at their first show back in September 2019. © Sportfot
To be continued...