Vitiki, at valiant heart, nothing impossible (1/3)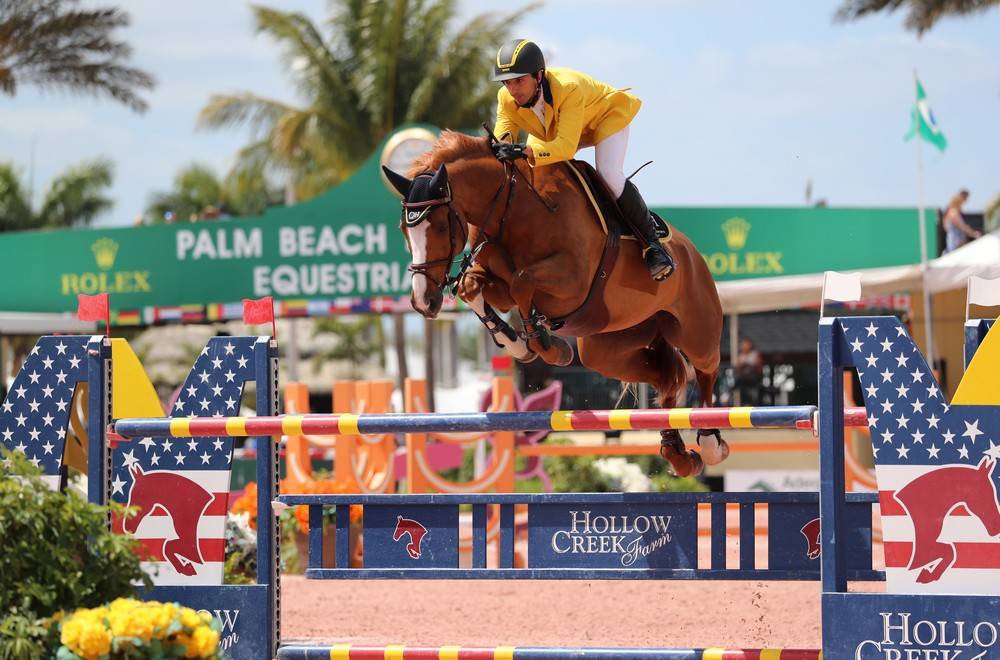 24 May 2022
Author : Mélina Massias
The story of Vitiki and his rider, Yuri Mansur, could have been limited to a simple encounter, the result of the hazards of life, and then a meteoric rise to the very top. However, the life of the lovable chestnut took a completely different turn when he set foot on the track in Aachen, the Mecca of equestrian sports, for the first time in his life, in July 2018. The son of Valentino broke his pastern bone after a jump, leaving him fearing for his life. Thanks to a huge dose of courage, and the boundless, almost utopian positivity of his rider and his entourage, the fourteen-year-old Hanovrian gradually recovered, after a long convalescence made up of ups and downs, until he was back on top. At the end of 2021, a new operation kept this crack away from the competition. But, like a phoenix, the chestnut once again defied all the predictions, finishing second in the Grand Prix de La Baule at the beginning of May. His closed-ones, being riders, grooms or vets retrace the journey of a horse like no other. Because with Vitiki, nothing is impossible.
"What Vitiki has become is for me a miracle, something that happens once in a million. He may have had some luck with Covid and the cessation of competitions, but his story is an improbable one. There is no real rational explanation. And, above all, the more he jumps, the better he is. He's not getting worse, quite the contrary," says Philippe Guerdat, coach of the Brazilian showjumping team. The former Les Bleus leader has followed the return to the forefront of the scene of Vitiki, Yuri Mansur's beloved accomplice and protégé of his entire team. At fourteen years old, the chestnut has taken the hearts of thousands of sports aficionados with him and his so touching and unique story. Between patience, hope and unbridled optimism, all the ingredients were gathered to save the soldier Vitiki, seriously injured in a foreleg in July 2018. Although he should never have jumped again in his life, the Hanovrian fought his way back to the top of his sport, coming close to the victory in the 5* Grand Prix of La Baule on Sunday 8 May 2022.
At the mere mention of the name Vitiki, Yuri Mansur's face lights up. The rider and his mount are linked to each other in a very special way. The story between these two begins in the second half of 2017. "I was in a great period of my career where I could count on Babylotte and Unita. A Brazilian friend (José Cristiano Pereira Wilken Bicudo, editor's note) who lived in Europe for many years had cancer and returned to Brazil. He told me about a horse he believed in very much. He was very hot and not very experienced, as he had never jumped over 1.30m. Luciana Diniz and Cassio Rivetti had the opportunity to try him out, but in the end it didn't work out. I was a bit hesitant, but I told my friend to bring the horse to my place to see what it could do. After the fourth jump I said 'what a horse, I'll buy it right away'! I was really surprised, I went down and bought him. Two or three days later Rodrigo (Pessoa, editor's note) was at home. I said to him, 'I think this is the best horse I've ever ridden in my life, try it and tell me what you think. He did a few small jumps and was equally astonished. That was in September 2017," recalls Yuri, who has just met Vitiki, a son of KWPN Valentino and Finja, herself a descendant of For Expo. Coming out of nowhere - or almost, with a rather modest bloodline - the chestnut was probably not destined for such an epic journey.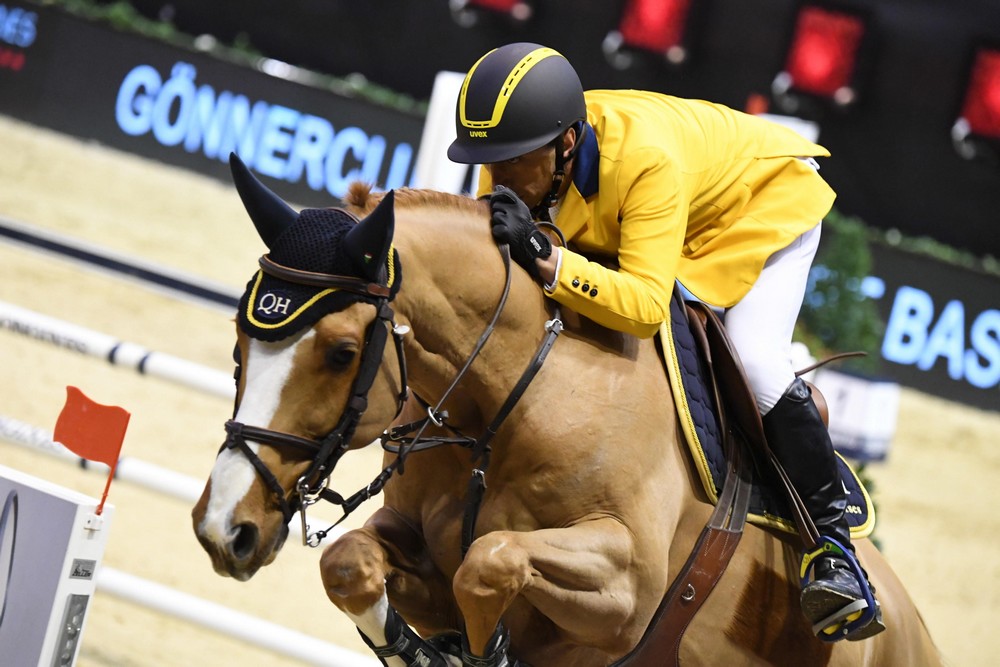 Yuri and Vitiki, at one of their first 5* show together. © Sportfot
A start full of hope
Newly formed, the pair Vitiki-Yuri took their marks, competing in a few intermediate events between 1.30 and 1.45m, first in CSI 2 and 3*, then in the CSI 5* in Stuttgart and Basel. Winter 2018 continues under the Florida sun for the two partners. Entered in his first 4* Grand Prix in Wellington, the chestnut left the track with a fault, giving his rider the glimpse of a promising future. One month after his first 4* Grand Prix, the Hanovrian distinguished himself by winning a good 1.50m class in Ocala and finishing third in the following class. Back in Europe, the pair made one mistake in the highlights of the CSIO 5* in Samorin and the CSI 5* in Windsor. In Slovakia, Vitiki also competed in his first Nations Cup (4+8). The potential of Valentino's son was now clear. "From then on, we were sure that Vitiki was a real machine, a great horse," confirms Yuri, who found himself propelled to La Baule, to compete in the Nations Cup of the CSIO 5* with the Brazilian team. The Auriverde clan triumphed in Loire-Atlantique, where the inexperienced Vitiki had a perfect first round.
The 2018 World Equestrian Games in Tryon, USA, is the major event of the year and is on many riders' minds. "I wasn't sure if I would take Vitiki to the World Games. He was jumping extremely well, but I thought it was a bit early for him," the rider explains. "Unfortunately, Babylotte got injured and it was impossible for her to take part in this championship. So I thought that I would continue to prepare Vitiki, at least until Aachen and then I would make my decision." After several good performances, notably in Knokke and Chantilly, where the duo took part in their Global Champions League's (GCL) team victory, the big day was coming to the horizon.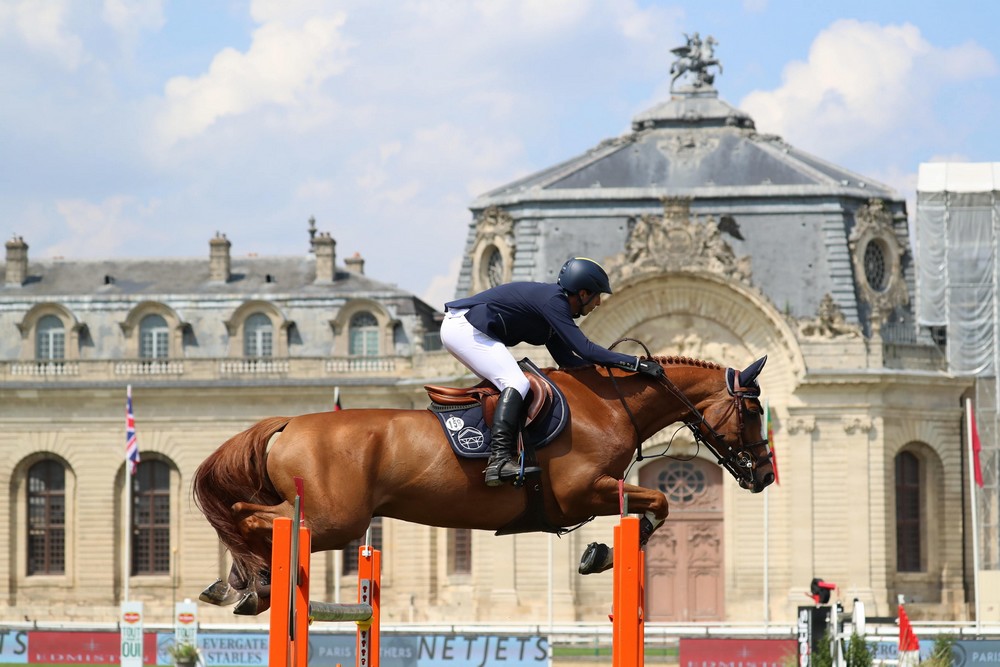 Vitiki in Chantilly. © Sportfot
Wednesday 18 July 2018
"In Aachen, I entered Vitiki in the major event on Wednesday, which is the second most important Grand Prix of the week," begins Yuri. "He had a wonderful first clear round. In the jump-off, I took risks on an oxer and the distance was not good. He jumped the obstacle as best he could and made a strong touch from behind on the second part of the oxer. I fell, but not Vitiki. On the other hand, on the landing, he started to gallop on three legs in front of the audience..." In the Soers stadium, time stands still. Shocked, Vitiki was taken care of by his entourage and the veterinary teams. An ambulance was dispatched to the entrance of the track and sheets were put up around the horse in order to carry out the first examinations.
In a split second, Yuri's dream turned into a nightmare. While he was riding for the first time in the legendary Aachen complex, surrounded by his friends who had come to support him, the Brazilian saw the fate of his adorable Vitiki change. "Everyone had come to Aachen; it was a dream to have a horse at this competition. So the whole team was there, but we didn't think that something like this would happen. We regularly see accidents without major consequences. When Vitiki landed, we did not expect a fracture. He galloped towards the exit, towards me, and when I took his protection off to do a first examination, it was clear that his leg was fractured and that it was going to be very, very difficult to deal with it," reveals Marcello Servos, a friend of Yuri's and a veterinarian who took part in the surgery to save Vitiki's life alongside Jack Snyder.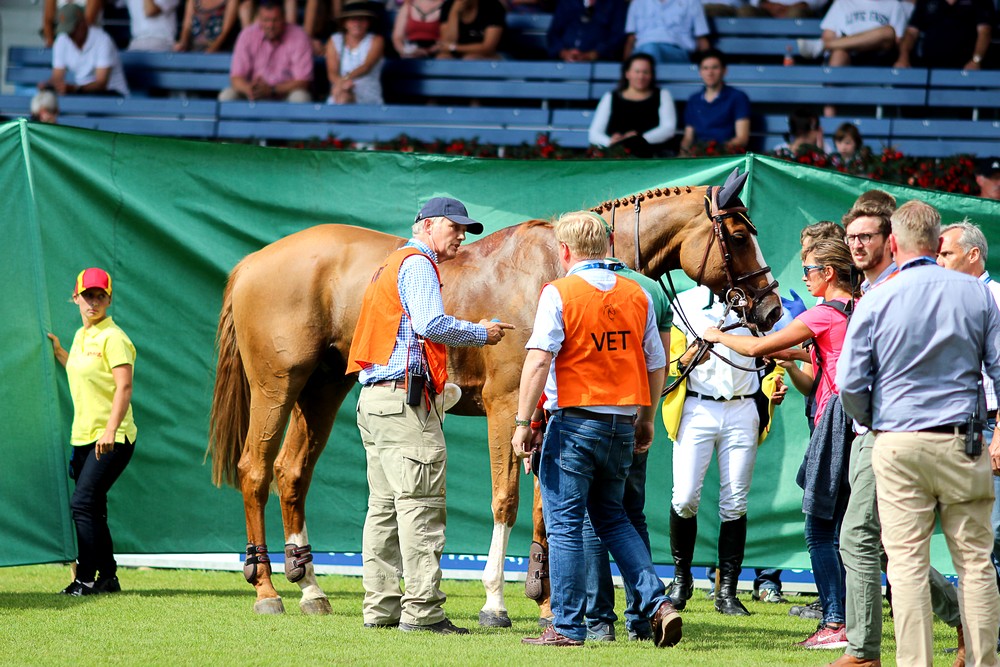 A first exam was done in the middle of the arena in Aachen. © Mélina Massias
"We took him to the clinic in Aachen on foot. He walked to the stables because he refused to get into the ambulance since he was in so much pain. It was a long way and everyone was worried sick because Vitiki was shaking in pain. It was a disaster," says Louisie Weber, Yuri's wife and the driving force behind Vitiki's rebirth. "When we arrived and discovered that he had a fracture, I started to cry because for me it was the last time I would see him. The only solution I could think of was euthanasia. I had never heard of operations for such fractures, especially so low down on the limb. Yuri was also crying, he was completely in shock, and our children were desperate. And then I thought to myself that someone needed to take charge of the situation. So I said, 'Let's save him'."
The decision was made: Vitiki would be operated on. To perform the surgery, the chestnut's relatives asked for a certain Jack Snyder, a renowned veterinarian. Luckily, the American was there. While he was planning to take advantage of the event to watch his own mare, Babalou 41, former partner of Irishman Darragh Kenny, jump the Nations Cup and the Grand Prix like an ordinary owner, Jack was called to the rescue and had to put on his doctor's hat.
Last chance surgery
"I was watching the course and saw Yuri's accident. The way the horse landed, I immediately thought to myself that he had a fracture. After the event, I didn't think I would be involved in his case, but while I was talking to other people, my phone started ringing. I was asked to come to the clinic to have a look at Vitiki. It didn't sounds good from the start and I was pretty sure I would have to look at a fracture. Once there, my suspicions were confirmed with the x-rays and I said he needed an operation. I gave the horse's family time to think about it and returned to the stables. The prognosis was not good, but an hour later I received a call to perform the operation," Jack Snyder summarised. The vet had only one condition: to be able to see Babalou jump the Nations Cup on Thursday evening. The surgery was therefore scheduled for the morning of 9 July, at seven o'clock sharp, in the Equitom facilities in Belgium, a little over an hour from the competition site. After two hours of procedure and a handful of screws inserted into his fractured pastern, Vitiki was back in her stall... and Jack Snyder on time to see his mare in action!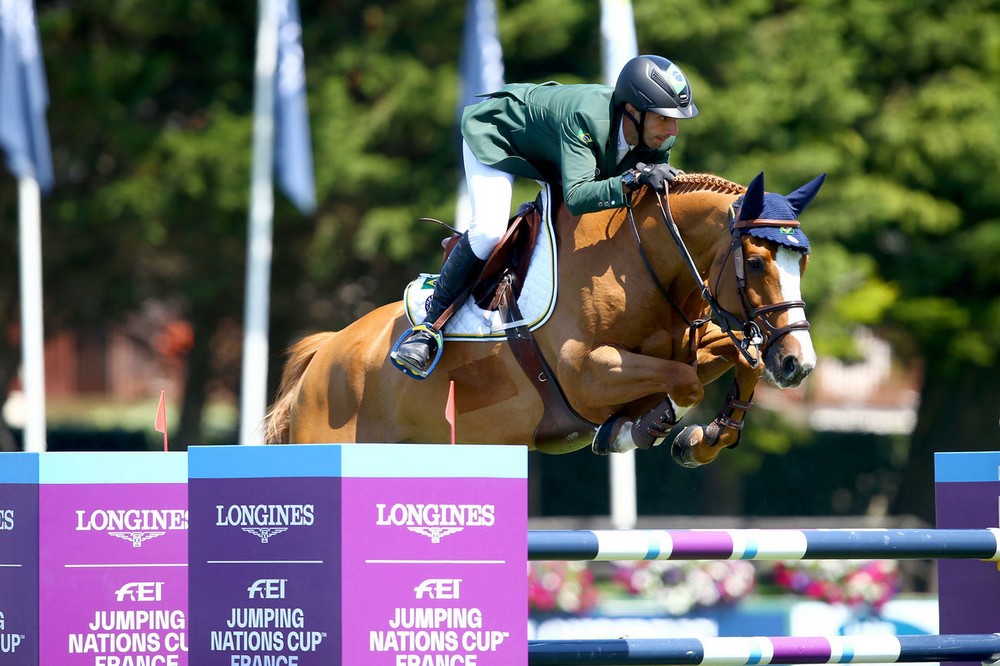 Vitiki in La Baule, in 2018, before his accident. © Scoopdyga

Since nothing is conventional in the story of this big-hearted horse, neither was his operation. After studying the X-rays for much of the evening and talking to fellow radiologists, Jack Snyder decided to place some screws in the opposite direction to the usual one, which he felt would give Vitiki a better chance of recovery. After his operation, which the team considered quite successful, the chestnut was visited by the whole family. "He already had his cast on and it was extremely strange because he was walking in his stall as if nothing had happened. In less than twenty-four hours, everything had changed. So I thought that maybe there was a future for him, that maybe he could be happy in the field and adapt to his new leg," Louisie recalls. Marcello continues: "The operation was a real marathon. It was very hot that day and the air conditioning had broken down. When we took Vitiki to the clinic, I made a little video saying that we were going to do a good job and that we were going to prove that he could do it. In the end, I think what happened next was even better than I expected."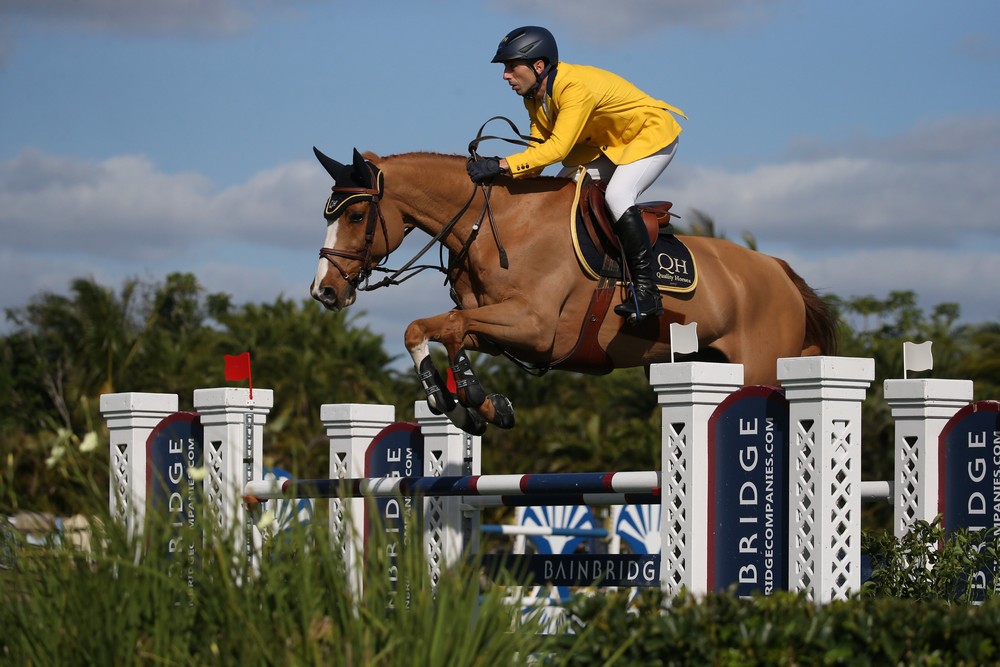 Vitiki in Wellington before his accident. © Sportfot
Main picture : Vitiki in Florida in early 2018. © Sportfot
To be continued...